ASE Annual Conference 2020 - Reading
08 January 2020

-

11 January 2020
Whiteknights campus
,
Reading
RG6 6UR
,
United Kingdom
Europe's largest Science Education Conference returns to the University of Reading's Whiteknights Campus and promises to deliver the usual high quality CPD programme for everyone involved in science teaching and learning. Build the ASE Annual Conference into your School Development Plan. Delegate bookings are now live - don't miss it!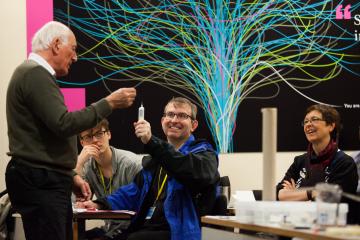 View the 2020 Conference Programme
Why attend ASE Annual Conference 2020?
The ASE Annual Conference brings together the best speakers, practitioners and exhibitors all in one place.
Over 450 sessions and 2,000 delegates, enables everyone to focus on their school's priorities, develop personal subject knowledge and learn from other teachers and educators
Cascade the ideas, approaches and resources to science colleagues back at school and within local networks
With almost 100 exhibitors, there's a huge variety of resources and ideas available for science teaching and learning
Session themes this year include Vocational (including careers), Practical Science (including outdoor learning) Curriculum & Assessment, Cognitive Science, Research (including practitioner-led classroom research), Technology, Teaching & Learning, Professional Learning Journey (related to ongoing professional development of teachers and technicians), Education for Sustainable Development, Diversity and Inclusion, Early Career Development, and Leadership.
It's an excellent value-for-money science conference, even more so if you are an ASE member!
Live Timetabling using Sched
The ASE 2020 Conference timetable is now published - click on the link below:
https://ase2020annualconference.sched.com/
All conference participants are strongly encouraged to use Sched throughout the conference, as session notifications will be updated in real-time. The Sched app can be downloaded onto all smartphones or android phones for easy reference.
Sched for Delegates: Delegates can to browse sessions using the themes above or by searching on primary/secondary/cross-phase/Post-16/technician or specific key phases. Personalised pathways and timetables can be created, making the best use of delegates' time for the duration of the conference. 
Sched for Presenters: Presenters can access their sessions and edit their session descriptions, upload links, presentations or files and add in profiles or biogs directly into Sched. 
Keynotes and special events
Wednesday - International Day
A global programme being delivered by speakers from Japan, Science on Stage Europe, Sweden and The British Council. Please download the programme below for full details of the sessions under the next heading Files
Thursday
Keynote: Physics for a changing society: Paul Hardaker, CEO, Institute of Physics
Presidential Address: Science education: building the essential skills for a successful career: Professor Sir John Holman, ASE President
Keynote: Making evidence-based practice happen in science classrooms: Alistair Moore, University of York Secondary Education Group
Thursday is the dedicated Post-16 day with pathways specifically for teachers at KS5
Twilight entry from 3pm to 7pm is available from £25 and there is a dedicated Technician programme during these hours - if you are local to Reading, why not visit us for some great value CPD?
ASE Members Reception from 5pm - everyone is invited (not just members!)
The Chartership lunch takes places from 12pm until 1pm for those with RSci, CSciTeach or RSciTech professional accreditation
Friday
The Brenda Keogh Primary Lecture: The Year of the Curriculum: Marc Neesam, Cambridge Assessment International Education
Keynote: The New Education Inspection Framework September 19 - reflections on the first term: Matthew Newberry, HMI Ofsted
Biology in the Real World series of lectures 
Schools Exhibition from 9am to 12.00pm - participating teachers benefit from a free day - please email hcsecretary@ase.org.uk for further details
Primary pop-up from 2.00pm to 3.00pm
Keynote: Back in time for school; perspectives on science education 1895 to the present day; Kristy Turner, University of Manchester and chemistry teacher
Head Teachers and Governors Session from 2pm generously sponsored by Gatsby- a special panel discussion for 75 minuties, entitled Recruitment & Retention - supporting your science team, chaired by Professor Sir John Holman, with Amanda Spielman, Emma Hubball, Dr Sam Sims and Alan Gray (HT), and the ASE Chief Executive. A 20 minute Q&A session will follow, after which there will be refreshments to accompany networking until 4pm. Headteachers and Governors attend free when a science teacher from their school attends on any one or more days - please email conferences@ase.org.uk with queries.
Keynote: Making science learning lifelong, lifewide and lifedeep. What we know about the importance of out-of-school (informal) STEM learning: Dennis Schatz, President, NSTA
Talking Science Debate: Exploring subject area and PCK knowledge across the three sciences: chaired by Professor Christine Harrison, Kings College London
Saturday
Effective Sequencing workshop: Matthew Newberry, HMI Ofsted (invitation only)
Primary Keynote: Connecting the dots in primary science; Dr Lynne Bianchi, SEERIH,University of Manchester
ResearchMeet Day including a marketplace showcase, research clinic, lunch and keynote from Emily Yeomans
Primary lunch (12pm-1pm) sponsored by Wellcome Trust Explorify, followed by a Primary Teachmeet 
Keynote: Why we're writing women scientists back into history: Jessica Wade, Imperial College London and Dr Claire Murray, Diamond Light Source
New for 2020: Teacher Takeaways - first-time teacher-presenters being supported and coached by those more experienced in their field
Throughout the conference there will also be the usual mix of Frontier Science Lectures - lectures presented by University of Reading staff, sessions delivered by exam boards and teacher-presenters and Biology Practicals that Work and CLEAPSS drop-in workshops. There are sponsored refreshments, laboratory practicals, and an exhibition full of school science resource suppliers showcasing their latest offerings.
Files

International Day Programme 8th January 2020 - University of Reading TES.._.pdf
Click links to download individual files or…
Social Events
International Dinner - Wednesday 8th January price £42 including VAT - Last date for ticket purchases 15th December! Get your ticket on the Eventbrite booking page.
The perfect way to meet old friends and make new ones at the beginning of the Conference. This informal dinner is held on the University of Reading Whiteknights campus - stroll along after the International Day programme. Or you can begin your time at ASE with the dinner, to get a feel for the event before the main conference begins on Thursday. To attend the International Dinner, add it to your booking.
Welcome drink at 6.30pm in Meadow Suite (Park House) at the University of Reading, followed by dinner at 7.00pm as follows:
Starter: English Winter Vegetable Soup
Main Course: Roast Beef or Nut Loaf with Trimmings
Dessert: Apple and Blackberry Crumble
There will be a choice of alcoholic or non-alcoholic mulled wine, as well as coffee/tea included in the price. An open cash-bar will be available for the purchase of additional drinks.
Association Social - 7 p.m - Friday 10th January price £32.00 including VAT -- Last date for ticket purchases 15th December! Get your ticket on the Eventbrite booking page.
A great opportunity to network in a relaxed atmosphere with colleagues and friends, the evening will offer a variety of bowl-food to enable everyone to chat and exchange ideas, 5 bowls per person followed by 2 science comedy slots from Steve Cross and Sarah Jones from Science Show Offs. A welcome drink at 7.00pm in Meadow Suite (Park House) at the University of Reading, followed by food at 7.30pm as follows:. 
7 p.m. Arrival and Drink
7.30 p.m. Bowl Food:
(Key: V=Vegetarian/VG=Vegan/GF=Gluten Free/DF=Dairy Free)
Morrocan style roasted vegetables with spiced lentil salad (cold) V/VG/GF/GF
Classic Greek salad with kalamata olives (cold) V/GF
Mini local sausages with mustard mash and red onion gravy (hot)
Battered cod goujons and chips (hot)
Sweet potato massaman curry with Thai jasmine rice (hot) V/VG/GF/DF
Dessert:
Sliced fruit platter (seasonal fruit)
Assorted cake bites selection: carrot cake (V/GF), chocloate brownie (V/VG/GF/DF), lemon drizzle cake (V/GF)
Tea/coffee 
8.15 p.m. Speeches
8.35 p.m. Comedy slot
8.55 p.m. Break
9.15 p.m. Comedy slot
There will be an open cash-bar for the purchase of additional drinks after the bowl food.
The ASE Annual Conference 2019 in 30 Seconds
Delegate Prices
One day registration starts from only £112 and with a Saturday special from only £99. Book by Friday 1st November to qualify for the cheapest Early Bird rates (invoices cannot be requested for these tickets, payment must be made at the time of booking).
Conference Offers:
50% discount off for ASE members (Become a member now online)
Groups of 6 or more receive a 15% discount
Trainee teachers - join ASE and get one day free - Friday is the dedicated PGCE day
Come only to the exhibition and get free entry. Around 100 exhibitors offering resources, ideas and equipment
FE day on Thursday invites Post-16 educators from £112
| Rate | | 1 Day | 2 Days | 3 Days | 4 Days | Sat only | Twilight only |
| --- | --- | --- | --- | --- | --- | --- | --- |
| | | | | | | | |
| Members Early Bird* | Early Bird book by 25th October 2019 | £112 | £201 | £234 | £245 | | |
| Members Standard | | £124 | £223 | £260 | £273 | £99 | £25 |
| | | | | | | | |
| Non Members Early Bird* | Early Bird book by 25th October 2019 | £223 | £401 | £468 | £491 | | |
| Non Members Standard | | £248 | £446 | £520 | £545 | £198 | £50 |
| Trainee Members** | *When you join ASE from only £4 per month | *Free | £49 | £79 | £99 | | |
| | | | | | | | |
Accommodation
Accommodation

| Hotel | Address | Telephone No. | Price (single) | Discount Booking Reference |
| --- | --- | --- | --- | --- |
| Crowne Plaza | Caversham Bridge, Richfield Ave, Reading RG1 8BD | 0118 925 9988 | £75 to £159 | ASE |
| Holiday Inn Reading South | 500 Basingstoke Road, Reading RG2 0SL | 0118 987 0482 | £69 to £135 | LS3 |
| Millenium Madejski Hotel | Madejski Stadium, Junction 11 M4, Reading RG2 0FL | 0118 925 3500 | £72 to £120 | ASE |
| Hillingdon Prince Hotel | 39 Christchurch Road, Reading RG2 7AN | 0118 931 1311 | £73 | ASE |
| Novotel | 25B Friar Street, Reading RG1 1DP | 0118 952 2652 | £69 to £109 | ASE Conference |
| Ibis Hotel | 25a Friar Street, Reading RG1 1DP | 0118 953 3500 | £54 to £89 | ASE Jan 2020 |
| Penta Hotel | Oxford Road, Reading RG1 7RH | 0118 958 6222 Option 1 | £69 to £109 | ASE20 |
Annual Conference Terms and Conditions
All delegates are advised that in making a booking via Eventbrite that they agree to the following terms and conditions:
Email conferences@ase.org.uk with any event queries or call us on 01707 283013
Registration:
Please register on Eventbrite at ase2020.eventbrite.co.uk where you can request an invoice or to pay by credit/debit card.
We highly recommend pre-registration but you may also register on the day.
If you are an ASE member, please note your membership ID on the registration page. You will find this at the top right of the My Account page when you log in. If we are unable to trace or check your membership from the details you supply, you will be charged at the non-member rate.
Your delegate badge will be sent to you by email. Please ensure we have the correct email address to reach you at.
Your delegate handbook should be collected on arrival at the Conference. From the end of November you will be able to view the contents of the handbook online.
Cancellation Policy:
Cancellation of registration before 22 November 2019 will incur no cancellation charge. After that date NO refunds can be made.
We recommend that all delegates take out insurance to protect against non attendance, particularly due to bad weather.
Payment:
Payment method should be selected from the drop down menu on the registration page and can be made in one of the following ways:
For the following options please select "pay by invoice" on the registration page:
Invoices - Schools and other institutions/organisations may wish to be invoiced. Invoices should be paid within 30 days of receipt. The invoice is emailed automatically to the address input at the time of booking. Please check all emails recieved from Eventbrite confirming your booking.
Cheques - please make payable to The Association for Science Education and send to ASE, College Lane, Hatfield, Herts, AL10 9AA
You will receive a receipt with confirmation of your booking from eventbrite.co.uk. 
Early Bird rates only apply if bookings are made by Friday 25 October 2019. Full standard rates apply if your booking is made after this date.
ASE reserves the right to charge interest at 8% above the Base Rate for all overdue payments.
Under 18s
Individuals who are under the age of 18 are permitted into the exhibition but must be accompanied at all times by a responsible adult. Children are not permitted to attend conference sessions on the rest of the university campus. 
ASE Membership:
ASE member means: an individual member, a Technician member or a member of staff in an institution with Primary School membership. All categories must be fully paid up to qualify for the ASE member rate.
The spouse of a member may attend at the member rate, if accompanied by the member.
You can apply to become a member of ASE at the same time as registering for the Conference; you will then be charged the Member's rate.
To apply for membership go to ase.co.uk/join
ASE Hotels
ASE negotiates rates for delegates with local hotels to provide accommodation throughout your stay at the Annual Conference if required. There is no specific deadline for booking as rooms are sold based on availability from the ASE allocation at each hotel. However after 7 December 2019 there is no guarantee. Therefore delegates are advised to book early.
Photography/Video Waiver:
There may be photography, audio or video recording at the conference. By entering the event premises you give consent to the use of your photograph, likeness or video or audio recording in whole or in part without restriction or limitation for any educational, promotional, or any purpose for distribution by the Association for Science Education and any media partners who we grant permission, their officers and employees, and each and all persons involved from any liability connected with the taking, recording, digitising or publication of interviews, photographs, computer images, video and/or sound recordings. If you do not want to be photographed or videotaped, please notify the individuals capturing the information.
Delegates are advised that video recording of sessions for personal or school-use or wider distribution is prohibited without the express permission of the Association for Science Education and may be subject to copyright. 
Group Booking:
Discounts are available for group bookings. Groups of more than 6 receive a 15% discount. Please select the appropriate discount on when registering at ase2020.eventbrite.co.uk
Presenter Registration:
Session presenters who are accepted can apply for a bursary to have the cost of their delegate pass covered on the day they present.
Overseas Delegates:
Overseas delegates are encouraged to pay their registration fees by Credit Card at the time of booking. This reduces the bank charges on currency conversion.
Payments made in non-Sterling currency should include an additional amount to cover ALL bank conversion and transfer charges.
If you require a letter of invitation to apply for a UK visa, please ensure that your registration is paid in full in plenty of time for us to process it, confirm your booking and for you to apply for your visa. The visa application process can take in excess of twelve weeks. 
We are unable to send information for visa applications after Friday 25th October 2019.
If you have paid your conference fee and your visa application is subsequently rejected, a £10 administration fee will apply.