ASE Anglia Region half day Conference POSTPONED
Norwich High School for Girls
95 Newmarket Rd
,
Norwich
NR2 2HU
,
United Kingdom
This event, hosted by Norwich High School for Girls, is all about the most effective teaching to help our students/pupils be inspired by science and learn to their full potential.
Anglia (Norfolk, Suffolk and Cambridgeshire)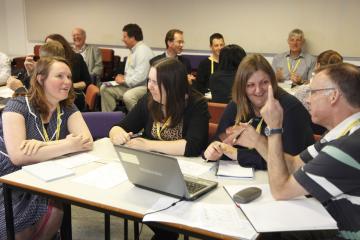 Full details
This event, hosted by Norwich High School for Girls, is all about the most effective teaching to help our students/pupils be inspired by science and learn to their full potential. There is a varied programme for primary and secondary phases. Whether you are a practicing teacher, a trainee teacher, or anyone with an interest in and passion for science education, the programme should have something to interest and excite you.
There will be a range of sessions for you to choose from as well as a substantial exhibition of providers of resources, equipment and services to science teaching/education.
Refreshments are included with the delegate fee. There are big discounts for ASE members and Trainee Teachers. If you are not already an ASE member why not join now and start taking advantage of the many benefits that membership offers. ASE is driven by its members and many give up their time to contribute to the varied work that ASE does for the good of Science Education. By joining, you support the great work of the Association and become part of a vibrant, expert and wonderfully supportive community. More details are available here: https://www.ase.org.uk/join
Key note : 20 Years of Assessment for Learning - what have we learnt? Dr Christine Harrison, King's College London
This keynote will look back at Inside the Black Box (1998) and Science Inside the Black Box (2002) and Inside the Primary Black Box and see how the key principles of assessment and guidance to improve were applied then and today. Evidence-based practice at its best,
Session A
A1 Primary : Science in a Global Context: Claire Seeley cSciTeach, Primary Science Consultant
In this session you will have the chance to try out various activities by Practical Action.With a focus on science, design & technology and geography these free resources focus on global issues such as sustainability, climate change and renewable energy. Using real world contexts as a platform for learning enables children to link the concepts they explore in the classroom to their everyday lives and a world beyond the classroom.
A2 Primary: Ideas for Teaching Evolution and Inheritance to Primary School Children : Mandy Hartley (The Little Story Telling Company)
I am currently writing a book to help teach "Evolution and Inheritance" to primary school children. I am a geneticist and spent 15 years working with DNA. I now go into schools and teach children about these subjects using a wide variety of props and interactive stories which help pupils understand these difficult concepts. In this session I will share some of my ideas with you and discuss some great ideas which teachers have shared with me.
A3 Secondary: Integrated instructions in practical work: David Paterson
Synopsis: Integrated instructions are a new way to present practical instructions. They simplify instructions by integrating simple diagrams with minimal text, and clear pictograms and step ordering to help improve student independence and confidence during practical work. I will present research findings on their use in my classroom. There will be time in the session to discuss the currently available integrated-instructions.
A4 Secondary: Let's trash science: Crawford Kingsnorth, Norwich High School for Girls
One of the problems with the modern world is using single use plastics. This is not your anti-plastic session, far from it as the speaker is a liveryman at the Worshipful Company of Horners. Neither is it also not a pro-plastic hard-sell.
So, what is it? It is simply a collection of ideas to inspire you and your students to turn single use plastics into useful laboratory equipment. This is not a lecture but a series of hands-on demonstrations to inspire you to never to recycle a plastic bottle again!
You will be amazed as to what you can do with a 2-litre fizzy drink bottle. We will show you over ten uses of them. Some are turned into cheap laboratory equipment. Some are the basis for an actual experiment.
We will also show what you can do with yogurt pots, old umbrellas, 4-pint milk cartons, we can even show you some ideas for your waste food.
All of science is covered: chiral chemicals, electrolysis, energy loss, electricity generation plant tropisms, enzyme inhibition, rates of reaction, soil erosion, the water cycle and so much more.
We will challenge you to come up with the most novel use of a 2-litre fizzy drinks bottle/yogurt pot/food waste and share it with us.
A5 Secondary: tbc
Session B
B1 Primary: Assessing science using the Teacher Assessment in Primary Science (TAPS) resources: Dave Jones (UEA) and Miriam Jones (UEA)
The Teacher Assessment in Primary Science (TAPS) project led by Sarah Earle at Bath Spa, has developed a range of resources aimed at supporting teachers and schools in evaluating and developing the assessment of science. This session will introduce the resources and explore practical examples of how they can be used in the classroom.
B2 Primary: How to raise the profile of Primary Science in and beyond the school environment: Rebecca Burton (Stalham Academy)
This session will cover Science capital, STEM, and strategies and ideas for how to promote and raise the profile of Science with parents, within the home environment and at school.
B3 Secondary: How student autonomy fits into the EEF report 'improving secondary science: Simon Moore
In this session paricipants will be given an overview of the main themes of the recent EEF report. A brief accound of some of the supporting neuroscience will be included.
Autonomy will be discussed in the context of how increasing levels might support metacognition. This will include details of an example of this being implemented a discussion of the provisional findings on its impact.
Simon Moore has been teaching secondary science for 25 years and is part way through an MA in "Education: practice and research". He has been an examiner and a coursework moderator and is currently a visiting monitor for the OCR Biology A level practical endorsement.
B4 Secondary: What do Teachers Notice in formative Classrooms? Dr Christine Harrison, Kings College
AfL on-the-fly. Planning for improvement in science skills and understanding and looking for assessment opportunities during learning. How do you tap into student thinking? Aimed mainly at KS3-4 but with ideas that can be adapted for KS2 context.
B5 Secondary: How to memorise and rearrange equations: Alan Denton
Since the new GCSEs many schools have changed the way that they have had to teach students how to memorise and rearrange equations. In this session we will look at some successful techniques that East Anglian schools have been using, and how it has changed students perception of physics so that it has become their favourite science subject. We will also discuss techniques for ensuring that students understand the conceptual understanding behind equations.
Delegate Fees
| ASE Member | Non Member | Trainee | | |
| --- | --- | --- | --- | --- |
| £25 | £39 | £10 | | |
| | | | | |
| | | | | |
| | | | | |
Venue location
Norwich High School for Girls
95 Newmarket Rd
Norwich
NR2 2HU