ASE Annual Conference 2021 online in January
06 January 2021

-

09 January 2021
The ASE's largest professional development event, the four day Annual Conference in January 2021 is entering the online space for the first time. 
11-19 Teachers
Early Career Teachers
Primary
SLT
Technician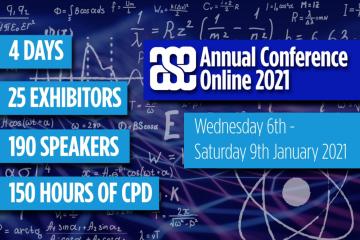 Find out what we have in store for you at our first online Annual Conference!
The ASE 2021 Annual Conference will boast the usual blend of expertise, support and inspiration from the comfort of your own home! Each day will have up to 6 simultaneous sessions per time slot, with an additional 2 channels bringing the exhibition experience that you know and love to the online space.
Wednesday's programme includes both our International Day and, BRAND NEW for 2021, a dedicated Technicians Day! For International Day we will be joined by a host of presenters providing perspectives on science education outside the UK, including a panel discussion looking at the impact of Covid-19 on science education across Europe, sessions looking at models for learning in other parts of the world and even one on how to save the world one science lesson at a time. The Technicians Programme promises a fantastic range of practical sessions, ranging from survival guides for new technicians to health and safety training from CLEAPSS, guidance on biology practicals from SAPS and much more!
As always, Thursday, Friday and Saturday provide a wealth of sessions for our primary, secondary and further education communities, including sessions from Dr Jasper Green HMI Subject Lead for Science, Ofsted and a fantastic selection of Frontier Science sessions, with leading experts across scientific research such as Professor Jim Al-Khalili, Professor Robin Lovell-Badge of the Crick Institute, Professor Andrew Pollard of the Oxford Vaccine Group and more.
Take a look at the full range of inspiring #SciEd CPD we have lined up this January in our Interactive Conference Programme below:
https://indd.adobe.com/view/a231f7c2-b3d6-46e9-8a11-0e2400868bde
All Keynote and Panel Sessions will be live-recorded and we are aiming to have one session within each timeslot pre-recorded to allow for asynchronous viewing. To identify sessions' recording status, please consult Sched and hover over the Recording Status icon towards the bottom of the list of coloured dots. Live recorded sessions should be available within 24 hours; those purchasing a day ticket will be able to view recordings up to 23:45pm on Sunday 10th January 2021; those purchasing a full conference ticket will be able to view their sessions until 23:45pm on Sunday 31st January 2021. Premium Exhibitor session recordings will be viewable for 2 months after conference.
We will be using Zoom Meetings for the majority of sessions with a maximum capacity for 100 participants. Keynotes and some panel sessions will be hosted using Zoom Webinars in order that capacity may exceed 100 participants. Sessions are not pre-bookable and participants will be admitted to Zoom rooms on a first-come, first-served basis.
Tickets (from £35+VAT for ASE members and £60+VAT for non-members) are now bookable. Zoom Links to virtual rooms will be circulated on the evening prior to each day, to the emails of those registered on Eventbrite.
For queries please email conferences@ase.org.uk
The live online timetable Sched is available for viewing at https://ase2021annualconferenceonline.sched.com/
A Delegates User Guide to Sched can be found under the Files link below.
Files

Technicians Timetable at Annual Conference Online 6th January 2021

Sched - User Guide for delegates
Click links to download individual files or…