ASE Futures Conference 2019
04 July 2019

-

05 July 2019
Sheffield Institute of Education
Sheffield Hallam University
City Campus
,
Sheffield
S1 1WB
,
United Kingdom
The ASE Futures Conference is for everyone leading professional development in science education.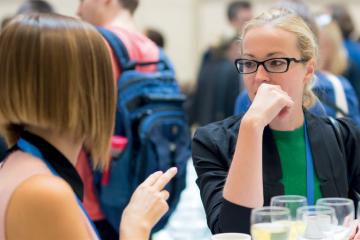 The ASE Futures Committee welcomes applications for Poster Presentations at their summer conference.
We know that networking and the sharing of research and good practice is a key element of what makes the ASE Futures Conference such a success. As such, we hope that this new conference feature will provide another means for this to happen. The 'poster session' is aimed at those attendees who would prefer to share their work in a more informal setting and without the full commitment of a timetabled session or workshop. The 'poster presentations' will take place on Thursday and Friday during lunch and will be in the same rooom in which the food is served. In order to contribute to the informality of the event, there is no expectation to produce a traditional research poster. We would suggest that presenters bring an 'artefact' which they can display on a small table, which will entice conference attendees to come and listen to their work. You may also wish to bring photocopies of an abstract/overview to hand to people.
We also hope that members of the ASE Research Committee will be present should you wish to pick their brains. Please express your interest by emailing alex.sinclair@stmarys.ac.uk and further details will be sent to you nearer the conference date. We are very much looking forward to hearing about what you are up to.
Programme : Thursday 4th July (fuller session synopses at the foot of the webpage)
| | | | |
| --- | --- | --- | --- |
| Time | Session | Speaker | Phase |
| 1000-1015 | Welcome to the Conference | Mary Whitehouse - ASE Chair | All |
| 1015-1115 | Presidential Keynote: A professional challenge for science educators | John Holman - ASE President | All |
| 1140-1255 | Workshops: | | |
| | Sustained Improvement in Primary Science | Clare Warren & Jane Turner - PSQM | Primary |
| | Becoming a Science Teacher | Helen Gourlay - University of East Anglia (UEA) | Secondary |
| | Case studies of professional development from schools and school groups | David M Jones - Sheffield Institute of Education | All |
| | Coaching for Physics Development | Ian Horsewell & Rachel Hartley - IoP | Secondary |
| | The Real Value of Practical Science | Catherine Witter - AQA | Post-16 |
| 1255-1355 | Lunch, networking and poster presentations | | |
| 1355-1455 | Keynote: Teacher Professional Learning - Taking Context Seriously | Julie Jordan - Sheffield Hallam University | All |
| 1510-1625 | Workshops: (Sessions marked * and ** are half sessions) | | |
| | Permission to Dabble! Teacher CPD | Joelle Halliday - Sheffield Hallam University | Primary |
| | A Toolkit for Engineering in the Primary Classroom* | Fay Lewis & Juliet Edmonds - UWE | Primary |
| | Science Capital in Primary/EY PGCE Students * | David Jones - UEA; Sally Spicer - University of Warwick | Primary |
| | Developing Novel Approaches to Supporting Science Teacher Well-being | Alex Manning, Emma Towers & Richard Brock - Kings College London | All |
| | SKE and NQTs Work** | | Secondary |
| | Artificial Intelligence Education | David Swinscoe - Ajabra; Roni Malek - UCL IoE | Secondary |
| | Student and Probationer Teachers | Paul Beaumont & Kate Andrews - SSERC | Secondary |
| 1630-1700 | ASE Futures Annual General Meeting | ASE Futures Committee | All |
Friday 5th July
| Time | Session | Speaker | Phase |
| --- | --- | --- | --- |
| 0915-0935 | ASE Update | Shaun Reason - CEO ASE | All |
| 0935-1035 | Keynote: Ofsted Update | Matthew Newberry HMI - Ofsted | All |
| 1055-1210 | Large workshop: | | |
| | Curriculum Design | ASE, IoP, RSC, RSB | Primary |
| | Curriculum Design | ASE, IoP, RSC, RSB | Secondary |
| 1210-1310 | Lunch, networking and poster presentations | | |
| 1310-1410 | Large workshop: | | |
| | Primary | CLEAPSS | Primary |
| | Secondary | CLEAPSS | Secondary |
| 1415-1530 | Workshops: | | |
| | Educating the 21st Century Primary Science Teacher | Joe Shimwell & Carol Davenport NUSTEM | Primary |
| | Thinking, Doing, Talking Science | Bridget Holligan - Science Oxford; Helen Wilson - Oxford Brookes University | Primary |
| | Best Evidence Science Teaching (BEST) | Peter Fairhurst - UYSEG | Secondary |
| | Cross-curricular Science | Richard Pountney & Emily Perry - Sheffield Institute of Education | Secondary |
| | Climate Across the Curriculum | Rahul Chopra, Chris King - International Science Council (ISC) Project | Post-16 |
Delegate Prices
One-day delegate registration includes full day programme for either the conference on Thursday or Friday and lunch.
Two-day delegate package – includes full day programme for Thursday and Friday, lunch each day and Conference dinner on Thursday. Please note that accommodation is NOT included.
| Ticket Type | | Early Bird Rate (Ends 30 April) | Standard Rate |
| --- | --- | --- | --- |
| Non Member | One Day Registration | £175 | £195 |
| | Two Day Delegate Package | £355 | £395 |
| ASE Futures Member | One Day Registration | £99 | £110 |
| | Two Day Delegate Package | £193 | £215 |
| ASE Member | One Day Registration | £139 | £155 |
| | Two Day Delegate Package | £265 | £295 |
| Conference Dinner Only (Thursday 4 July) | Bookable for one-day delegates who want to attend the dinner | £43.50 | £43.50 |
| | | | |
| | | | |
Venue Location
Hallam Hall, Sheffield Hallam University, City Campus Owen Building, Howard Street, Sheffield S1 1WB
Session Synopses
4th July: Sustained Improvement in Primary Science
The rationale for this workshop is to increase awareness of the sometimes contradictory academic literature about effective primary science education.  Some of the strategies will be exemplified with practical activities. The session will focus on both pedagogy and curriculum, including the use of models and representations, talk for learning, misconceptions and conceptual change, and cross-curricular science.  In line with best practice in CPD, theory will be linked to practice and participants will be expected to be both hands-on and minds-on. They will be encouraged to reflect on the strategies they currently use or promote and consider which other strategies they might adopt.  
4th July: Becoming a Science Teacher
This session would potentially be of interest to tutors of science education in HEIs, or those working as mentors and tutors for science student teachers in schools.  I am currently completing my doctorate in education (EdD). I carried out an intervention with secondary science student teachers to try to support their development. This process involved analysis of critical incidents and the diagnostic teaching cycle, as well as action learning. Some of the ideas that may be explored are:  Are student science teachers held back by not being very reflective?  What were the main teaching issues that science student teachers raised?  Implications for practice: Should everyone adopt the teaching intervention I used? How else might we better support student science teachers to ensure their success?
4th July:  MAT/TSA Case Studies
This session will present case studies from Multi-Academy Trusts and Teaching School Alliances, drawn together from Sheffield Hallam University's Institute of Education with local schools
4th July: Coaching for Physics Development
The IOP's education projects have all been based around coaching individual teachers within departments. This has followed a model of instructional coaching that focuses on pedagogical curriculum knowledge of science teachers alongside building their confidence in the physics classroom. For recent physics graduates, this often means building a bridge between their academic knowledge and the starting points of their students. It can be easy for them to underestimate the perceived gap between everyday experience and the seemingly abstract scientific curriculum. We will share our experiences and suggest approaches which can provide a platform for individual departments. As well as highlighting physics pedagogy resources, participants will apply these to running CPD sessions at a school or local level. Activities will include introductions of some popular coaching models that support colleagues as reflective practitioners, examining the benefits for teachers at all stages of their careers.
4th July: The Real Value of Practical Science
AQA have been analysing how the questions on our A-level science examination papers have performed since reform, with particular focus on questions that have been designed to assess practical work indirectly. Essentially we have been able to look at performance of individual students or whole cohorts of students across a wide range of schools and colleges that make entries with us. As an awarding body holding a majority market share we have also worked face to face with teachers from almost 2000 schools and colleges since monitoring visits started in January 2016 and some interesting trends are emerging. This workshop will aim to share our methodology behind this current and on-going research, with particular reference to what we are actively doing to support teachers as they deliver practical science in the laboratory. Common barriers such as a lack of teaching resources (including technician provision) can make practical science tempting to superficially deliver or at worst completely ignore, especially if compounded by the skills gap that has unfortunately developed as a by-product of the controlled assessments in the legacy specifications. Coming to this session will stress how important practical science is to students today.
Lunch, networking and poster presentations
4th July: Permission to Dabble! Teacher CPD
Permission to dabble! Facilitating teacher CPD in a community of practice. The session will be based on our experiences of leading the Primary Science for All Project. It will explore how teachers can be supported in developing their own lines of enquiry through  close to practice research and as members of a community of practice. Key to the community activity was engagement in a range of approaches to support reflective practice. We will consider whether and how these approaches supported reflective practice and the impact they had on the final outcomes of the project.  The session will include a contribution from at least one of the teachers on their impressions of being involved in the project. It will be referenced to The Standard for teachers' professional development.  
4th July: A Toolkit for Engineering in the Primary Classroom
Interest in and attitudes towards STEM subjects decline between ages 10-14 (Archer et al., 2010).  However, positive STEM experiences can bring about radical changes in interest in STEM subjects and future career aspirations (Wilkinson & Sardo, 2013).  It is therefore essential to expose children to positive STEM experiences at the late primary age. This is vital if we are to try to fill the 830,000 new STEM roles that are needed  (Royal Academy of Engineering, 2012). The team at UWE have developed a dual focussed toolkit which aims to bring engineering into the primary classroom to deliver science in a problem solving contextualised format. It is proposed that the toolkit and materials contained within this would be presented to the conference. The first element of this toolkit focusses on materials and training for primary school teachers.  This involves CPD materials with a focus on the engineering design process and how science teaching and learning can be aligned with this as well as ideas aiming to address parental involvement. Curriculum development and science capital are a continuing theme throughout this element of the toolkit. The second element focusses on materials aimed at the HE sector. This element contains training materials for pre-service primary school teachers (focussing on the science through engineering approach) and undergraduate engineering students (focussing on teaching and learning in the primary classroom). The toolkit then develops this further by laying out how these two sets of students can be paired up within a knowledge exchange format to deliver engineering challenges into primary classrooms. A model of how the work can be embedded into UG provision within education and engineering degrees will also be presented. The materials contained in this toolkit build on previously successful research which has indicated that involvement in a science through engineering model has benefits for all participants. An increase in the public engagement skills of the engineers was observed (Fogg-Rogers et al, 2016) and the children reported an increased interest in science and engineering and career aspirations relating to these subjects. The pre-service teachers demonstrated significant gains in their STEM subject knowledge confidence and confidence in their ability to teach these subjects (Lewis et al. 2015) (a key factor in ensuring positive outcomes for children (Ofsted, 2011, Singh & Stoloff, 2008). For fully qualified teachers participation in engineering professional development workshops, can change the way they teach science and other subjects (Macalalag and Tirthali, 2010).    
4th July: Science Capital in Primary/EY PGCE Students
Dave Jones at the University of East Anglia and Sally Spicer at the University of Warwick are undertaking collaborative research on factors influencing the development of science capital in primary and early years PGCE trainees and its impact on science teaching. We have recruited trainees from the 2018 /19 cohorts to participate in the research. The methodology uses 3 questionnaires over the course of the PGCE year, completed anonymously. Questionnaire 1 captures a baseline of science capital at the start of the course. We contacted Louise Archer and Jennifer De Witt and loosely based the questions around ones they used for their research audience of children and young people. We have approximately 90 respondents. The 2 further questionnaires will be made available for completion following trainee's completing block placements in schools and towards the end of the PGCE course. We aim to identify factors on the courses that have an impact on trainees' science capital and their confidence to teach the subject. Findings will potentially influence future aspects of our courses.
4th July: Developing Novel Approaches to Support Science Teacher Well-being
A recent NFER report (Worth, Lynch, Rennie, and Andrade, 2018) has highlighted the acute teacher recruitment and retention crisis and emphasised that the challenges are particularly severe for science teachers. The report argues that, because teachers report threats to their wellbeing as a significant factor in deciding to leave the profession, proposed solutions such as increasing salaries and benefits will not remedy the crisis. In response to this crisis of teacher wellbeing, well-intentioned schools have adopted a wellbeing agenda which seeks to support teachers by providing a range of interventions, such as yoga and Pilates classes (Stanley, 2019). We argue that such support can be problematic because it places the responsibility of fostering wellbeing on the individual when teachers' wellbeing is often threatened by structural causes beyond teachers' control. This year, we have introduced sessions to support the wellbeing of trainee teachers on an initial science teacher education course. To develop these sessions, and to develop approaches to supporting teacher wellbeing more widely that acknowledge the structural causes of stress, we have received funding to carry out research exploring teacher wellbeing. The study involves interviewing 18 teachers in primary and secondary schools to understand the wellbeing support being offered to them and to examine teachers' views on the appropriateness of the support. The teachers were selected using a purposeful sampling strategy to maximise variation in the role, type of school and years of experience. The semi-structured interviews ask teachers to describe the wellbeing support they currently receive and how effective they feel it is in supporting their wellbeing. We intend to present data from the initial stages of data collection and report how practitioners' views can be used to develop new approaches to support teacher wellbeing. 
4th July: SKE and NQT's Work
A short presentation about subject knowledge enhancement (SKE) courses. SKE is taken by trainees before starting their initial teacher training programmes so that they are well prepared for the classroom.  I ask: what subject teaching do SKE graduates do once they have get to their schools as NQTs? Are they timetabled appropriately for their SKE experience?  I believe that clarity on this will encourage a more coherent approach to early career development and workload management.
4th July: Artificial Intelligence Education
How should educators respond to the way the world is changing as a result of developments in artificial intelligence? We want to create a discursive space for educators to consider the overall question alongside exploring the following areas:  What would good AI education look like?  How does AI impact on how and what is taught within science, STEM and other subjects and disciplines?  What CPD would enable teachers to be confident about AI in all its various forms and uses?  Our starting point for discussion is that educators do have a role in developing knowledgeable citizens and users so that they can engage in AI developments in a more informed way. AI is already integrated into many aspects of science, technology and society in ways that are often not appreciated by teachers, students and the general public. Thus good AI education also has the potential to impact on Science Capital related dimensions such as students' technological literacy and on their science related attitudes and dispositions.
4th July: Student and Probationer Teachers
The Scottish Schools Education Research Centre, in partnership with the Scottish Teacher Education Institutes (TEIs), has for many years delivered a residential professional development event, The Scottish Universities Science School (SUSS) for secondary science PGDE students and graduating science/education students across Scotland. We hope that SUSS is the start of a career long association with newly qualified teachers. During the probationer year which follows, we offer additional opportunities to further consolidate subject knowledge and pedagogical skills. In this session we will share the aims and structure of SUSS and reflect on feedback from participants and TEI tutors. Our evidence suggests that SUSS improves student teacher subject knowledge, confidence and motivation. We will also explore the potential for roll-out of the SUSS model to other subject areas.   
5th July: Curriculum Design (Primary)
Framing a curriculum for primary science by the Primary Curriculum Advisory Group -  the RSC, the RSB, the IOP and ASE.
5th July: Curriculum Design (Secondary)
Teaching scientific practices – The science learned societies are developing visions for curriculum in their respective disciplines. Join us to discuss the implications of this work for teachers' professional development needs.
Lunch, networking and poster presentations
5th July: Large Primary Workshop with CLEAPSS - What should I say and do about safety?
Have you ever wondered what responsibilities you have when advising on practical work? Ever been asked to comment on safety and felt uncomfortable? Have you ever been concerned by pratices you've seen but were unsure about what to say? During this session we'll consider why the changing landscape of education is increasingly exposing advisors and lecturers to these scenarios. Jason will explain the legal duties that lecturers and advisors need to consider and how to fulfil them.
5th July: Large Secondary Workshop with CLEAPSS
5th July: Educating the 21st Century Primary Science Teacher
Attendees of this session will reflect on how they might develop their training objectives for trainee and practicing teachers in primary schools in the light of current research around careers and science capital carried out by the NUSTEM research and outreach group at Northumbria University in a range of schools in the NE of England. Can our research findings lead to improved practice in teacher training and can we even agree on what best practice is?  Based upon experience and research with teachers in our partner schools, NUSTEM have developed best practice guidance in primary science education. The guidance is made up of a number of small, subtle shifts in teaching approach that we believe will benefit all pupils learning science. The guidance includes the following approaches:  • Curriculum informed, careers inspired.  • Real-world, relevant contextual teaching.  • Unconscious bias and stereotype awareness  • Supporting the key influencers of children  • Whole school focus  • Active teaching approaches using enquiry-based learning  • Development of STEM attributes    Our session will provide attendees to the opportunity to take part in in-depth discussion about our guidance and to explore how this relates to current practice in teacher training. We'll share the best practice guidance and give practical support to help participants integrate this approach into any training they deliver. We'll also discuss what impacts these changes in primary teaching may have on science education at secondary school level.  
5th July: Thinking, Doing, Talking Science
Thinking, Doing, Talking Science (TDTS) aims to make science lessons in primary schools more practical, creative and challenging through strategies that encourage pupils to use higher order thinking skills. Teachers enable their pupils to think and talk about scientific concepts through dedicated discussion times, they provide pupils with a wide range of opportunities for creative investigations and problem solving and they focus the pupils' recording so that is there is always time for practical science. Over the past five years, this CPD programme, developed by Bridget Holligan (Science Oxford) and Helen Wilson (Oxford Brookes University), has been researched through two randomised controlled trials funded by the Education Endowment Fund (EEF). The results of the small scale efficacy trial (41 schools) published in 2015 showed a positive impact on pupil attainment and attitude to science. Between 2016 and 2018, TDTS delivery was scaled up in an efficiency trial involving 200 schools and ca. 9000 pupils. The results will be published in December, along with several other large scale EEF trials. This session will share the trial results and explore what they tell us about models for effective CPD in schools at a large scale.
5th July: Best Evidence Science Teaching (BEST)
The best teaching draws on the best evidence. Yet despite increasing calls for evidence-based practice in classrooms, science teachers' lives are so busy it is hard for them to access and effectively implement the best principles emerging from education research. The proposed session introduces a new collection of free, research evidence-informed resources for effective teaching of difficult ideas, embedded formative assessment and adaptive lesson planning in 11-14 (KS3) science. The materials are organised in line with the 'Big ideas in science education' approach and can be used with any published scheme. Attendees will be able to explore and interact with our online classroom resources, including subject maps and progression tool-kits containing learning progressions, banks of diagnostic questions that reveal misunderstandings and response activities that help build scientific understanding. The resources are being developed by the University of York Science Education Group and the Salters' Institute, and are freely available on the National STEM Learning website.
5th July: Cross-Curricular Science
We will report a study of teachers' curriculum making in one multi-academy trust in Doncaster that aims to integrate the whole of the 11-16 science curriculum into a form of problem-based learning expeditions. This approach aims to combine pupils' engagement with a knowledge-led curriculum (Pountney and Said, 2018) by integrating STEM subjects in a principled way (Pountney and McPhail, 2017). We illustrate the curriculum design process and how science curriculum has been integrated with other curriculum subjects, giving practical examples from expeditions and difficulties that teachers face in this entreprise and how they are being overcome.
5th July: Climate Across the Curriculum
TROP ICSU is a global project funded by the International Science Council, led by the International Union of Biological Sciences (IUBS) and co-led by the International Union of Quaternary Research (INQUA). The project partners include other international unions, national academies of various countries, national research centers, and United Nations agencies. We collate and curate digital/ICT-based teaching resources that integrate climate studies with curriculum in various disciplines, including Science, Mathematics, Social Sciences, and Humanities. These teaching resources are globally relevant for their science, but locally rooted in their context. Such an integrated approach will: o Introduce examples and case studies from climate science and climate change while enhancing the conceptual understanding of topics in Science, Mathematics, Social Sciences, and other disciplines  o Impart interdisciplinary training that is essential for research and action on climate change adaptation and mitigation.  Teaching Tools: Each teaching tool is typically a computer-based tool such as an interactive visualization, a simulator/model, a video micro-lecture, or a classroom/laboratory activity that can be used to teach a topic in the curriculum of a particular discipline with the help of a climate-related example, case study, or activity.  Lesson Plans: Each lesson plan consists of a set of teaching tools and a detailed write-up with step-by-step instructions for using these tools to teach a topic in a particular discipline by using climate-related examples, case studies, or activities. In this hands-on interactive workshop, participants will first be introduced to the TROP ICSU project and its teaching resources. Then, the facilitator will guide them through a complete Lesson Plan in a specific discipline (Earth Sciences). They will be introduced to each component of a Lesson Plan and will be guided (in a hands-on session with access to computers/laptops) through the use of the computer-based tools in the chosen lesson plan. The participants will then be invited to provide their feedback on the teaching resources in that Lesson Plan and to provide suggestions on how these could be customized for usage in their classroom.  
About the ASE Futures Group
The ASE Futures Group is the natural home for those involved in teachers' professional learning and members can range from university tutors, education consultants, local authority staff, Heads of Science and leaders responsible for CPD. This expert group provides support and voice for Initial Teacher Education and Continuing professional development, fostering high quality professional learning for future generations of science teachers at all levels of education. This is achieved through research, networking and professional development within and beyond the group, and through responses to government consultations. The committee organises the ASE Futures Conference. Members receive the Science Teacher Education (STE) journal. 
The Futures Group sits on the cutting edge of research, policy and practice within science education. In order to further our mission, we need people who have the drive and determination to improve current practice and to shape the future of science education - across all settings. If you'd like to join, email conferences@ase.org.uk and we'll get back to you.
This event is supported by