ASE Futures Conference 2020 - Now Online
02 July 2020

-

03 July 2020
For anyone with an interest in the future development of science educators!
Event Type:
Conference
Festival
Online event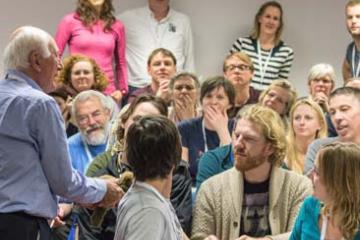 Programme
The ASE Futures Online Conference has a thought-provoking programme across 2 days, appropriate for everyone involved in teacher training, advising, and professional development. From university tutors, education consultants and local authority staff to Heads of Science and leaders responsible for CPD, if you are a teacher looking to take science education beyond your classroom, ASE Futures is an ideal place for you to be! The Conference provides a great opportunity for engagement about the future of the science education sector and will delivered using Zoom technology including live interactive sessions. Get involved!
Ticket prices start at £36 for ASE Futures members for one day, with discounted tickets for ASE members.
In depth session synopses can be found at the foot of the webpage in the header Files within the PDF link
Thursday 2nd July
0915 Welcome by Hannah Russell, CEO of the ASE
0925 Keynote - The roles of professional development facilitators, Emily Perry IoE at Sheffield Hallam University
1045
For 11-19: How the concept of Epistemic Inquiry can help plan a science curriculum, Alex Black ABC Learning
For Primary: An update on the new PLAN resources, Naomi Hiscock PSEC
1205
For Primary: How do teachers learn to ask good questions in science? Colin Forster, University of Gloucestershire
For All: Ofsted Inspection of ITT Provision TBC
For All: Blended learning, Gregor Steele SSERC
1350 Keynote: Evidence informed practice: Professor Chris Harrison, Kings College London and Alastair Gittner,                            Hallam TSA   
1510
For 11-19: Whose curriculum is it anyway? Lucy Wood, The Ark Science Mastery Team
For Primary: Science capital in primary GGCE Trainees, Sally Spicer, University of Warwick
For All: Transitioning the skills KS1 to KS4, Robert Campbell, St Mary's University
Friday 3rd July
0900 Keynote - Ofsted update and discussion, Matthew Newberry HMI Ofsted TBC
1000 For All: Discussion and questions posed by Matthew Newberry and report back TBC
1115
For Primary: Introducing scientists work to primary children, Alison Trew / Ruth Shallcross / Kate Redhead, Primary Science Teaching Trust and Alex Sinclair, St Mary's University
For 11-19: Developing an early secondary science curriculum based on cognitive matching, Alex Black ABC Learning
For All: Celebrity scientists inspire! Maria Dent, University of Derby
1215
For Primary: Developing primary science communities of practice, Clare Warren, University of Hertfordshire TBC
For All: Leading collaborative curriculum research and development, Julie Jordan Sheffield Hallam University
For All: Young STEM Leader Programme, Graeme Rough
1400 For All: Interactive future-gazing in science education, ASE Futures Committee
1520
For Primary: Using FED to develop science leaders, Tanya White Transform Trust
For 11-19: Rethinking practical science, Amanda Clegg AKC Educational Consultancy and Karen Collins Apogee Education
For All: Mitigating the effect of language in the assessment of science, Oksana Afitska, University of Lancaster 
1610 Close
For queries please email conferences@ase.org.uk 
Files

Online Programme Apr20 - Full Session Descriptions.pdf
Click links to download individual files or…