ASE London Region Teachers Conference
UCL Institute of Education (IOE)
20 Bedford Way
Bloomsbury
,
London
WC1H 0AL
,
United Kingdom
ASE-London Conference will be based around the EEF Report Improving Secondary Science with Dr Christine Harrison as keynote.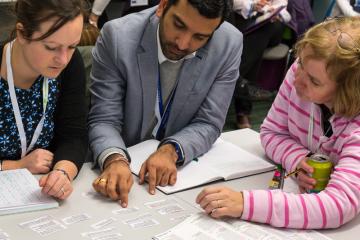 Full details
PROGRAMME:
9.30: Registration and coffee and Danish pastries.
10am Keynote: What messages are there in the Improving Science report for Primary and Secondary Classroom: exploring what we mean by research-informed practice. Dr Chris Harrison.
10.50- 11.50: Session 1 Workshops (choice of workshops - sign up on the day. Workshops will be limited to 20 participants and will be allocated on a 1st come basis)
12.00-13.00: Session 2 Workshops (choice of workshops - sign up on the day. Workshops will be limited to 20 participants and will be allocated on a 1st come basis)
For those not rushing off at the end of the conference, London ASE Regional Committee would like to invite you to stay and discuss ideas from the conference and future events you would like to see.
Primary workshops 
Assessing prior knowledge: Tracy Tyrrell, Irchester Community Primary School.
Tracy has developed a set of pre-assessment tasks covering all KS2 science topics to help teachers assess prior knowledge and misconceptions, and develop children's questioning. These tools provide opportunities to both formatively assess and report on pupil progress in science.
How to develop talk strategies in Science; Jo Moore, Vittoria Primary School.
This session looks at how talk can be used in the science classroom to develop vocabulary, understanding, higher order thinking skills and science writing. It will explore a range of strategies to get children talking and thinking, which you can take back to the classroom and use across all your science topics.
How to effectively link Science and Maths: Tom Holloway, Primary Science Teaching Trust.
This session will look at a range of practical ways that rich maths tasks can be included in Science lessons to enhance the learning of both subjects. It will look at how maths in science lessons can be so much more than measuring and can instead include place value, fractions, decimals, percentages, shape and ratio.
Mounbatten's 'Miracle' Material: Dave Dennis & Liz Morrison, Goldsmiths. London
During the Second World War, Lord Mountbatten is widely reported to have visited Chequers to see the Prime Minister. Upon being told he was in his bath, Mountbatten is reputed to have said, 'Good, that's exactly where I want him to be.' In this practical workshop, Dave and Liz will explore how a unique material was the reason for Mountbatten's bathroom visit and how it might be used in the primary classroom to stimulate inquiry learning and promote cross curricular thinking within the primary classroom.
Secondary workshops (Based on EEF Improving Science Report)
Feedback in Science Classrooms: Dr Christine Harrison, Kings College London
It is not surprising that Feedback is selected as a key research area that promotes improvement in science classrooms in the EEF Improving Science report. Learners receive feedback through a number of different loops and in a range of modes in the science classroom. This session will help you map out what feedback loops function in your classroom and help you consider what research suggests about the effectiveness and usefulness of these different ways of working in both the short and longterm.
What's the purpose of practical work and how to make it more effective? Arthur Galamba, Kings College London
Identifying the pedagogical uses of practical work in schools is challenging and a frequent criticism of such activities in schools is on its over-reliance on 'cookbook' tasks. In this workshop we will analyse some practical activities with a view to improve learning effectiveness by developing understanding of their logical structure, degrees of openness and the relation between pupils' 'doing' and ' thinking'
The Best Evidence Science Teaching (BEST) project. Alistair Moore & Peter Fairhurst (UYSEG)
This project aims to transform research evidence for practice by making hundreds of FREE, research-informed resources available to use in the classroom. The EEF Improving Secondary Science report cites BEST as a good source of diagnostic questions and activities that promote metacognitive talk and dialogue. Come along for a hands-on look at the resources and to find out how BEST can help you to develop a research-informed approach towards the seven main recommendations of the EEF report.
Getting to Grips with Language in Science. Andy Markwick, Education Consultant
To become competent in the language of science pupils need to be able to comprehend, analyse, and interpret texts and use the language of science to explain ideas and construct evidence-based explanations. Learning science involves learning a whole new language and it is important that you develop student's fluency in that language.
Venue location
UCL Institute of Education (IOE)
20 Bedford Way
Bloomsbury
London
WC1H 0AL
Conference Prices
| Member | Non Member | Trainee Member | Trainee Non Member | |
| --- | --- | --- | --- | --- |
| £35 | £60 | £10 | £25 | |
| | | | | |
| | | | | |
| | | | | |