ASE National Technicians Conference North - 2019 York - FULL! Bookings now closed
Siwards Way
University of York
,
York
YO10 5DD
,
United Kingdom
This is a one day inspirational CPD event, tailor-made for school science technicians. The day will comprise of some excellent hands-on sessions and relevant workshops along with an exclusive exhibition at the National STEM Centre in York.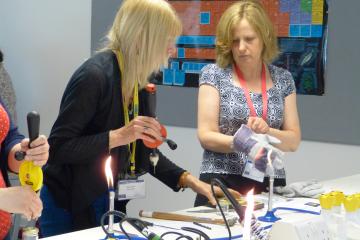 Programme
0930 - 1010 Registration, Refreshments and Exhibition
1010 - 1030 Welcome
1030 - 1200 Session A Options
Session A1 - Marvellous Microscopy: Simon Quinnell CSciTeach
Session A2 - Gratnells - What's in my tray?: Dr  Katherine Forsey Learning Rooms & STEM Consultant, Gratnells. With all new activities for 2019, this energetic, hands-on carousel of practical science activities returns by popular demand. Easily recreated in your own setting and useful as lesson starters to support theory work, for science week or STEM clubs. Five stations, five minutes per station, five areas of the science curriculum. Full resource pack available and prizes for the winning team! Tweeting is encouraged via #WhatsInMyTray.
Session A3 - Effective Performance Management: Emma King-Venables. This session will cover why we need appraisals, how to do them and how to identify good and bad practice.  Education and industry examples will be provided and objective setting will be covered, including SMART goals and even SMARTER goals.  There will be suggestions for extremely experienced technicians and where they can develop and we will discuss other tricky appraisees.  Types of CPD and links to appraisals will also be included.
Session A4 - Chemical Storage - Labexpert: Chris Pambou. This session is ideal for all technicians and is designed to provide the relevant information on chemical equipment storage including legislation on H&S, different types of chemical/specialist  stores, radiation, storage groups and GHS/CLP. There will be a demo of Labexpert software with barcode scanners and label printers as to how they can enhance the technician's role.
1200 - 1300 Lunch and Exhibition
1300 - 1430 Session B Options
Session B1 - Making Waves: Mark Robinson RSciTech. This "Make and Take Session" will use fire, jelly and spaghetti, amongst other things, to demonstrate waves, with an emphasis on standing waves and resonance. Each participant will have the opportunity to assemble and take away their own resonance tube (Kundt's Tube). This apparatus allows standing sound waves to be visualised and enables easy measurement of the speed of sound. The session will be of most use to technicians supporting A-level Physics. As numbers are limited to 15, preference will be given to delegates who have not done this workshop before.
Session B2 - CLEAPSS Make it and Use it!: Jane Major. Come along and pick up some ideas for making and using low cost science equipment. During the workshop you will make a spectroscope and, using the CLEAPSS' quick and simple sugar cubes-flame test technique, you'll be able to view spectra asociated with burning different metal ions. You will also make small scale electrolysis apparatus and investigate the electrolysis of copper chloride.  
Session B3 - Physics for non-specialists: Paul Cook RSciTech. "Understanding the Dark Side of Science" - The session will include the basic set ups and uses of commonly requisitioned physics equipment and will enable participants to better understand and develop confidence to use the resources so that key learning objectives can be acquired.
Session B4 - Using social media for promotion and networking: Siobhan Liddle. This session will provide an overview of the different social media platforms and examples of best use for connection with other technicians for networking and support, promoting the technician role and promoting your department/subject. An interactive session – BYO device and we will create some new posts, help each other set up accounts, join groups an follow each other. Bring your top tips to share if you are already a pro on a specific platform!
1430 - 1445 - Refreshments and Exhibition
1445 - 1545 - Session C Options
Session C1 - Making crafting equipment: Liz Testa. This session will involve making or showing already made equipment that technicians can make for science departments using crafting skills. Patterns & templates will be provided.
Session C2 - Working with glass: Chris Peel. Participants will gain knowledge and confidence to produce simple 
Session C4 - STEM Clubs: Angie Ridout RSci. Come along to this session to learn about STEM Clubs, how to get started and how to do STEM Clubs schemes of work. This will be a hands-on session with some takewaway ideas from the presenter covering Dagenham Park's 4 year STEM club scheme of work.
Session C5 - Technicians Supporting Practical Science: Simon Quinnell. This interactive practical session will explore what makes a good practical and get you thinking about how as technicians we can improve the technical service to make practical work more effective for students. As part of the session we will explore a range of new simple practical ideas and equipment, across all three subjects that we can explore together and think where we could advocate its use back in our schools. You will be able to explore a range of practicals to take back to school and evaluate how the technicians service could be developed to improve the practical experiences of students
1545 Close
Ticket Prices
| | | | | |
| --- | --- | --- | --- | --- |
| ASE Member | £49 | | | |
| Non-member | £79 | | | |
| Non-member inc. ASE Technician membership | £89 | (includes a 20% discount on the full Technician membership price of £50) | | |
| | | | | |
Venue location
National STEM Centre
Siwards Way
University of York
York
YO10 5DD
Accommodation and Travel
Delegates requiring onsite accommodation may wish to book through York Conferences by telephone number 01904 328431 or by email to conferences@york.ac.uk. Please note that car parking at the National STEM Centre is extremely limited and the use of public transport is stongly recommended. Further information regarding the pay and display car park can be found HERE or alternatively www.justpark.com and insert "University of York, Heslington" as your location.
Further travel information and advice can be found at: https://www.stem.org.uk/finding-us