ASE National Technicians Conference South - FULL - bookings now closed!
De Havilland Campus
,
Hatfield
AL10 9EU
,
United Kingdom
A one day CPD event tailor-made for school science technicians. The day will comprise of some excellent hands-on sessions and an exclusive exhibition at the home of the ASE - University of Hertfordshire.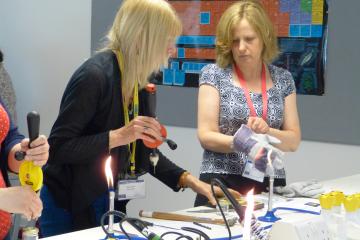 Full details
Registration/Exhibition 09.30 - 10.15
Welcome 10.15 - 10.30
Session A 10.30 – 12.00
A1 : Upcycling materials, recycling ideas and prep room tips: Alison Christou RSciTech & Trevor Bennett RSciTech
A collection of ideas, demos and hands-on activities. To include electrolysis set-up, DIY Tullgren funnel, a new approach to chromatography, tidier ray boxes and an introduction to using QR codes in the prep room plus much much more!
A2 Physics for non specialists: Paul Cook RSciTech
Understanding the Dark Side of Science: The session will include the basic set ups and uses of commonly requisitioned physics equipment and will enable participants to better understand and develop confidence to use the resources so that key learning objectives can be acquired.
A3 Prep room Management: Magda Polec, CLEAPSS
This discussion based CLEAPSS workshop is intended for experienced and inexperienced technicians. The objective of the workshop is to explore and share ideas for running an efficient and effective prep room. The main emphasis will be on organising the prep room, supporting practical work and managing everyday workload.
A4 BYOD experiments you can view in real time on your smartphone: Dan Roberts, Instruments Direct
Bring along you smart phone, Tablet or Chromebook with the Free Vernier Graphical Analysis app installed www.inds.co.uk/s/ga4. We will have a circus of experiments setup covering Biology, Chemistry and Physics. Some experiments will be covering core practicals.  The instruction sheet of each experiment will be available for you to take home.
Lunch /Exhibition 12.00 – 13.00
Session B 13.00 – 14.30
B1 Professional registration: Stephen Franey, Science Council
Every scientist and science technician has a responsibility to themselves, and to society, to work with integrity, keep their skills and knowledge up to date and consider how their science affects the workd around them. Our registers provide you with independent recognition of your achieving and maintaining the exacting standards required to join the global community of professional scientists and use the postnominals.
B2 Leading your technical service:  Simon Quinnell CSciTeach
This session in based on the ASE Technicians Leadership Programme and will get you thinking about how you can more effectively lead your technical service. Whether your a senior technicians or a lone technician (or someone aspiring to the senior role) this session will get you thinking about what you can do to improve what you do. in the session will will look at working with difficult characters, reflect on how we use emotional intelligence and think about how we work more effectively with others. 
Outcomes
You will be able to
Evaluate how you can work more effectively with others
Explore ways of dealing with difficult characters
Describe why emotional intelligence is important in the work place
B3 Making Crafting Equipment: Liz Testa
This session will involve making or showing already made equipment that technicians can make for science departments using crafting skills. Patterns & templates will be provided.
B4 Gratnells - What's in my tray?: Dr  Katherine Forsey Learning Rooms & STEM Consultant, Gratnells.
With all new activities for 2019, this energetic, hands-on carousel of practical science activities returns by popular demand. Easily recreated in your own setting. Useful as lesson starters, to support theory work, for science week or STEM clubs. Five stations, five minutes per station, five areas of the science curriculum. Full resource pack available and prizes for the winning team. Tweeting is encouraged via #WhatsInMyTray.
Tea/coffee/Exhibition 14.30 – 14.45
Session C 14.45 – 15.45
C2 Effective Performance Management: Emma King-Venables
Why we need appraisals, how to do them and when.  Good and bad practice.  Education and industry examples will be provided.  Objective Setting: SMART goals and even SMARTER goals.  Suggestions for extremely experienced technicians, where they can develop and other tricky appraisees.  Types of CPD and links to appraisals
C3 Technicians supporting practical science: Simon Quinnell CSciTeach
This interactive practical session will explore what makes a good practical and get you thinking about how as technicians we can improve the technical service to make practical work more effective for students. As part of the session we will explore a range of new simple practical ideas and equipment, across all three subjects that we can explore together and think where we could advocate its use back in our schools.
Outcomes 
You will be able to
Explore a range of practicals to take back to school
Evaluate how the technicians service could be developed to improve the practical experiences of students 
C4 SAPS session: Lynne Rawlings RSciTech
In this session  we are going to be looking at the wonderful world of plants and plant structure.
How using SAP resources can help practical's to work almost all the time!
How KS 4 and 5 practical's can be used in KS3 with a little bit of modifying!
We will look at old classics through to new experiments, with keeping the cost to a minimum in true technician fashion
Delegate Fees
| Member | Non Member | Non-members including ASE Technician membership | | |
| --- | --- | --- | --- | --- |
| £32 | £50 | £72 | | |
| | | | | |
| | | | | |
| | | | | |
Venue Location
Hertfordshire University
De Havilland Campus
Hatfield
AL10 9EU