ASE Online Summer Conference 2020 - video session recordings now available
24 July 2020

-

04 September 2020
The Online Summer Conference 2020 session recordings are now available for viewing until Friday 4th September 2020.
11-19 Teachers
Early Career Teachers
Primary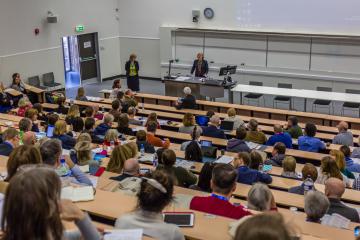 Programme
Please note if you attended the conference on 24th June, you will have free access to the recorded sessions and details will be emailed directly to you. If you wish to view recordings only, please purchase the relevant ticket.
Keynote: 09.30 – 10.00 Innovation, improvement and incremental change: What is the role of teacher agency? Professor Chris Harrison, Kings College London
Session A 10.00 – 11.00
A1: Primary: Science Meets English: Naomi Hiscock CSciTeach
A2: Primary: Decisions, decisions, decisions about your primary science curriculum: Marc Neesam
A3: Cross Phase: Mind the gap; supporting transition: Liz Lawrence
A4: Secondary: Mastery and Metacognition: Getting ready for the return to school: Henna Nathanwi, Pearson
A5: Secondary: Teaching electricity; some challenges for students from KS3 to A-level Trevor Plant, IoP
A6: Secondary: STEM Education for Girls: celebrating success, the challenges still to come, and sustaining an inclusive STEM culture in Secondary Schools: Mercedes Willard 
Break: 11.00 – 11.30
Session B: 11.30 – 12.30
B1: Primary: Helping children to learn science using simple effective memory friendly approaches: Hellen Ward CSciTeach, Canterbury Christ Church University
B2: Primary: Physics in the primary classroom: Ed Walsh
B3: Cross phase: Strategies to retain good science teachers.......: Andy Chandler-Grevatt CSciTeach
B4: Secondary: Quality of curriculum and progression in science: Pete Robinson CSciTeach
B5: Secondary: Practicals with purpose: Using practical work effectively at GCSE & A Level: Andy Brunning OCR
B6: Secondary: Adding depth and challenge - considering the bigger questions in science lessons: Mike Sands, Rochester Grammar School (please note session starts slightly later at 11.45)
Lunch 12.30 - 13.30
Session C: 13.30 - 14.30
C1: Primary: Developing high-quality talk in Science: Chloe Lister, Newington Green Primary School
C2: Primary: Early Years Science: Abi Rudall, Boxgrove School
C3: Cross Phase: Google Science Journal: Ed Walsh
C4: Secondary: Promoting progress through student centred assessment: Andy Chandler-Grevatt CSiTeach
C5: Secondary: Challenging misconceptions in the science classroom: Chris Harrison
C6: Secondary: "Focus On Success" GCSE science assessment training guides: Elise Reece & Julian Clarke, AQA
Break: 14.30 - 15.00
Session D: 15.00 – 16.00
D1: Primary: What can the Primary Science Teaching Trust offer you? Kulvinder Johal
D2: Primary: Bare Essentials of Primary Science Subject Leadership: Bryony Turford CSciTeach
D3: Cross Phase: Reimagining STEM: Michelle Grant
D4: Secondary: Best Evidence Science Teaching (BEST): Helen Harden, Alistair Moore & Peter Fairhurst
D5: Secondary: Good Practical Science: Ed Walsh
D6: Secondary: Developing Literacy in KS3: Andy Markwick
For queries, please email conferences@ase.org.uk
Delegate fees to view session recordings
| ASE Members Recordings Package | ASE Non Members Recordings Package | | | |
| --- | --- | --- | --- | --- |
| £37.50 | £57.50 | | | |
| | | | | |
| | | | | |
| | | | | |