ASE Online Summer Conference 2021
17 June 2021

-

18 June 2021
The ASE Online Summer Conference 21 will take place over 2 days offering a fantastic variety of sessions for Early Career, Primary and Secondary science educators. 
11-19 Teachers
Early Career Teachers
Primary
SLT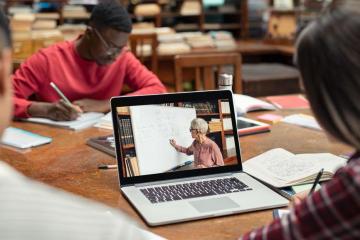 About the conference
The ASE thanks GCSE Pod for their generous support of this event.
The ASE is delighted to be able to offer an Online Summer Conference on 17th and 18th June 2021. The content has particular focus for early career teachers and primary and secondary educators, and we hope that there is something for everyone involved in all sectors of science education.
Please click HERE to view the live programme on Sched, (which may be subject to minor changes). For those of you unfamiliar with Sched, it is an online timetabling tool which presenters can use to update their session information and delegates can use to form their own personal agendas for the duration of their participation. Please see the Files link below for a brief overview of how to use Sched.
For each of the two days, we have 5 Zoom Rooms offering sessions for Panels & Keynotes, Early Career Teachers, Primary Educators, Secondary Educators and an All audience. We are pleased to also have a selection of dedicated 30 minute-long sessions from exhibitors interspersed throughout the programme - those participating include GCSE Pod, ABPI, AQA, Harper Collins Publishers, the Royal Society of Chemistry and OUP.  Delegates will also be able to listen to pre-recorded sessions from other exhibitors and be able to access special offers from our Digital Delegate Bags.The Panels and Keynotes sessions will be recorded and made available to those registered to attend the conference after the event and it is hoped that two sessions will be live-streamed.
We are further delighted to be able to offer exclusive and limited discounts to conference participants on books related to specific conference sessions. A 25% discount will be offered off of The Power of Assessment for Learning by Margaret Heritage and Chris Harrison linked to Thursday's session on Assessment a 3.20pm, as well as the 3 new editions of each of the Teaching Subject Knowledge books for Physics, Chemistry and Biology, which have related sessions in Strand 5 on Thursday, facilitated by a selection of the co-authors. Details will be provided to registered participants during the conference, as to how to make cost-saving purchases.
Tickets are available for single day attendance from £54, or for both days from £84 for ASE members and at 50% off for Early Career Teachers - please email conferences@ase.org.uk for details.
The ASE is able to offer 10% off of ticket prices for participants who wish to attend both the Summer Online Conference and the Futures Online Conference in 2021 - please email conferences@ase.org.uk to be provided with instructions on how to access the discount for both events.
For any queries please email conferences@ase.org.uk