ASE Online Technicians Conference
This online conference has a full programme of sessions, all of which will be recorded and can be viewed at a later date by paying delegates.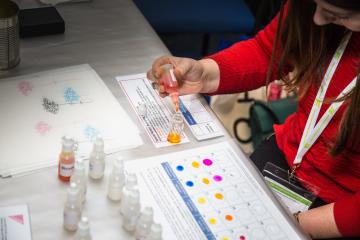 Programme
0900 to 0930
Welcome and keynote: Ann Bullen RSciTech, ASE Technician Committee Chair & Simon Quinnell CSciTeach, ASE Chair Elect
0935 to 1035 Session A
A1 Upcycling in Lockdown: Do you have time on your hands, time to make things, or try a new idea or need to make things that have been sitting around? In this session I will show you things that I'm making or have made, with very limited resources. Lynne Rawlings RSciTech
A2 How to develop into a successful senior technician: Are you, or will you become, a lead or senior technician at some point in your career? If so this session will help you think about and explore the areas that you could develop to help you become a better head of your technical service. What do good technician leaders do, how do they manage and lead their teams and service, and what can you do to improve what you do? This interactive session will explore the characteristics of good technician leadership and management and get you thinking about what you need to focus on. Simon Quinnell CSciTeach
A3 What's In My Tray? Lockdown Special: A showcase of the popular What's in my tray? practical activities featuring Dr Katherine Forsey's 'Lockdown Edit' of over 30 practical science and STEM activities that could be carried out at home or in school with appropriate distancing. Perfect for those wanting to keep practical science alive under the current restrictions or provide members of their STEM Club with ready-made activities. There will be a preview of the new antimicrobial and compostable trays and an update on the Gratnells Science Technician of the Year Awards. Dr Katherine Forsey, Gratnells
A4 LogIT datalogging: Advice, live Q&A and videos of experiments on calibrating probes using Sensorlab softare. Selene Gilles, Breckland Scientific and Mark Finch, LogITworld
1035 to 1100 BREAK
1100 to 1200 Session B
B1 Managing science practical work in a partially re-opened school: This CLEAPSS session is intended for all technicians. The objective is to explain and clarify how practical work can be safely carried out, taking into account the latest guidance, as well as all normal planning and risk assessment judgements. It will help technicians to understand what needs to be considered when reviewing a return to carrying out practical work in Science. Magda Polec, Chemistry Advisor CLEAPSS
B2 SAPS: A whistle-stop tour of the SAPS website to show how we might find resources to support teachers' delivery of specific parts of the curriculum. With pre-recorded resource demonstrations to help, and live Q&A's too. https://www.saps.org.uk. Gail Webdell and Martin Bassett-Jones, SAPS
B3 RSciTech and CPD: How to fill in the forms with help from the ASE technician committee. Find out what can count towards your CPD return and what you need to write. Members of the ASE Technicians Committee will be available for a live online Q&A: Ann Bullen RSciTech
B4 Inspire equipment designed for the physics GCSE and A level curriculum: Gary D'Cruz, SLS Select Education
1200 to 1300 LUNCH and drop-in/out TechMeet
1300 to 1400 Session C
C1 A Zero is a Hero: maintaining your work-life balance in challenging times:   Andy has been working with teachers using this approach and technicians are finding it useful too. This workshop is based on a concept that helps you keep tabs on and aim to maintain a sensible work-life balance. It will also explore how we manage our emotional needs in times of change and uncertainty with a range of practical strategies to manage our needs and those of others. In this session you will take a moment to reflect on the demands on you and your goals and find strategies to manage those demands and achieve your goals.  Dr Andy Chandler-Grevatt MSc, BSc (Hons), PGCE, MRSB, CSciTeach
C2 Chemical Storage and Stock Control systems using LabExpert software: This session will provide information on chemical and equipment storage covering legislation on H&S, chemical stores, different types of stores, radiation, storage groups and GHS/CLP. The session will include a demo of the LabExert software and how this can enhance the role of science technicians and will use some resources made in advance for the online presentation: Chris Pambou, LabExpert
C3 Returning to school after  lockdown: Not sure what checks to carry out on your return to work?  Worried about your chemical store? Concerned about your stocks of PPE?  This session will help to allay some of the concerns technicians may have on their return to school after this extended period of closure. Jane Major, Section Lead Technical Services, CLEAPSS
C4 The Power of Demonstrations: This session will explore what makes a good practical demonstration, what we need to think about as technicians when we prep demonstrations up, and the session will also explore a range of simple chemistry (and some biology/chemistry) that can be undertaken in school. With demonstrations becoming ever more important, it's worth thinking about how they can be done and as technicians how we can improve them (and what to advise and suggest to teachers). Simon Quinnell CSciTeach
1400 to 1415 BREAK
1415 to 1515 Session D
D1 Simple circuitry: We will look at setting up series and parallel circuits, their characteristics and incorporate multi-meters to measure current and voltage. For more advanced circuits we will look at charging and discharging a capacitor that is linked to a required practical. I will try to answer questions during the session, including demonstrating them if time allows and I have the circuit components if required. Paul Cook RSciTech
D2 Ecology Fieldwork – Keeping Practical Science Alive: A whirl-wind video tour of simple ecology fieldwork techniques that could be carried out in gardens or school grounds using readily available, recycled and home-made equipment. These activities could enable students to continue with practical work from their own garden or socially distanced in school grounds.  Dr Katherine Forsey
D3 New Technician's Survival Kit; how to survive the first year and beyond: Suitable for anybody new to being a school science technician or anybody who has been in post for less than a year (approximately).  An informal discussion based session giving tips drawing from experience of what is useful during the first year and beyond. Tracey Black RSciTech
D4 Technicians Supporting Students:  This session is for technicians that are interested in getting involved more directly with students in their departments. It provides a taster of the ASE Technicians Supporting Students course and will explore what technicians could and should do in the classroom, demonstrating to classes and issues when working with students. Simon Quinnell CSciTeach
1520 to 1530 Plenary and Feedback
1535 Close
Please note that all sessions will be recorded and therefore all paying delegates will be able to view all sessions approximately 3 weeks after the conference, using password protected access provided by the ASE. Therefore, please do not be discouraged from attending if your first choice of session is unavailable on the day upon booking your ticket - you will be able to view a recording at a later stage as long as you have paid to participate!
For queries please email conferences@ase.org.uk