ASE Scotland Conference 2021Online - #ASEScotConf
The ASE Scotland Conference is a festival of best practice in science education for everyone and is now online. 
11-19 Teachers
Early Career Teachers
Primary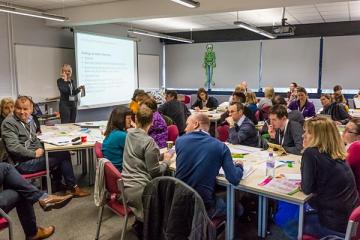 Full Details
The ASE Scotland Conference Online is a festival of best practice in science education for everyone with an interest - teachers, technicians, lecturers, trainees, advisors, and more. Discounts are available for ASE members.
Thanks are extended to Leckie, Scotland's leading educational publisher, for generously sponsoring this event.
In addition to supporting teaching in biology, chemistry and physics, the conference will explore primary science and careers in STEM. Exhibitors are invited to submit 15 minute-long recordings in MP4 format, of their resources for science education at this conference, which will be viewable until 16th May 2021 free of charge to conference delegates (please email to conferences@ase.org.uk by no later than 2nd March 2021).  Please see below for current exhibitors.
Timings for the programme are below, with fuller session details beneath. You will be requested to pre-select your session choices when booking, but all delegates will be sent all session links for the duriation of the day. The ASE will aim to record as many sessions as possible, and make them available after the conference for paying delegates.  Delegates will also benefit from a 20% discount from Millgate House Education and ASE published books, some of which are related to conference sessions.
Ticket sales close at 2.30pm on Friday 12th March and Zoom links will be circulated shortly afterwards that afternoon.
Please click here for the online interactive PDF of the programme and/or there is also a link to a downloadable PDF of the Word version of the timetable under the Files heading below.
09.30 – 10.05 Welcome and keynote - talk, dialogue and questions: Stuart Naylor CSciTeach
10.05 - 11.10  Session A (6 options)
11.10 - 11.40 Break and Leckie drop-in session!
11.40 - 12.45 Session B (6 options)
12.45 to 13.45 Lunch - drop in/out networking session
13.45 to 14.50 Session C (6 options)
14.50 to 15.15 Break
15.15 to 16.20 Session D (6 options)
16.20 Close
Programme Details 
Keynote address – Talk, dialogue and questions: Stuart Naylor CSciTeach
This interactive talk explores some aspects of dialogic teaching, including how a growth mindset supports dialogue in classrooms. It focuses especially on the nature of thought-provoking questions and the impact that these can have on learners. Is asking thought-provoking questions the most valuable skill that teachers of science can develop?
Workshop A choices:
A1: Teaching physics through road safety: Ken and Jennie Hargreaves, Institute of Physics
A chance to be a road crash investigator and find the cause of a genuine road traffic incident. See how speed, velocity, distance, displacement and momentum can be explained using child playmats, and how road traffic incidents are an application of physics and science. We will show you how all of your kinematics and dynamics can be taught through the practical applications of Road Safety, including ideas for IDL. If you'd like to participate in a couple of real scenarios bring your calculator and a bit of paper, you'll feel like a real road traffic cop!   Suitable for S1-S6 Physics and Technicians
A2: Edible Chemistry: Stephen Hendry, RSC
Explore the science behind every day eating experiences with our range of edible experiments and get your students talking about science that's relevant and fun, and guaranteed to help to inspire them.  Find out why mustard burns your nasal passages but chillies don't, the link between beetroot and camels, why you might taste boiled potatoes when you eat cheddar cheese or how beetles can make a surprising contribution to our food.
You will also have the opportunity to learn more about the FREE educational support for chemistry and science teachers from the Royal Society of Chemistry. From our Education in Chemistry magazine, providing an overview of news, articles and teaching resources to our brand new Teach Chemistry website that aims to help you deliver inspirational chemistry teaching inside your classroom, and create a supportive and effective department at your school.  Edible Experiments is suitable for both Primary & Secondary teachers
A3: Looking at the B and E in 'Sustainable' and the I and Y of Sustainability: Dr Liz Lakin, RSB and University of Dundee
At a time when Environmental issues are regularly in the news, this session explores the Biological aspects and Implications of these issues in terms of the 'here and now'!  The session goes on to suggest whY, as teachers we can raise awareness and promote understanding of what we can do through 'learning for sustainability' [LfS].  Case studies include: nurdles and turtles, bacteria and acid drainage; e-waste and why we should recycle our redundant mobile phones and disturbing tales from the 'Poo Fairy'.  The session is applicable to upper primary/secondary.
A4: TAPS Scotland: supporting teaching and assessment of scientific skills: Dr Sarah Earle CSciTeach, Bath Spa University
The Teacher Assessment in Primary Science (TAPS) project, now in its 7th year, works collaboratively with teachers across the UK to develop support for teaching, learning and assessment in primary science. This workshop will explore how to select a focus for teaching and learning during practical activities, to support progression and assessment of scientific skills.  We will draw on the bank of free TAPS Focused Assessment plans and examples, together with sharing new draft TAPS Scotland materials.
Dr Sarah Earle taught in primary schools for 13 years before moving to Bath Spa University as a PGCE in 2012.  She is an active member of the ASE, a Primary Science Quality Mark Senior Regional Hub Leader and leads the TAPS project, working with teachers across the UK.
A5: Timstar DNA fingerprinting session : Lucienne McCallum, Timstar
Hands-on practical involving the preparation of agarose gel, pouring the gel and allowing to set. Discuss the theory of PCR before moving on to the practical element using adjustable micropipettes to accurately measure the components; DNA, TAQ and Primer. The PCR samples are then loaded into the PCR machine and you are shown how to load and use the PCR machine. We then prepare and load the gels with amplified DNA doing different diagnostic tests; Crime scene, Paternity tests, Cancer gene detection, Sickle cell anaemia, simulation of a crime scene. We then finish the session looking at the results and relating the techniques in solving real life crimes.
A6: Developing STEM capital in primary schools through partnership projects: David Rigmand and Paul Tyler
Developing STEM capital in Primary Schools through partnership projects
-Innovative approaches to developing Science and STEM capital in a primary setting
-Partnership working across schools, further education and industry
-Approaches to engaging children in STEM careers
Workshop B choices:
B1: Using research to improve learning in the science classroom: Andrew Bailey, Institute of Physics
Drawing on research from cognitive science, Rosenshine's Principles of Instruction, and reports such as the EEF's Improving Secondary Science, this session will explore how lessons and ideas from educational research can be used to improve learning in the science classroom.
Suitable for Primary and Secondary Science
B2: Primary climate change practicals "On the road to COP26": Stephen Hendry RSC
Pupils are acutely aware of environmental, political, and socio-economic problems that societies face today. They have demanded urgent action on a global scale with "school strike for climate" and have become engaged with Greta Thunberg's activism, often cited as a diverse role model that is key for widening access and inclusion. COP26 Glasgow is being described as the most significant climate event since the 2015 Paris Agreement and the biggest event the UK has ever hosted.
Climate change practical's will be demonstrated to the audience, that have been developed to be accessible, low hazard alongside links to integrated instructions for primary teachers that supports STEM capital and underpins the transition to secondary and beyond.
B3: Finding global solutions through science: Krissie Davis, Tracey Shaw, Claire Tatar (Secondary Science teachers)
Do you want to inspire young people to find scientific solutions to current global issues? Are you frustrated that materials you find on-line do not match the Scottish Curriculum? Then come along to our hands-on workshop to try a range of activities that set out to meet some of the big global challenges and deliver on the benchmarks of the BGE. Delivered by science teachers in Scotland for science teachers in Scotland as part of an EU project '
Global issues Global subjects' we will share our ideas and techniques from our newly published materials. Topics covered include plastics, sustainable energy and gender balance. All teachers will receive a copy of the resource.
B4: Safeguards in the school laboratory:  Chris Lloyd, SSERC 
A lecture with some demonstrations to showcase the launch of the new edition of this invaluable ASE publication and to highlight how it can help you ensure your science laboratory is a safe environment for staff and pupils . . . without cutting back on practical science.
B5: Lets talk about animals: Stuart Naylor CSciTeach
Teaching about animals isn't as easy as it looks.  There's lots of information, not many obvious practical investigations, and didactic teaching can often replace enquiry-based learning.  This workshop demonstrates how to use interactive strategies and techniques that promote discussion, encourage systematic research and inspire children
B6: Building family Science Capital through STEM workshops: Tracey Ellicott CSciTeach
Fun science workshops aimed at families of children at different stages of primary education have proved to be an effective way of engaging children in science with the added bonus of one-to-one support and parental enthusiasm. Once you've hooked families in, you will discover a willing cohort of your school community who are happy to commit their time, skills and enthusiasm to drive possibilities to the next level.
Come along to learn about the journey of East Wemyss Primary School (winners of the Rolls-Royce Science Prize 2018) and leave with a bank of practical approaches towards building science capital across the school through collaborating with the parental community.
Santa's Science Workshop
Young Einsteins
Makerspace
STEM Ambassadors
Tinkertots
Green Goblin Kit Car Project
Merry Makers
Science Extravaganza
Workshop C choices:
C1: Science Showcase: practical activities for use in the classroom, for home learning or as part of a science event: Dr Susie Burr 
Susie's Science Showcase includes lots of  practical ideas for activities for use in the classroom, open days,  evenings  and  home learning . These activities can be used individually to support enquiry or as part of a fun filled event run by primary pupils for primary pupils.  
C2: Laying the foundations of computer science: Kevin Reid, SSERC
This session will consider the importance of computer science in the current educational climate. We will consider a range of physical devices and explore some online resources, as well as "unplugged" activities, available to explore and support the development of computational thinking and key skills from Early to Second level. Furthermore, we will explore some of the different pedagogical approaches for computer science principles.
C3: Be a magician! Using magic illusions to teach science: Adrian Allan, Teacher of Chemistry, Dornoch Academy, Highland Council.
Spectacular science demonstrations and magic illusions have many things in common. They involve practice, showmanship, audience interaction and suspense followed by a moment of astonishment.  This workshop will demonstrate how science principles can be used to create magical illusions to enhance lessons and teach concepts. During the workshop you will learn how to bend metal using your mind and make a coin pass through another solid object. A true story of a how a French magician quelled a revolt in North Africa by removing a man's strength will be discussed. A practical method of making ghosts appear and disappear will be demonstrated.  You will also learn how to cut and restore newspaper, vanish water and make objects invisible using new and old science technology. These demonstrations can be used by teachers but have also been taught to pupils who have in turn demonstrated these illusions to other pupils and parents. This session is suitable for all.
C4: Creating and implementing a whole school vision for science: How does effective leadership and an aspirational curriculum impact on the quality of teaching and learning in science?: Jane Turner CSciTeach, PSQM
In this session at ASE Scotland conference I am looking forward to sharing some of what we have learned about great primary science practice from schools in Scotland that have achieved PSQM. Over 500 schools a year achieve a Primary Science Quality Mark by developing and implementing a vision for science that is based on the best evidence available of what works in primary science. As Director of PSQM I am privileged, through our UK wide network, to work each year with 100's of dedicated, effective subject leaders who have each significantly raised the profile and quality of science teaching and learning in their schools.
C5: Primary & secondary transition projects: Stephen Hendry RSC
The aim of the workshop is to develop relationships and encourage joint curriculum planning for primary & secondary practitioners. The content of the sessions will include input from the Royal Society of Chemistry regarding our free resources for Primary and Secondary practitioners and sources of funding. There will be a focus for the progression of practical skills, development of new methodologies for teaching science and linking curriculum learning with careers to highlight the relevance for a wide range of future career paths.
C6: SSERC and SCMA present STEM in the Early Years: Euan Mitchell SSERC; Janine Ryan and Lisa Mackay, SCMA
We all know from research, that children's interests and career choices tend to be influenced by the experiences and opportunities they are given in early childhood. SSERC and the Scottish Childminding Association (SCMA) have been working in partnership to provide quality play opportunities that can promote STEM related learning suitable for supportive learning. 
The development of 3 e-learning modules for SCMA has allowed for further reach and spread across Scotland for all their members. 
This workshop will be run jointly by SSERC and SCMA demonstrating how to stimulate children's learning, as well as making science and maths fun, engaging, and relating it to the world around us.
Workshop D choices:
D1: The science of climate change : Stuart Farmer CSciTeach, Institute of Physics
This session will explore the relatively simple science that is required to understand climate change.  The session will include an exploration of cycles in climate change data, practical demonstrations using everyday apparatus, absorption, radiation, thermal expansion and sea level rise, specific heat capacity, positive actions to address climate change.
D2: The perfect enzyme: Dr Doug Macdonald and Dr Alistair Macpherson, Edinburgh Academy
What would your perfect enzyme look like? Simple, dependable, safe, low-cost, interesting, relevant. We've got it and we'll show you how to use – from introducing enzymes in S1-S2 to enzyme kinetics, metabolic pathways and enzyme inhibition for AH. Hands on practical workshop plus free stuff!
D3: Science in the outdoor classroom; a toolbox for educators: Richard Peasland,  Field Studies Council (FSC)
Focussing on incorporating STEM skills in outdoor environments, this workshop will be broken down into mini-sessions that outline different activities whereby teachers and educators can obtain tangible techniques, equipment ideas and lesson plans for organising and delivering short outdoor sessions students of all ages. Ideas include nature surveys, outdoor graphs citizen science, DIY fieldwork equipment and more. All attendees will leave will a toolkit of sessions to implement in their own teaching and promote outdoor learning in the STEM subjects. This session is aimed at primary or early years secondary teachers
D4: Simple STEM Activities from Hayley Sherrard and Euan Mitchell, SSERC 
The workshop is aimed at primary practitioners. This workshop will highlight the recent on-line resources SSERC has produced to support primary and early years practitioners. The session will focus on a range of easy to create "secret messages" providing ideas for use throughout the primary age range. We will explore the links to STEM as well as opportunities to make links to other curricular areas. The workshop will consist of a range of both live and recorded demonstrations and delegates will be invited to share their ideas and discuss them with others during the session. We will share a link to all videos and resources with delegates.
D5: Space in the primary curriculum: Olivia Johnson - UKRI STFC
Space is an inspiring context for learning across the primary curriculum, from Sciences/Technologies to Numeracy and Literacy. We present activities and resources based on the exciting research and ground-breaking technology developed by scientists and engineers at the Royal Observatory Edinburgh - and on young learners' Big Questions about the Universe!
D6: This session (Visible Learning in the Science Classroom by Nicola Jones from Monifieth High School) has been cancelled by the presenter 12/3/21
For queries, please email conferences@ase.org.uk
Exhibitors
We are delighted to be offering 15 minute pre-recordings from Exhibitors to support the ASE Scotland Conference Online this year. Many will be demonstrating how teachers can use their resources and may have special offers and giveaways for delegates. Those we have so far include (click on the links below for website links)
All video recordings will be viewable for conference delegates until 16th May 2021.
Files

ASE Scotland Conference Online programme - 13th March 2021.pdf
Click links to download individual files or…