ASE South East Conference
Stagg Hill
,
Guildford
GU2 7XH
,
United Kingdom
Join us for this CPD conference on "Effective Science Learning (and teaching)". There is a dedicated programme for both primary and secondary teachers. Plus there are lots of opportunities to network whilst browsing our exhibition.
Berkshire & Oxfordshire
Home Counties (Bedfordshire, Buckinghamshire and Hertfordshire)
London
South East (Kent, Bromley and Bexley)
Southern Counties (Hampshire, Dorset, Isle of Wight, Channel Islands)
Surrey & Sussex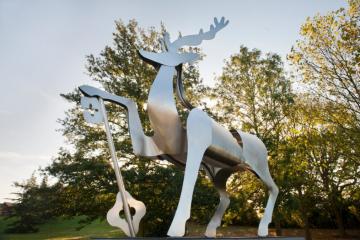 Full details
Registration/Exhibition: 08.45 – 09.30
Keynote: 09.30 – 10.30
Session A: 10.30 - 11.30
Coffee/tea/exhibition: 11.30 – 12.00
Session B: 12.00 – 13.00
Lunch/Exhibition: 13.00 – 14.00
Session C: 14.00 – 15.00
Coffee/tea/exhibition: 15.00 – 15.15
Session D: 15.15 – 16.15
Key note : 20 Years of Assessment for Learning – what have we learnt?: Professor Christine Harrison, King's College London
This keynote will look back at Inside the Black Box (1998) and Science Inside the Black Box (2002) and Inside the Primary Black Box and see how the key principles of assessment and guidance to improve were applied then and today. Evidence-based practice at its best,
Session A 10.30 - 11.30
A1 Primary: Lets talk about animals and their lifestyles: Stuart Naylor CSciTeach
Teaching about animals and their lifestyles isn't as easy as it looks. There's lots of information for children to grapple with, there aren't many obvious practical investigations, and didactic teaching can often take the place of enquiry-based learning. This workshop demonstrates how to provide access to information so children interact with and apply new ideas. It demonstrates interactive strategies and techniques that encourage systematic reflection, discussion and research. It illustrates how you can engage and inspire children to learn about animals, and how you can make teaching this topic more enjoyable.
A2 Primary: How to effectively link Science and Math: Tom Holloway, GLF Primary Science Leader 
This session will look at a range of practical ways that rich maths tasks can be included in Science lessons to enhance the learning of both subjects. It will look at how maths in science lessons can be so much more than measuring and can instead include place value, fractions, decimals, percentages, shape and ratio.
A3 Cross phase: Science Capital Teaching Approach- engaging diverse students with science: Dr Spela Godec, UCL Institute of Education
This talk will present the key research findings on young people's science aspirations and introduce the concept of 'science capital' that was developed to understand why some students might struggle to engage with science and see science as being for them. It will then provide an overview of the 'science capital teaching approach', which was designed to support teachers in helping students find more meaning and relevance in science and, as a result, engage more with the subject.
A4 Secondary: Applying Working Scientifically skills in your practical lessons from Key Stage 3 to GCSE: Hannah Cheek, Senior Qualifications Manager, Pearson Edexcel Science Team
In this workshop teachers will have the opportunity to:
consider Working Scientifically skills across KS3 and KS4
explore strategies to deveop Working Scientifically skills in lessons
discuss how these are assessed at GCSE
A5 Secondary: Integrated instructions in practical work : David Paterson CSciTeach, Aldenham School
Integrated instructions are a new way to present practical instructions. They simplify instructions by integrating simple diagrams with minimal text, and clear pictograms and step ordering to help improve student independence and confidence during practical work. I will present research findings on their use in my classroom. There will be time in the session to discuss the currently available integrated-instructions.
A6 Secondary: Assessment, Feedback and Accountability: What is the dog, what is the tail, and what is left over?: Euan Douglas CSciTeach , St George Catholic College
Feedback isn't the same as marking, but many schools have seen an increase in the expectations put on teachers for marking and visible assessment. We will examine what the specific purposes of assessments are, and look at the balance between accountability, feedback and assessment. I will share how we have developed our own department feedback policy, which has taken a few years to get to where we think it meets our own demands of; being efficient with teacher time, high impact with students and meets whole school expectations. I will share how we developed our policy, and the benefits of developing one yourself that suits your own team and context.
Session B 12.00 - 13.00
B1 Primary: More ways to work Scientifically: Hellen Ward CSciTeach, Canterbury Christ Church University
This workshop will allow participants to try out some different aspects of working scientifically- with examples of ways to record in child friendly ways
B2 Primary:The Hula-hoop Hundreds-and- thousands Hadron Collider: Robin James, Exeter Road Primary School   
How do you interest primary-age children in particle physics?  And how do you explain to them the sort of work that scientists do at CERN?  Not an easy task!  Children can struggle to comprehend the fact that there are some things which are too tiny for them to see.  A visit to the Large Hadron Collider, in December 2017, inspired this simple activity which uses a playground hula-hoop and a measure of hundreds-and-thousands (cake sprinkles) to generate a wealth of data and discussion, and might even inspire your class in a hunt for their own elusive Higgs Boson.    
B3 Cross phase: What do Teachers notice in formative classrooms : Dr Christine Harrison
AfL on-the-fly. Planning for improvement in science skills and understanding and looking for assessment opportunities during learning. How do you tap into student thinking? Aimed mainly at KS3-4 but with ideas that can be adapted for KS2 context.
B4 Secondary: The spinning sparkler: Keith Gibbs
If you enjoy unusual, fun, useful and educational Physics experiments then this talk is for you.
There will be about thirty experiments demonstrated including spinning coat hangers, charged Barbie dolls, balancing forks and simulated sunsets!
There is lots of audience participation so do come prepared to take part. You should go away with some new ideas to help your departments and excite and stimulate the students.
B5 Secondary: University perceptions of the Practical Endorsement at A level: Andy Brunning, OCR
Has the Practical Endorsement led to observable changes in student practical skills on arrival at university? This session looks at how university perceptions of student practical skills have changed since the introduction of the Practical Endorsement, discusses the reasons for these changes, and identifies potential areas for improvement in the classroom based on the feedback
B6 Secondary: The Language of Science : Pat Dower CSciTeach. ASE Field Officer and Education Development Consultant
The ability to communicate effectively is integral to enjoying and succeeding in science. The latest Education Endowment Foundation report "Improving Secondary Science" highlights many things that teachers can do to help their students. In this session you will learn more about the ideas in the report and a whole lot more besides. 
As well as sharing the latest thinking and tried and tested ideas, the session will give you a range of activities to use in your teaching tomorrow, next week and next year.
Session C 14.00 - 15.00
C1 Primary: Learning outside the classroom: Jessica Baines-Holmes, University of Brighton
Practical activities and games to develop scientific understanding and skills of working scientifically in the outdoor environment. This session will take place outside - weather permitting!
C2 Primary: For effective teaching and learning – Are We Writing Today?: Kulvinder Johal, PSTT  
This session will focus on the purpose of writing in our science lessons and alternative ways that we can record and achieve the same goals. Through practical work, colleagues will try a range of techniques to record and hopefully use back in their own settings.
C3 Secondary: Assessment Literacy and the Coherent Curriculum in Science: Dr Andy Chandler-Grevatt CSciTeach, Oxford University Press
Introducing science teacher assessment literacy. Andy will use and share activities to help you improve your assessment literacy and others in your department. The first steps to making a coherent curriculum in your department.
C4 Secondary: Using summative assessment to support effective teaching (and learning): Julian Clarke, AQA
During this session, we will explore how summative assessment can be used to inform effective teaching and consider how the GCSE criteria for science can encourage the transfer of skills between different subjects areas. Current research into gender in GCSE science will also be discussed.
C5 Secondary: 'Good Practical Science' – making it happen : Richard Needham CSciTeach
ASE is producing a range of resources to support departments when planning a policy for practical science. Following a brief description of the project, try out a couple of the activities and learn how you can get involved in this Gatsby funded project.
C6 Secondary: Making learning stick: Michelle Pope CSciTeach, Reigate Grammar school
Explore why you should use the principles of spaced repetition and interleaving in your teaching, and some easy practical ways of integrating these into your lessons. Help students to make learning stick, so that they can link new ideas to prior concepts more effectively and reduce the stress of revision.
Session D 15.15  - 16.15
D1 Primary: Promoting science talk in the classroom: Jo Moore CSciTeach, Vittoria Primary School  
This session will look at a range of practical strategies to use in the classroom to promote talk and higher order thinking skills in science, which will support children's explanation skills. 
D2 Primary: Effective use of challenges to deepen children's learning: David Church, Pickhurst Academy, ASE Primary Science Education Committee 
Based on a current school project, this session will explore how differentiation can not only allow all children to access the science learning, but also challenge them to deepen their knowledge and understanding in different contexts.
D3 Cross phase: Promoting well-being for you and your colleagues: Dr Andy Chandler-Grevatt CSciTeach, ASE 11-19 committee
A large part of retaining our Science Teachers is maintaining our own and others' mental health.   This session will help you to manage your own stress, identify and support that of others.
Based on the ASE's Science Teacher SOS project to retain science teachers who feel teaching has lost its spark, this session is for those who might be struggling or want to know how to support those colleagues.
D4 Secondary: Best Evidence Science Teaching (BEST): Helen Harden CsciTeach
The best teaching draws on the best evidence. Yet despite increasing calls for evidence-based practice in classrooms, science teachers' lives are so busy it is hard for them to access and effectively implement the best principles emerging from education research. This session introduces a new collection of free, research evidence-informed resources for effective teaching of difficult ideas, embedded formative assessment and adaptive lesson planning in 11-14 (KS3) science. Attendees will be able to explore and interact with our online materials for use in their own classrooms, including subject maps and progression toolkits containing banks of diagnostic questions that reveal misunderstandings and response activities that help build scientific understanding. The resources are developed by the University of York Science Education Group and the Salters' Institute, and are freely available on the STEM Learning website.
D5 Secondary: Don' tell me, it's for school : Lynne Rawlings RSciTech, Brighton Hill School
As budgets get tighter "upcycling" and   "freebies" have become buzz words. In this session we will look at making resources from old equipment and anything else lying around. Most of what you will see is free or under a tenner!
D6 Secondary: 1000 paper cranes: Teaching radiation with context: Caroline Riggs, The Angmering School
After planning a scheme of work that relentlessly delivers the huge amount of content required for GCSE Science, it felt like there was less time for students to reflect on the context of the topics. Over the last few years I have tried to find new (and slightly unusual) examples to give my classes chance to process the reason they are studying these facts. 
When studying radiation, looked at the story of Sadako. A girl in Japan who died as a result of the increased background radiation after the nuclear bomb detonation in WWII, by folding the traditional 1000 paper cranes (over many different classes and terms) we discussed the potential uses of radiation and our thoughts on how the world uses the Science we study.
Venue location
University of Surrey
Stagg Hill
Guildford
Surrey
GU2 7XH
Delegate fees
| ASE Members | Non Members | Trainee Members | Trainee Non Members | |
| --- | --- | --- | --- | --- |
| £47 | £89 | £22 | £32 | |
| | | | | |
| | | | | |
| | | | | |