ASE South East Conference
Stag Hill
,
Guildford
GU2 7XH
,
United Kingdom
The ASE South East conference returns to the University of Surrey and offers a range of CPD Sessions for both primary and secondary teachers.
11-19 Teachers
Early Career Teachers
Primary
Berkshire & Oxfordshire
Home Counties (Bedfordshire, Buckinghamshire and Hertfordshire)
London
South East (Kent, Bromley and Bexley)
Southern Counties (Hampshire, Dorset, Isle of Wight, Channel Islands)
Surrey & Sussex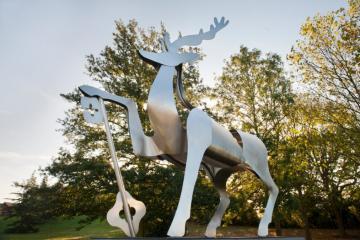 Full details
Keynote: 09.30 – 10.30
"Getting Science Right": Dr James Williams
What is 'science'? We know it's the best way to understand the world around us, but it is not just a collection of unconnected knowledge, without context. Science depends on the scientific method, how that method is implemented, and the values and societal influences that are inherent to scientific knowledge and its development.
Before explaining how we can think about science more clearly, James will first take us on a whistlestop tour of 'science' gone wrong. Taking in creationists, climate change deniers, anti-vaccination proponents, astrologers, and flat Earth advocates. He will show how misconceptions about the scientific method, and lack of knowledge of the nature of science can lead to such wayward and often dangerous delusions.
About the speaker
Dr. James Williams is a senior lecturer in education at the University of Sussex. His work has focused on trying to discover why people believe in pseudoscience such as creationism or astrology, and on the differences between 'belief in' and 'acceptance of' facts. Not restricted to theological pseudoscience, he has also successfully campaigned against the use of 'brain myths' in teaching, such as so-called 'learning styles' and the left/right brain personalities myth.
He is a science textbook writer and author of many professional books on teacher training and science education. His most recent book 'How to read and understand research in education' was published by Sage in March 2020. James is a columnist for local and national newspapers and magazines, and is a regular contributor to BBC Radio and television news on issues relating to education. He graduated in geology, having specialised in evolutionary paleontology and taught science in state comprehensive schools for over 12 years. His doctoral research looked at the political, educational and organisational influences on the inclusion of the nature of science in the science national curriculum.
Session A  10.30 – 11.30
A1 Primary: Science meets English: Naomi Hiscock CSciTeach
This session explores a creative, link learning approach to teaching science by weaving imaginative and inspiring English activities throughout a unit of work.
A2 Primary: Developing high-quality talk in Science: Chloe Lister, Newington Green Primary School
'Consider how you can encourage and develop high-quality talk about science which develops mastery, encourages scientific thinking and feeds into producing high-quality science extended writing.'
A3 Cross Phase: Strategies to Retain Good Science Teachers: Lessons from the SOS Project: Andy Chandler-Grevatt CSciTeach
This session will update you on the latest findings from the Gatsby Education Funded Science Teacher SOS pilot project. The session will consider several aspects of teacher science retention and offer practical suggestions of how to support teachers who are thinking of leaving your department or the profession.
A4: Secondary : Mastery in Science: Hannah Cheek, Pearson Edexcel Science Team
What is Mastery in Science? Learn about Mastery and how  Pearson Edexcel can support you to deliver this powerful approach in your school. 
A5 : Secondary:  " Teaching electricity; some challenges for students from KS3 to A-level".: Trevor Plant IoP
After a short discussion on issues in the teaching of electricity and some possible solutions, you will have an opportunity to try a "hands-on" approach to some challenges that you could adapt for your own teaching - from KS3 (or even younger) to A-level.
 
A6 : Secondary:  Developing literacy in KS3 science: Andy Markwick
A range of strategies (tried and tested) that improve literacy across the ability range.  A Consideration about what scientific literacy is and why it's so important.
Coffee/tea/exhibition: 11.30 – 12.00
Session B: 12.00 – 13.00
B1: Primary: Helping children to learn science using simple effective memory friendly approaches: Hellen Ward CSciTeach, Canterbury Christ Church University
Science has  challenging vocabulary and concepts. Research shows that teachers can overload the pupils' short-term memory and make it harder for learning to stick.  Research also suggest this is more problematic for lower attaining pupils. Yet there are ways to help. This workshop session will look at   everyday practical examples of Primary schools that engage learners,  ideas to make learning more memorable  and will also challenge the issue of 'Wow' science as the answer to primary science teaching
B2: Primary: CLEAPSS Primary Practical Workshop: Maria Pack; Lead Primary Consultant at CLEAPSS
This workshop is a series of practical activities to try and take away, using easily accessible and easy-to-use materials. All our practical activities are trialled in schools with children and developed with teachers, the session will include our primary friendly bath bombs activity and others.
B3 :Cross phase; Google Science Journal: Ed Walsh
Google Science Journal is a free app that enables pupils and teachers to investigate a range of practical questions using a smartphone or tablet.  This session will explain how to use it, demonstrate a number of applications and support a discussion about its potential for use in schools and colleges.
B4: Secondary: Promoting progress through student centred assessment: Andy Chandler-Grevatt CSciTeach
This session is a repeat from the highly popular session at the ASE 2020 national conference. How can you best support progress in science without grades? An answer is through formative approaches, learner self-regulation and a coherent curriculum. Andy will present practical examples to promote progress in science lessons.
B5: Secondary: Practicals with purpose: Using practical work effectively at GCSE and A Level: Andy Brunning OCR
This session will look at how teachers can refine their approach to exam board suggested practicals at GCSE and A Level to make assessment easier and better integrate them into teaching and learning, highlighting best practice observed during monitoring visits to schools.
B6: Secondary: Adding depth and challenge - considering the bigger questions in science lessons: Mike Sands, Rochester Grammar School
When talking to my high achieving students the question they always ask is why do we do this? why does that happen?  By considering examples from real life situations this talk aims to give you some examples of how to push your student's understanding by encouraging them to apply their knowledge to wider contexts to solve problems.
Lunch/Exhibition: 13.00 – 14.00
Please note there is no lunch provided - either bring your own or there are plenty of outlets close by on the campus.
Session C: 14.00 – 15.00
C1: Primary: Decisions, decisions, decisions about your primary science curriculum: Marc Neesam
There are many decisions to be made when considering your primary science curriculum. This session will introduce some key decisions to make, provide a bit of background around why they are important and suggest how you go about making the decisions.
C2: Early years Science: Abi Rudall, Boxgrove School
This session will focus on good practice in Early Years. We will look at how to develop oral language skills, scientific vocabulary and scientific concepts, through Dig Deep Discovery Boxes and picture books. 
C3: EasySense Vu+ (Bluetooth & USB) Primary Data Logging Workshop with Bluetooth sensors for KS3 too: Lee Grahame, Data Harvest
This Bluetooth data logging workshop will show how easy it is to collect data using iPads/Android and PC's that can be used from year one to six.
Will also be showing how you can use the Vu+ with Light gates for KS3.
Please download the free EasySense 2 software from the relevant app store, and bring an iPad/iPhone Android tablet/phone along to have a play!
C4: Secondary: Quality of curriculum and progression in science: Pete Robinson CSciTeach
Progression of concepts and skills is essential for students to achieve well and make sense of science. Good progression is not always built into published schemes of work, and this may be exacerbated if schools change the order of teaching to accommodate timetabling or staffing issues. This session explores strategies for departments to evaluate and improve progression within their schemes of learning.
C5: Secondary: Good Practical Science: Ed Walsh
Schools are often keen to provide engaging opportunities for practical work but the practice doesn't always result in effective learning. The Good Practical Science report proposed a set of benchmarks which indicate what schools could usefully focus on to raise the quality of learning in practical work.  The ASE has undertaken further development work, with sets of CPD materials designed to support schools now published along with case studies from the pilot schools.  The session will offer ideas as to how other schools can benefit from these materials and use them to develop effective practice
C6: Thinking about thinking: using meta-cognition to improve skills in science: Mick Doyle, Ifield Community College
Using techniques that allow teachers to verbalise and model thought processes to improve student skills on extended writing and complex tasks on science. A discussion of a lesson study at Ifield Community College. 
Comfort break: 15.00 – 15.10
Session D: 15.10 – 16.10
D1: Primary: Primary science meets mathematics and English: a blended approach at KS1: Andy Markwick
The session will be practical. I set up several simple, but effective practicals that lead from a simple story.  Each activity will cover science, mathematics and English.  Teachers will be asked to consider improvements and finally create their own idea.
D2: Primary: Physics in the primary classroom: Ed Walsh
Physics topics in primary science are sometimes seen as tricky to teach and problematical to provide practical opportunities in.  In fact, they provide some great opportunities to get pupils actively involved in some important and engaging experiences.  This workshop will look at ways of approaching topics which are practical and effective, and which develop sound understanding.
D3: Cross Phase: Reimagining STEM: Michelle Grant
How do we get STEM working in school? Create a culture of STEM beyond the classroom. Engage students with projects that develop skills, enhance career learning and create a buzz of excitement. Have a clear STEM strategy which will help aid funding and support
D4: Secondary: Best Evidence Science Teaching (BEST) : Helen Harden CSciTeach
Introducing www.BestEvidenceScienceTeaching.org  - a large collection of free, research evidence-informed resources for effective teaching of difficult ideas, embedded formative assessment and adaptive lesson planning in science. Explore and take away BEST resources including progression toolkits, diagnostic questions to reveal preconceptions, and response activities to encourage metacognition and build understanding.
D5: Secondary:  The assessment of practical skills at GCSE and A level: Julian Clarke AQA
During this session we will explore how practical skills are assessed in terminal examinations and the implications for teaching and learning opportunities to enable students to develop their abilities so they can be successful in this area. Reference will be made to the requirements for students to carry out 'hands on' practical activities at both GCSE and A level, and the support available to help teachers regarding the assessment of this important part of the science curriculum.
D6 : Secondary:  STEM Education for Girls: celebrating success, the challenges still to come, and sustaining an inclusive STEM culture in Secondary Schools:  Mercedes Willard
STEM education for girls has been a key talking topic over the last few years, with many schools taking on initiatives to encourage the uptake of girls in STEM, which has led to a significant culture shift. Informed by research, case studies, and experience of two comparative schools, this presentation identifies some of the challenges we still face, and why we need to continue the drive towards consistency in inclusivity in the STEM provision and mindset; in a bid to overcome the gender inequality in STEM careers.
Delegate fees
| ASE Members | Non Members | Trainee Members | Non Member Trainee | |
| --- | --- | --- | --- | --- |
| £59 | £109 | £33 | £48 | |
| | | | | |
| | | | | |
| | | | | |
Venue location
University of Surrey
Stag Hill
Guildford
Surrey
GU2 7XH