ASE Summer Conference Online
The ASE Summer online conference has been developed to support primary and secondary teachers with opportunities for CPD. 
11-19 Teachers
Early Career Teachers
Primary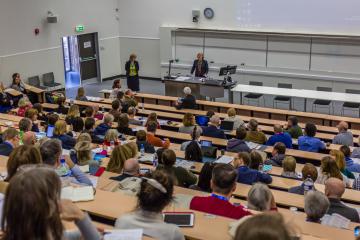 Programme
Please note that the timetable may be subject to minor changes
Keynote: 09.30 – 10.00 Innovation, improvement and incremental change: What is the role of teacher agency? Professor Christine Harrison, Kings College London
There is an ongoing debate within education, and particularly within STEM education, about decision-making and teacher agency. Some see teacher agency as a weakness within the system and seek to replace it with evidence-based and data-driven approaches of 'what works', whereas others argue that because of the complexities of situated educational practices, teacher agency is an indispensable element of good and meaningful education, where teacher decision-making is the key driver towards success. This keynote takes up this debate and considers the implications for science teaching and professional learning. Through a consideration of a variety of science education innovations that have arisen in the UK, Chris Harrison will consider both their value as innovations and their impact on teaching and learning science. Taking the idea that teacher agency should be understood as a combination of influences from the past, orientations towards the future and engagement with the present. (Biesta et al, 2015), Chris will argue why we need more focus on practice-based evidence and professional learning that involves collaboration between teachers, educators and researchers in science education.
Session A  10.00 – 11.00
A1: Primary: Science Meets English: Naomi Hiscock CSciTeach
This session explores a creative, link learning approach to teaching science by weaving imaginative and inspiring English activities throughout a unit of work.
A2: Primary: Developing high-quality talk in Science: Chloe Lister, Newington Green Primary School
'Consider how you can encourage and develop high-quality talk about science which develops mastery, encourages scientific thinking and feeds into producing high-quality science extended writing.'
A3: Cross Phase: Mind the gap – supporting transition: Liz Lawrence
This year children will be leaving primary school with interrupted curriculum coverage and even more varied experiences of primary science. This session will consider how established resources (including PLAN and BEST) and new planning tools developed as part of a transition project in Stoke-on-Trent can support effective KS2 & 3 catch up and transition to secondary school.
A4: Secondary: Mastery and Metacognition: Getting ready for the return to school: Henna Nathwani,  Pearson 
A5: Secondary: Teaching electricity; some challenges for students from KS3 to A-level Trevor Plant, IoP
After a short discussion on issues in the teaching of electricity and some possible solutions, you will have an opportunity to try a "hands-on" approach to some challenges that you could adapt for your own teaching - from KS3 (or even younger) to A-level.
A6: Secondary:  STEM Education for Girls: celebrating success, the challenges still to come, and sustaining an inclusive STEM culture in Secondary Schools:  Mercedes Willard
STEM education for girls has been a key talking topic over the last few years, with many schools taking on initiatives to encourage the uptake of girls in STEM, which has led to a significant culture shift. Informed by research, case studies, and experience of two comparative schools, this presentation identifies some of the challenges we still face, and why we need to continue the drive towards consistency in inclusivity in the STEM provision and mindset; in a bid to overcome the gender inequality in STEM careers.
Break: 11.00 – 11.30
Session B: 11.30 – 12.30
B1: Primary: Helping children to learn science using simple effective memory friendly approaches: Hellen Ward CSciTeach, Canterbury Christ Church University
Science has challenging vocabulary and concepts. Research shows that teachers can overload the pupils' short-term memory and make it harder for learning to stick.  Research also suggest this is more problematic for lower attaining pupils. Yet there are ways to help. This workshop session will look at   everyday practical examples of Primary schools that engage learners,  ideas to make learning more memorable  and will also challenge the issue of 'Wow' science as the answer to primary science teaching.
B2: Primary: Physics in the primary classroom: Ed Walsh
Physics topics in primary science are sometimes seen as tricky to teach and problematical to provide practical opportunities in.  In fact, they provide some great opportunities to get pupils actively involved in some important and engaging experiences.  This workshop will look at ways of approaching topics which are practical and effective, and which develop sound understanding.
B3: Cross phase:  Strategies to retain good science teachers - Lessons from the SOS project: Andy Chandler-Grevatt CSciTeach
This session will update you on the latest findings from the Gatsby Education Funded Science Teacher SOS pilot project. The session will consider several aspects of teacher science retention and offer practical suggestions of how to support teachers who are thinking of leaving your department or the profession.
B4: Secondary: Quality of curriculum and progression in science: Pete Robinson CSciTeach
Progression of concepts and skills is essential for students to achieve well and make sense of science. Good progression is not always built into published schemes of work, and this may be exacerbated if schools change the order of teaching to accommodate timetabling or staffing issues. This session explores strategies for departments to evaluate and improve progression within their schemes of learning.
B5: Secondary: Practicals with purpose: Using practical work effectively at GCSE and A Level: Andy Brunning OCR
This session will look at how teachers can refine their approach to exam board suggested practicals at GCSE and A Level to make assessment easier and better integrate them into teaching and learning, highlighting best practice observed during monitoring visits to schools.
B6: Secondary: Adding depth and challenge - considering the bigger questions in science lessons: Mike Sands, Rochester Grammar School
When talking to my high achieving students the question they always ask is why do we do this? why does that happen?  By considering examples from real life situations this talk aims to give you some examples of how to push your student's understanding by encouraging them to apply their knowledge to wider contexts to solve problems.
Lunch 12.30 - 13.30
Session C: 13.30 - 14.30
C1: Primary: Decisions, decisions, decisions about your primary science curriculum: Marc Neesam
There are many decisions to be made when considering your primary science curriculum. This session will introduce some key decisions to make, provide a bit of background around why they are important and suggest how you go about making the decisions.
C2: Primary: Early Years Science: Abi Rudall, Boxgrove School
This session will focus on good practice in Early Years. We will look at how to develop oral language skills, scientific vocabulary and scientific concepts, through Dig Deep Discovery Boxes and picture books. 
C3: Cross Phase: Google Science Journal: Ed Walsh
Google Science Journal is a free app that enables pupils and teachers to investigate a range of practical questions using a smartphone or tablet.  This session will explain how to use it, demonstrate a number of applications and support a discussion about its potential for use in schools and colleges.
C4: Promoting progress through student centred assessment: Andy Chandler-Grevatt CSciTeach
This session is a repeat from the highly popular session at the ASE 2020 national conference. How can you best support progress in science without grades? An answer is through formative approaches, learner self-regulation and a coherent curriculum. Andy will present practical examples to promote progress in science lessons.
C5: Secondary: Challenging misconceptions in the science classroom: Chris Harrison
This session will focus on diagnostic questions and activities that provide opportunity to shift and develop thinking in secondary science classrooms
C6: Secondary: "Focus on Success" series of CPD materials: Julian Clarke, AQA
Break: 14.30 - 15.00
Session D: 15.00 – 16.00
D1: Primary: What can the Primary Science Teaching Trust offer you? Kulvinder Johal
Find out about the range of support that the PSTT offers to schools  also find out about lots of the curriculum related resources that are available
D2: Primary: Bare Essentials of Primary Science Subject Leadership: Bryony Turford
Bryony will help to identify what is needed, what isn't and how subject leaders can improve. The session will be a mixture of presentation and discussion. Do bring along your burning questions and Bryony will do her best, with group input, to help with some answers.
D3: Cross Phase: Reimagining STEM: Michelle Grant
How do we get STEM working in school? Create a culture of STEM beyond the classroom. Engage students with projects that develop skills, enhance career learning and create a buzz of excitement. Have a clear STEM strategy which will help aid funding and support
D4: Secondary: Best Evidence Science Teaching (BEST): Helen Harden, Alistair Moore & Peter Fairhurst
The best teaching draws on the best evidence. This session will explore how the free, research-informed resources of Best Evidence Science Teaching (BEST) could help you diagnose and overcome secondary science students' misunderstandings while they're learning at home and when they return to school. We will also consider how the BEST resources could help you develop your evidence-based practices in the seven main areas identified in the EEF Improving Secondary Science report.
About Best Evidence Science Teaching (BEST)
BEST provides hundreds of FREE diagnostic questions to probe students' misunderstandings, response activities to help develop scientific understanding, progression toolkits to develop key concepts in secondary science, and subject maps for 11-16 curriculum planning. All of the BEST resources are developed from research evidence by the University of York Science Education Group (UYSEG), supported by the Salters' Institute. Alistair Moore is a curriculum specialist at UYSEG and a member of the BEST project team. All BEST resources can be downloaded for free from: http://www.BestEvidenceScienceTeaching.org
D5: Secondary: Good Practical Science: Ed Walsh
Schools are often keen to provide engaging opportunities for practical work but the practice doesn't always result in effective learning. The Good Practical Science report proposed a set of benchmarks which indicate what schools could usefully focus on to raise the quality of learning in practical work.  The ASE has undertaken further development work, with sets of CPD materials designed to support schools now published along with case studies from the pilot schools.  The session will offer ideas as to how other schools can benefit from these materials and use them to develop effective practice
D6: Secondary: Developing literacy in KS3 science: Andy Markwick
A range of strategies (tried and tested) that improve literacy across the ability range.  A Consideration about what scientific literacy is and why it's so important.
For queries, please email conferences@ase.org.uk
Delegate fees for online participation
| ASE Members | Non Members | Trainee Members | Non Member Trainee | |
| --- | --- | --- | --- | --- |
| £37.50 | £57.50 | £12 | £20 | |
| | | | | |
| | | | | |
| | | | | |