Avon Science Technicians Annual Meeting
St Francis Road
Keynsham
,
Bristol
BS31 2DY
,
United Kingdom
South West of England (Devon, Cornwall and Isles of Scilly)
West of England (Bristol, Gloucestershire, Somerset, and parts of Wiltshire and Dorset)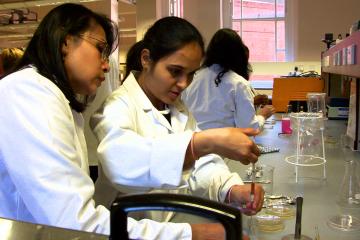 Full details
Details of  morning Presentations  
1. Simply Physics  -  Keith Gibbs
2. Butterfly Conservation  -  Kate  Merry
3. A Chemical Delight! !  - Tim Harrison   this is a lecture demonstration that investigates what is, and what is not, Chemistry in a light-hearted way. It also looks at reaction rates of chemical reactions.
Details  of the Afternoon Workshops
Breckland Scientific  Carousel of Science  The all-new 2019 Breckland Scientific workshop aims to enhance curriculum requirements, expand scientific principles, provide ideas for open evenings, STEM clubs and primary transmission. There's usually something for biology chemistry and physics. Selene Gilles   Breckland Scientific
BYOD Data Logging      Experiments you can view in realtime on your smartphone, tablet or computer. BYOD (Bring Your Own Device) with Graphical Analysis 4 installed https://www.vernier.com/products/software/graphical-analysis/ Come and try out a range of experiments using Vernier Go Direct sensors, with the data streaming to your own device. Learn how to work with devices on any platform using WiFi,   Jon Scott, Instruments Direct
Data Logging experiments  to help meet the new practical requirements for A-Level and GCSE. Experiments/sensors that Data Logging experiments to cover the new required practical at A Level and GCSE These are light-gates and speed/acceleration, Light Level, motion sensor, Pendulum and Current and Voltage. We will be using your devices/mobile devices, please download the FREE EasySense 2 software from the relevant app-store to use during the workshop.  .Lee Grahame  Data  Harvest
DNA Fingerprinting using PCR and Gel Electrophoresis    A hands-on science practical session,  the preparation of agarose gel, pouring the gel and allowing to set.  the theory of PCR ,  use adjustable micropipettes to accurately measure the components; DNA, TAQ enzyme and Primer. The PCR samples are then loaded into the PCR machine. The  groups will prepare, load and run the gels with amplified DNA doing different diagnostic tests; Crime scene, Paternity tests, Cancer gene detection, Sickle cell Rhian anaemia, simulation of a crime scene. Finish by analysing the results.  Rhian Davies   Timstar
Fruit and Veg is not just for eating!.   In this session we are going to be looking at the wonderful world of plants and plant structure.  How using SAP resources can help practcal's to work almost all the time!   How KS 4 and 5 praccal's can be used in KS3 with a li&le bit of modifying!   We will look at old classics through to new experiments, with keeping the cost to a minimum in true  technician fashion.   Lynne Rawlings RSciTech   SAPS
Mr G's Science Shows  -  Practical Science on the cheap!   Matt George  ( 11 years of teaching,  part of  time as  Head of Science ).                                                                                                                            
Make-it and Use it !   .Come along and pick up some ideas for making and using low cost science equipment.      During the workshop you will make a spectroscope and, using the CLEAPSS' quick and simple sugar cubes- flame test technique, you'll be able to view spectra associated with burning different metal ions.     You will also make small scale electrolysis apparatus and investigate the electrolysis of copper chloride.  Jane Major  CLEAPSS     
Practical Action    Practical Action is a charity that works with people in the developing world to use science and technology to solve problems.  These challenges have now been turned into materials to use in schools, so that students can learn how STEM skills and ideas have real life applications.  They are suitable for use in science lessons, STEM clubs, open evenings and transition lessons.  The teaching materials are free to download and use easily obtainable materials for the activities.  The workshop will introduce the teaching materials and provide an opportunity to try a couple of the activities out.       Ed Walsh     Education Consultant
Physics   The workshop is Physics based around the PAGs   - Graeme Coleman  SLS
 
A Potpourri of Physics  A hands on session covering: measuring the speed of sound, basic optics using laser, measurement of 'g', momentum, internal resistance, resonance, projectiles and efficiency of a solar cell. Participants will gain confidence in setting up and using the equipment.                 Derek Walker  djb microtech Ltd
The Art of Physics  
To celebrate the 500 anniversary of Leonardo da Vinci this workshop will focus on some of his most popular drawings and suggest ideas and practical activities that could be used in a classroom setting or in a STEM club.   Leonardo, was an Italian polymath whose areas of interest included invention, drawing, painting, sculpting, architecture, science, music, mathematics, engineering,  astronomy, and cartography. He is widely considered one of the greatest painters of all time and is sometimes credited with the inventions of the parachute, helicopter, and tank. Cerian  Angharad   IOP
Venue location
Broadlands Academy
St Francis Road,
Keynsham
Bristol
BS31 2DY