Find out about engaging bilingual cross-curricular STEM projects for primary school children tailored for the new Curriculum in Wales.
Event Type:
Networking
Online event
TeachMeet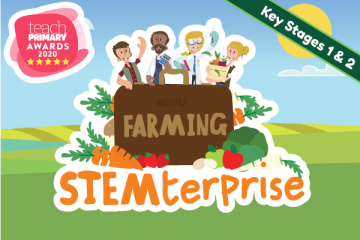 Farming STEMterprise is a range of free, engaging cross-curricular STEM and enterprise projects for primary school children that has been tailored to the new Curriculum for Wales.
As former primary school teachers, the NFU Education team understand the challenges faced by the profession so Farming STEMterprise has been designed with three main goals in mind: to save teachers time and reduce workload; to spark learners' passion and enthusiasm for STEM subjects and to convey important messages about food and nutrition through a cross-curricular, project-based approach.
Farming STEMterprise engages learners through real-life, meaningful problems as part of engaging cross-curricular projects. The projects take children through each stage of setting up a farm shop business: considering seasonality when deciding which crop to grow, growing their own ingredients, considering nutrition when designing their recipes, using market research to test their ideas out with potential consumers, working within a budget when buying additional ingredients, learning knife skills when making their products, calculating expected profit, designing responsible packaging and more.
Join the creator of Farming STEMterprise for a 30 minute introduction to the projects and how you can use them in your classroom and find out more about Cows on tour and Farmer time as well as CREST Awards and other relevant projects