*NEW DATE* West of England Spring Science Convention
Return of West of England Convention
Venue - Pate's Grammar School, Princess Elizabeth Way, Cheltenham, GL51 0HG.
We would love to see you face to face
Event Type:
Festival
Networking
Workshop
11-19 Teachers
Early Career Teachers
Primary
SLT
Technician
West of England (Bristol, Gloucestershire, Somerset, and parts of Wiltshire and Dorset)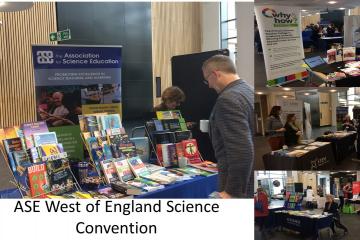 The West of England Committee are pleased to announce the return of their popular Face to Face Convention. The event will follow a similar pattern to the successful 2021 Autumn event, but for this year we are moving to the north of our region and welcome all teachers, trainees and technicians within easy reach of Cheltenham.
Professor Mike Benton, Vertebrate Palaeontology Bristol, will give the keynote speech "Dinosaurs and Science for all Ages". This will be followed by a choice of workshops from 3 strands – Primary, Secondary and Technician one before and one after break. There will be Exhibitors' stands and time to network and chat from 8.45am and during the refreshment break.
The detailed programme will follow shortly and please contact Steve Savill (stevesavill@ase.org.uk) if you would like to share your practice in the exhibition or require further information.
O8.00 Exhibitors set-up
09.00 - 09.30 Refreshments and meet exhibitors
09.30 – 09.40 Welcome Jon Scott
9.40 - 10.30 Keynote Speaker – Mike Benton 'Dinosaurs and Science for all Ages'.
10.35 – 11.25 Workshops (1) – Select from: -
Primary – Tina Williams (Bristol Uni) – 'Thinking Science' (Cross Phase)
Secondary – Ed Walsh – 'What do students learn from practical work?'
Technician/Secondary – Richard Gill – 'DIY Data-logging, build your own system
11.30 – 12.00      Coffee Break – Speak to Exhibitors
12.00 – 12.50 Workshops (2) – Select from: -
Primary – Sarah Earle (Bath Spa Uni) – 'Progression in Primary Science'
Secondary – Liz Lister (STEM) – 'Climate Ambassadors'
Technician – Beth Anderson (RSC) – 'Microscale Chemistry'
13.00 – Close – Exit Feedback