Our everyday lives are affected by science. It is important for us all to have enough scientific knowledge so that we can make key life decisions.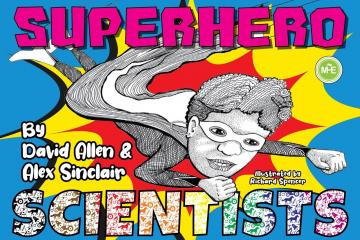 Join ASE Cymru, Science Made Simple, Heather Jackson  and David Allen & Alex Sinclair, authors of Superhero Scientists for a series of workshops on how to help children to learn about the many scientific professions in the world and the discoveries that these incredible people have made and focus on inclusivity and diversity. 
There will be a series of presentations and workshops online through out the morning
9.30am David Allen and Alex Sinclair : Superhero Scientists
The session explores the lives of famous and contemporary scientists, and professionals who utilise science within their work. It draws upon the newly published book 'Superhero Scientists ' which provides opportunities for research into scientists from diverse backgrounds and engagement in creative literacy tasks to develop Science Capital.
If you would like to order your copy of Superhero Scientists please follow these link:
https://www.millgatehouse.co.uk/product/superhero-scientists/
10.20am Wendy Sadler - Science Made Simple : Who wants to be a Superhero? - Using role models effectively. 
Science Made Simple has a mission to make STEM subjects more accessible to diverse audiences, and one method used for this is integrating role models into school science shows. Role model campaigns are certainly nothing new, but do we know much about what works and what doesn't? From some pilot research conducted from our primary schools show abut role models I'll highlight some of the things we learnt and mention some of the traps to watch out for. We currently have a primary show (Who wants to be a superhero?) and a secondary schools show (The XX factor) which are both focused on promoting female role models (past and present) and also a European project (Our Space Our Future) about promoting careers in the space industry. I will present some sections of these shows to illustrate the kind of role model content we have, and then open up for discussion on other good practices we can share.
11.10  The Genius of China : Lilian Martin - University of Wales Trinity St David's, Swansea
A review of the works of Joseph Needham summarised in the book "The Genius of China – 3000 Years of science discovery and invention". The workshop aims to help you to be more aware of the scientific discoveries and makes links and activities that is fitting with the four purposes. As teachers plan their curriculum, this aims to guide teachers towards an inclusive ethnic history curriculum, helping learners to be more knowledgeable about their culture, community, society and the world, now and in the past.
12.00 Superheros of Museum Science : Heather Jackson - Amgueddfa Cymru - Museum of Wales 
Current Museum research projects - from the chemistry in conservation of artefacts to DNA barcoding of honey - provide real-life examples of female scientists working on sustainable science. 
We link their work to our new bilingual outdoor learning resources for you to use in school or local fieldwork with Heather Jackson, Learning Participation and Interpretation Officer (Science), Amgueddfa Cymru -National Museum Wales.
This event is supported by