West of England Autumn Workshops
Keynote - Paul Howard-Jones on how to adapt your teaching to the climate emergency followed by workshops for Primary, Secondary and Technicians.
11-19 Teachers
Early Career Teachers
Primary
SLT
Technician
West of England (Bristol, Gloucestershire, Somerset, and parts of Wiltshire and Dorset)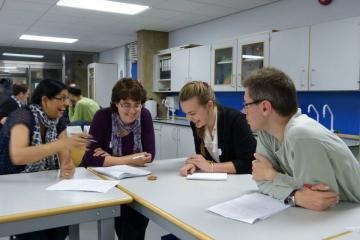 West of England Workshops
This Online Event, available to all, replaces the popular Autumn Conference for this year only due to continuing COVID restrictions.
To tie in with COP26, it starts with a Keynote Speech by Prof Paul Howard-Jones entitled "Responding to the Climate Emergency: How to Adapt Your Teaching Now!"
This is followed by three parallel strands of presentations each of which you may select according to your preference.
Primary
Session 1 - Jodie Lea, Fairford Primary School – "Encouraging scientific vocabulary and talk in the classroom".
Session 2 - Charlotte Thomas, Ashton Gate Primary School – "Science through stories and other contexts"
Secondary
Session 1 - Ellie Fearon, Pate's Grammar School -"The colouring pens of potential (difference!)"   Using Colours to Teach p.d.
Session 2 – Matt Wharf, Secondary PGCE Science Programme Lead, Plymouth University – "Teaching a scientific view of uncertainty"
Technician
Session 1 - Catherine Davidson and Chris Sodera "RSciTech – How to apply and why it's so good for you and your school".
Session 2 - Catherine Davidson and Chris Sodera - "Prep Room Changes Post Covid".
The short Plenary session is led by Jonathan Scott and will outline the support provided by ASE.
Cost
| Members | Non Members | | | |
| --- | --- | --- | --- | --- |
| Free | £10 | | | |
| | | | | |
| | | | | |
| | | | | |