Tackling the big ideas of evolution with students aged 9-11 years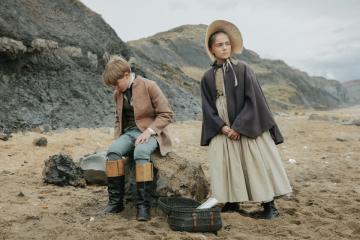 A still from the film "Sea Dragon"
Key moments in history and science – a fossil hunter's story
UPDATED:
Due to the COVID-19 pandemic, ASE has had to postpone the Phase 2 trials for this important project until the 2020 autumn term and into the 2021 spring or summer terms. If you would like to take part in any of these trial phases, please complete the short survey:
The survey will take no more than 5 minutes to complete and your information will remain confidential. A prompt response will enable us to make the resources available to you for your planning from early September.
ORIGINAL STORY
This new project is producing teaching resources and professional learning strategies for primary teachers of children aged 9-11 years to support their knowledge and understanding of the big ideas of evolution, the nature of scientific enquiry and the strengths and limitations of scientific knowledge.
The project employs the fascinating story of Mary Anning and her fossil discoveries as a stimulus for children to develop their awareness and understanding of the big ideas of evolution, the evidence and ideas which led to them, and how these have developed since the time of Mary Anning and her contemporaries in the 19th century.
ASE's award winning Why You'll Never Catch Smallpox resources acts as a model for the design of this project. These teaching resources will revolve around a compelling 15 minute drama film about the young Mary and her discoveries. Children will be inspired by the story of a child of their own age driven by a burning scientific curiosity about the natural world and the origins of life. These teaching resources will also include a combination of immersive role plays (with children taking on a range of roles when working with different resources of the project), opportunities to interact with authentic historical and modern day sources and to develop their knowledge, skills, understanding and perspectives through cross disciplinary interactions (particularly English and science literacy, history and religious education).
The ASE project team is looking for science leaders and teachers in primary schools to help us develop and trial the teaching resources, and professional learning strategies.
This Key moments in history and science project is supported by the Templeton World Charity Foundation.