10 benchmarks to transform practical science education in England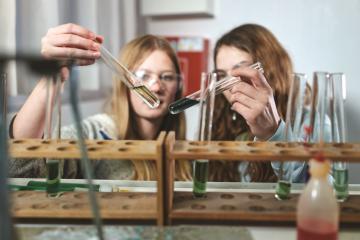 (C) The Gatsby Foundation
A new report outlining ten benchmarks to transform practical science education in England has today been launched by Sir John Holman, Emeritus Professor of Chemistry at the University of York, for the Gatsby Charitable Foundation.
The Good Practical Science report details recommendations to help secondary schools achieve world-class science education, even when facing tight budgets. The benchmarks include recommendations for schools, policymakers, Ofsted and teacher trainers.
Looking at more than 400 secondary schools in England to gauge the status of practical science, the report also involved visits to world-leading nations including Finland, Germany and Singapore to learn what was done differently internationally.
Sir John Holman, founding director of the National STEM Learning Centre, a former head teacher and science teacher, and an ASE member for over 40 years, said:
'Time and time again we have seen that practical science is key not only for learning, but also for inspiring the next generation of scientists, engineers and technicians. The benchmarks presented in this report reflect world-leading standards and we hope to empower our teachers by giving them the tools to include practical science in a greater proportion of their lessons.'
Richard Needham, Chair of ASE's Trustee Body, said:
'The Association for Science Education wholeheartedly welcomes this report. Practical science is an essential part of a rounded science education for all.  At this time when the assessment is under review, and school resources are in short supply, this is a clear reminder of the importance and value of effective practical work. The  benchmarks and recommendations will provide valuable guidance and support for all those involved in promoting STEM education. 
The ASE is committed to promoting excellence in science teaching and learning. We will continue to work with our members and the wider science community to promote practical work, and look forward to helping schools achieve the benchmarks.' 
Linda Needham, Chair of the Association, commented:
'The Association for Science Education has long championed effective practical science where teachers are clear about it's purpose. Good practical science is at the heart of good science learning. We therefore wholeheartedly welcome this report that provides clear benchmarks and recommendations to maintain the central role of practical science. At a time when senior leaders are making  difficult financial decisions about staffing, timetabling and resourcing, easy options could be to reduce science department capitation, technician expertise and numbers and the recruitment of expert teachers. This report not only reminds us of the importance and value of effective practical science, but provides measurable benchmarks and recommendations based on international evidence that our members will welcome with open arms. ASE will continue to work with our members and the wider science education community to stand up for good practical science in all our schools.'
Download the full report at: www.gatsby.org.uk/GoodPracticalScience
Reading the report from ASE Education Group:
The executive summary gives you a feel for the report
The exemplification of the 10 Benchmarks with examples of international practice are on page 26-41
The diagram on page 53 shows how the benchmarks inter-relate
The recommendations emerging from the report are on pages 55-58 but note especially recommendation 9 where ASE is mentioned explicitly. 
More details
A key ambition of the Gatsby Charitable Foundation is to strengthen intermediate science, technology, engineering and mathematics (STEM) skills within the UK workforce.
Sir John Holman will be presenting the Good Practical Science report on Wednesday 3 (International Day) and Thursday 4 January 2018 at ASE's Annual Conference, University of Liverpool. The report will also be featured in November's edition of ASE's Education in Science.