The ASE Book Award Shortlist 2018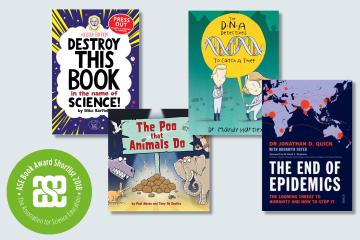 The ASE Book Award Shortlist 2018
This award seeks to find a book that goes that 'extra mile' and supports its vision of 'science for all', a book that could supplement a teacher's understanding, that innovative hook, or something that goes beyond the traditional science curriculum. Now in its third year, our team of reviewers have shortlisted four titles for the Award.
The overall winner was announced at the ASE Annual Conference and are available to order from the ASE bookshop.
The winning title:
By Mandy Hartley
Member Price: £6.99
ISBN: 9781906670504
Publisher: SJH Publishing
When Annabelle and Harry's pet dog Milly goes missing, the children believe that the local pet thief has struck again. They have a list of suspects and evidence, but how can they identify the thief and get Milly back?
The children realise that they can secretly use their mum's laboratory to solve the crime. Annabelle and Harry become 'DNA Detectives' and, just like real-life forensic scientists, they go on an adventure to try and solve the case. Join them on their thrilling journey as they collect clues and learn about DNA.
The three shortlisted titles:
By Mike Barfield
Member Price: £9.99
ISBN: 9781780554822
Publisher: Buster Books
This book is the ultimate activity-based book for boffins and inquisitive children who are inspired by science! With fascinating facts, colouring and doodling activities to complete, and a dozen press-out projects to create, there's hours of fun to be had cutting, tearing and pulling apart the pages (all in the name of science, of course). Projects include Build Your Own Brainiacs, The Stand-up Chameleon, The Magic Mollusc, and many more. Best of all, no expensive craft supplies are required.
By Paul Mason and Tony De Saulles
Member Price: £8.99
ISBN: 9781526303950
Publisher: Wayland 
An exploration of and adventure in animal poo – discover unusual facts and be amazed! A fascinating insight into the world of animal poo – with 'strange but poo' facts, from the smelliest, biggest, smallest, and most expensive poo, to poo camouflage and keeping warm, discover all there is to know about animal poop and its uses. Photos combine with the tongue-in cheek humour of Tony De Saulles' illustrations and Paul Mason's raucous text to enliven even the most reluctant reader. A great book for satisfying the curiosity of 7-9 years olds while learning science at the same time!
By Jonathan D. Quick and  Bronwyn Fryer
Member Price: £8.99
ISBN: 9781526303950
Publisher: Scribe UK
AIDS. Ebola. Bird flu. SARS. These epidemics have wiped out millions of lives. Experts predict that the next big epidemic is just around the corner. But are we prepared for it? And could we actually prevent it?
Public health authority Dr. Jonathan D. Quick tells the stories of the heroes, past and present, who have successfully stopped the spread of disease. He explains the science and the politics of combating epidemics, detailing how world leaders, health professionals, media and citizens can work together to prevent epidemics.