#ASEchat 159 - Visions in science and mathematics education
#ASEchat 159 - Visions in science and mathematics education
ASEChat Summary
Monday 30 June 2014 @viciascience with special guest hosts @jimalkhalili and @holman_john
| | |
| --- | --- |
| Professor Jim Al-Khalil is a theoretical physicist, author and broadcaster. He is currently Professor of Theoretical Physics at the University of Surrey | Professor Sir John Holman is emeritus professor of chemistry at the University of York, a senior education adviser and former ASE president. |
The focus for this chat is the recently published Royal Society report:Vision for science and mathematics education. The special hosts for the session were Professor Jim Al-Khalili and Sir John Holman, who were interested to hear teacher views on the content of the report. They also provided some of the background to the different recommendations, and these ideas are presented under each of the section headings.
Jimalkhalili Report not just about 16-18, but all way through from Age 5. That's just media headline

Jimalkhalili What's great is that everyone seems on board educators, teachers unions, policy makes, learned societies
MrChrisBeard How can schools get more involved in vision now?

Yvonnebaker maybe this one is the gamechanger - important therefore that we all make recommendations widely known.
Vision: All young people study mathematics and science up to the age of 18.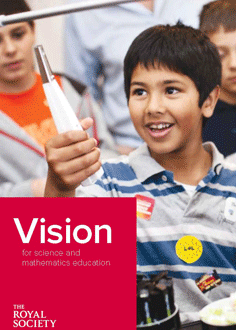 Other countries such as those in Scandinavia and the Far East teach maths and science to 18, and do not have a narrow system like A levels. A levels should be scrapped, but changes of this magnitude cannot be rushed. The vision is for the next 15-20 years.
Jimalkhalili: Our remit was science & Maths but we see other subjects a must to 18, like English/languages

Jimalkhalili: we'd love to scrap narrow specialism of A-levels. Not everyone wants to do science A-level

Jimalkhalili: Practical work and problem solving very much at the heart of the Vision report

Jimalkhalili: Attitudes to maths very different in other countries (China, Japan, Singapore, Finland etc)

holman_john: Vision proposes that GCSEs would be replaced by a much lighter touch test at 16. 18 is the all-important age now.
There was general agreement that this would be a good thing. Introducing maths for all was less problematic than science, and several people were concerned about disaffected learners who were difficult to motivate at 16. Several suggested courses like 'science in society' may be appropriate for most learners, and there were concerns about possible impact on the breadth of curriculum offered post 16. John replied that a suite of new science courses to suit all post 16 students would be needed, including science in society.
Stuartphysics: Need to develop good practical and thinking and higher order skills

holman_john: In the Vision proposal science and maths for all post-16 would be within a broad baccalaureate.

moth754: the ability to communicate well and evaluate information is key

yvonnebaker: the key issue here could well be the willingness of HE to change in terms of entry requirements. Thoughts?
Vision: Curricula and their assessment are stabilised and support excellent teaching and learning.
There needs to be cross – party agreement that the curriculum is stabilised to give teachers more time to create great lessons. The vision is planned over the next 15-20 years so that there can be some stability over successive governments.
Holman_john: Isn't 'glacial' curriculum change a good thing? Constant change makes life much harder for teachers.
Few comments were made on this topic throughout the discussion
NeedhamL56: I want to know when stability in the curriculum & assessment is going to start, leading to quality and coherence in 5-18
Vision: Teachers have high professional status and there is a strong supply of science and mathematics specialists.
A large section of the report focuses on teachers and the need to support their development. One of the recommendations is that there should be a science and a maths specialist in every primary school.
Jimalkhalili: Trusting teachers to assess is a central message of the report
Teachers expressed concern that even with bursaries recruitment of science teachers was proving difficult. The role of various support mechanisms was discussed, including the need for an overlap between primary and secondary practice. Support needs to be long term to improve retention. A suggestion to promote professional status was the need to work with examination boards to build trust and cooperation.
Holman_john: Short term there will be staffing challenges, but we need to start a virtuous cycle.

DrWilkinsonSci: Curriculum and examination changes won't add up to anything unless schools full of knowledgeable and inspiring teachers.

Holman_john: In the long term, science and maths teaching needs to have a professional structure like doctors now have.

MrsDrSarah: Does #RSci and #CSciTeach go some way towards this?
Vision: Students understand the significance of STEM through better careers awareness and guidance.
There was no disagreement on this point. The value of STEM ambassadors was highlighted as a valuable resource – there is a vast range of people willing to support STEM in schools, and whose services are free to the school.
NeedhamL56: Like the point that parents also need educating about where STEM careers can take you (P6 summ) and have a STEM governor!

MrChrisBeard: We need a bigger change in society, more links with employers and time given for staff to go into schools on a regular basis
Vision: The success of students, teachers and education systems is judged through appropriate and broadly based assessment and accountability measures.
Amongst other proposals is the suggestion that schools should publish the destinations of their students for three years after leaving, including higher level apprenticeships. Practical work should be included in assessment and accountability measures, although currently the place of practical work in the curriculum may be under threat. The best way to convince school leaders of the importance of practical work is to find ways of assessing it properly, especially at GCSE and A level.
Contributions mentioned the need for greater trust for teacher judgments. Teachers can be trusted but they need appropriate training and there needs to be rigorous moderation procedures introduced.
Holman_john: Vision report has a lot to say about accountability. Need a much broader basket of metrics for holding schools to account

Hecharden: As a school governor I must say that this would help. There is a lot of pressure to monitor what accountability is measuring
Vision: Education policy and practice are better informed by evidence.
There was some discussion around the role of research and how some research findings can be contradictory. Millar and Abrahams work has highlighted how teachers do not have a clear understanding of the purposes of practical work.
Conclusions
Teachingofsci: These ideas great, but will require time and money that isn't available to vast majority of teachers. Needs culture shift above.

Brachypro: Afraid I am feeling a bit disengaged. Education world full of great reports that don't get implemented. Just cant see it changing

Holman_john: Good news is that UK has great infrastructure to support science ed: NSLC, ASE, RSC, IoP etc

Anhalf: ..gr8 infrastructure4 scI ed: NSLC, ASE, RSC, IoP< plus PSTT

Jimalkhalili: Really enjoyed the #ASEChat. Hadn't anticipated SO many people involved and so many tweets. Glad that vast majority in favour of the Vision

Holman_john: Thanks for the excellent discussion, one and all. Have a look at the report @royalsociety and keep the responses coming.
Thanks to all contributors tonight. There were too many to include quotes from all, and inevitably this summary has only given a snapshot of the 380 messages posted. As John indicates, the Vision Committee would be very interested in receiving further comments on the points from tonight's discussion and the Vision report.
Links