ASE congratulates students and their dedicated science teachers on the 2018 A-level results in science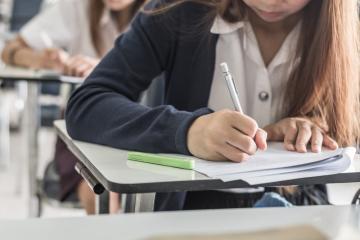 PRESS RELEASE
The Association for Science Education (ASE) wishes to congratulate A-level students and their science teachers on the release of the 2018 results.
As the professional association and voice for all those involved in science education, from pre-school to higher education, we are particularly pleased to see an increase of 3.4% in entries into STEM subjects compared to last year and this is up 24% since 2010. Also encouraging is an increase of 5.5% by girls from 2017 to 2018 in entries to STEM A-levels; a 26.9% increase since 2010.
It is pleasing to see that entries to the three main science A-levels have increased by 3.3%, with biology increasing by 3.1%, chemistry by 3.4% and physics by 3.4%.  Mathematics continues to be the most popular A-level subject with the number of A-level entries up 2.5% on last year.
Shaun Reason, Chief Executive of the ASE, said "It will have been a nervous day for many students and their parents when picking up their results today. I would like to congratulate those students on their results following many years of hard work and commitment … but I would especially like to thank their dedicated science teachers who have worked so hard in supporting their cohorts."
Shaun added, "The interest of young people in science is encouraged and developed by inspiring and knowledgeable teachers and technicians. Science is probably the most diverse and constantly changing subject in the curriculum and requires continual development and support. Raising the professional status of our current teaching force is critical, so that science teaching is seen as a highly regarded and rewarding career."
Although a high proportion of 18 year olds are preparing to go to university, the ASE recognises that there are many roads that lead to a successful career and that those getting their A-level results today should consider the whole range of options available.
16 August 2018
Notes to Editors:
The Association for Science Education (ASE) is the largest subject association in the UK. It is an active professional learning community that has been supporting all those involved in science education from pre-school to higher education for over 100 years; members include teachers, technicians, researchers, tutors and advisers.  It is a Registered Charity with a Royal Charter, owned by its members, independent of government and therefore a powerful voice for science education. ASE continues to make a positive and influential difference to the teaching and learning of science throughout the UK and further afield. Membership offers lots of unique benefits.
Media Contact: Emma Hill emmahill@ase.org.uk