ASE hosts Scotland Conference 2022 for Scottish science education community...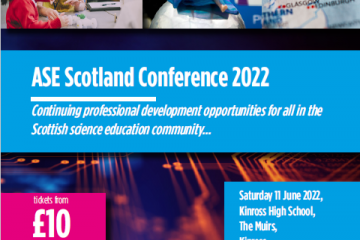 There's a sense of excitement at ASE HQ right now as we continue to prepare for our first large-scale face-to-face event - the upcoming ASE Scotland Conference 2022 which takes place on Saturday, 11 June 2022 in Kinross, Scotland. 
In partnership with SSERC, this years jam-packed festival brings together a whole host of best practice sessions for the science education community - with sessions underpinned by practical work, giving educators an opportunity to tailor their own unique professional development, whilst providing opportunities to network with like-minded professionals within the Scottish Science Education Community. Heavily-discounted early-bird tickets are available right now ... but hurry, as the early-bird discount will end on March 31.
From teachers, technicians, university lecturers, trainees, education advisors, CPD and resource suppliers, you can join us for 24 inspiring CPD sessions spanning across two strands of Primary CPD, 11-19 Biology, 11-19 Chemistry, 11-19 Physics and more general current hot topics such as inclusion and diversity in science and outdoor science... and speaking of hot topics, a full cooked buffet lunch is included in the ticket price.  
The day will commence with a welcome keynote on Power up Pedagogy by Bruce Roberstoson from Berwickshire High School followed by a vast array of sessions for you to choose from. Our conference programme guide below gives you more in-depth information on the day including more information on the individual sessions.