ASE lends support to principles behind proposed Natural History GCSE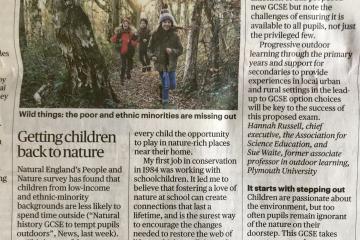 The Association For Science Education has long believed in the importance of outdoor learning, which is why we were supportive of the Natural History GCSE qualification proposed by OCR. Readers of The Times will have noticed further support for the proposal in the former of a letter to the editor from our CEO Hannah Russell.
The letter was written in response to an article early last week on the potential new qualification (paywall). You can find the edited letter on The Times website here (paywall), while below we share the original letter in full: 
Letter in response to the article 'Natural history GCSE to tempt pupils outdoors'
We welcome the spirit and ambition of these proposals but note the challenges of ensuring that this proposed new GCSE meets the aspiration of being available to all students and not just a privileged few.
Data from recent surveys carried out by ASE indicates that the proportion of secondary schools and colleges who have carried out fieldwork since March, or plan to do so this year, is lower in disadvantaged areas and in schools graded as 'requires improvement' by Ofsted. Supporting these schools to provide these types of experience in the lead up to GCSE option choices will be important.
Targeted teacher professional development alongside partnerships, for example with local field study providers, to make the most of the many learning and engagement possibilities in both local urban and rural settings, will be key to the success of this proposed GCSE within the wider curriculum and qualifications ecosystem.
Hannah Russell, Chief Executive, Association for Science Education