ASE pays tribute to charity Patron, HRH Prince Philip, The Duke of Edinburgh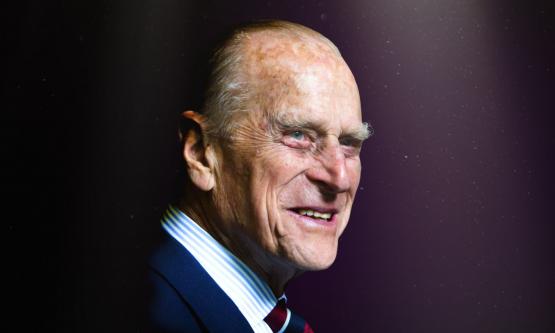 Everyone here at the Association for Science Education is deeply saddened by the recent passing of our patron, His Royal Highness Prince Philip, the Duke of Edinburgh, and offer our condolences to Her Majesty The Queen and the Royal Family at this difficult time.
The progress of science and technology - and their importance to the health, security and prosperity of the nation - were a lifelong passion of Prince Philip, who generously undertook to be patron and supporter of many charities and organisations in this field... including the ASE. His Royal Highness had been an ardent supporter of the Association for Science Education for more than 50 years and played a valued role in the growth and success of the organisation since the inception of our current incarnation in 1963, when the Science Masters' Association and the Association of Women Science Teachers merged to create the Association as it stands today.
In an address given at the inaugural ASE Conference in that year, when his patronage began, His Royal Highness said: "The structure of a modern industrial society consists of a series of overlapping interdependent functional groups. Each member of these groups needs a certain amount of scientific education. For some a highly specialised scientific knowledge is essential for their work; others only need background understanding of the scientific method and the present state of scientific knowledge.
"Whatever may be the arguments about the relative merits of science and the humanities, it seems quite clear that in this day and age no-one can do valuable work in any academic subject, in research, or in industry and commerce without at least some basic knowledge of science." 
The Prince's commitment to the cause of excellence in science education endured, and he was kind enough to join us as guest of honour at the opening of our current headquarters in 2008 (pictured below). His humour and passion were remembered by all present, as was his pride in his ASE tie - and his admonition of those gentlemen present who were not similarly attired!
In a letter to the association to mark the 50th anniversary of the association in 2013, he wrote: "Times have changed, but our national prosperity remains in the hands of our scientists and engineers. Their potential can only be discovered and nurtured within an inspiring and challenging system of science education."
We could not agree more, and mourn the loss of a true friend to the association.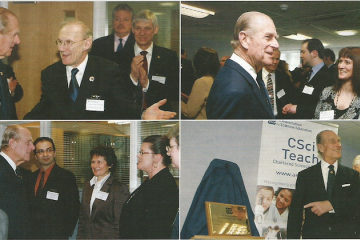 "It is really important for any charitable organisation to have a patron that believes strongly in its mission, vision and activities. The Association of Science Education has been extremely privileged for many years by having HRH Prince Philip, Duke of Edinburgh as our patron. His passion for science, technology and the natural world has been a major focus of his work and patronage over his lifetime and we have been honoured to be part of his message of its importance to all. As an organisation we will continue to work with our members and the wider community in science education to raise the importance of science and technology for everyone."
Simon Quinnell, Chair of the Association
Prince Philip's role as our patron was just one aspect of a life characterised by support for a variety of good causes and devotion to public service and his contributions will forever be remembered. We're grateful to the Royal Family who've encouraged members of the public who wish to make a donation as a tribute to His Royal Highness to give to charities or organisations which The Duke of Edinburgh supported in his public duties. If you would like to donate in memory, please click the button below: