ASE publishes key recommendations for practical science in a post-lockdown world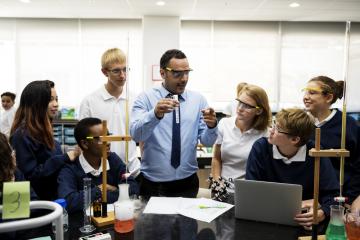 The ASE is today proud to publish the second report in our "Good Practical Science - making it happen post-Covid-19" series, this time featuring a series of key recommendations that we urge all science educators to consider in light of the current issues that all schools are currently facing.
Expanding upon the in-depth survey of science educators we published at the start of the month, this new report focuses on the implications of the current Covid-19 pandemic for the 10 key benchmarks outlined in the landmark Good Practical Science Report written by ASE President Professor Sir John Holman and published in 2017.
Using the data from the survey, the ASE author project team – led by Richard Needham, Ed Walsh and Marianne Cutler – facilitated a series of expansive round-table discussions with senior school leaders, science teachers and technicians to draw upon their personal experiences of delivering practical science lessons.
The report takes each of the benchmarks in turn to assess the current situation and – more importantly – share a series of recommendations for schools to consider to ensure progress continues to be made.
Also included are a series of recommendations for school leaders and education policy-makers to consider which will be crucial in enabling the benchmarks to be achieved.
To follow up these two reports, we have a number of activities planned over the coming months, culminating at the end of October in a series of subject-specific practical science delivery webinars, which you can find out more about here.
"When we published the Good Practical Science report, we would never have dreamed that in September 2020, schools would be under heavy constraints to keep a lethal virus at bay. I'm pleased that the ASE, with the support of Gatsby, has responded so quickly with this pragmatic guidance to help schools keep experimental work – the essence of science - going strong despite the constraints."
ASE President Sir John Holman