ASE response to the release of AS level, A level and Scottish National and Higher results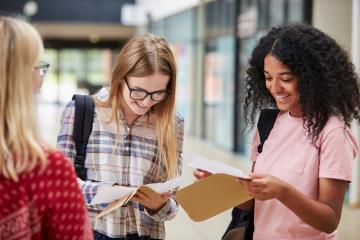 The Association for Science Education (ASE) wishes to congratulate all students receiving their A-Level, AS-Level, Scottish Highers and BTec or equivalent vocational or technical Level 3 qualifications this week.
With the cancellation of a second year of examinations due to Covid-19, schools and colleges have again taken up the baton to provide teacher assessed grades and we are proud to recognise the professional judgement of teachers in determining fair, accurate and holistic assessments, drawing on the full range of evidence available.
In England, biology, chemistry and physics all featured in the top 10 subjects for A-Level entry increases, with biology entries up 7.6%, chemistry up 6.9% and physics up 7.4%. Overall A-Level entries increased by 5.1% this year, compared to a reduction of 2.5% in 2020.
Given the well documented issues with last year's assessment algorithm in exacerbating gaps in attainment between different groups of students, we have been reassured by findings from Ofqual's equities analysis, also published today, suggesting that gaps between different groups have remained broadly stable this year, particularly in terms of measures of student deprivation. Tackling inequality in education remains a major concern to us all.
Overall outcomes (England, Wales & NI) increased at A* and A-A*:
A* increased by 4.8 percentage points (pp) from 2020
A*-A increased by 6.3pp in 2021 from 2020
Pass rates declined slightly by 0.2pp from 2020
Female students performed better than male students:
At A* female students increased by 5.3pp and male students increased by 4.2pp
At A*-A female students increased by 7.0pp and male students by 5.4pp
A Level maths female students overtook male students for the first time in the number of A* grades achieved – with 29.1% getting an A* compared with 28.5% of male students
Responding to today's news, Hannah Russell, Chief Executive at the ASE said: "There is no doubt that this has been another challenging year for teachers in schools and colleges, who have worked incredibly hard to ensure the best outcomes for their students.
"We would like to thank our community for going above and beyond and of course to acknowledge the efforts and achievements of the students themselves, who have shown tremendous resilience in the face of two years of disruption. We wish all students receiving science examination grades during August the very best as they embark on the next stage of their education or career.
"As we look towards 2022, we will continue to work with our community to feed into discussions and decisions around assessment for next year's qualifications. We would encourage Ofqual to carry out a wider review of this year's process to identify elements that have been successful and could help to make our examinations system more robust going forward. The review should also consider how other countries have managed this process."