Gauze Gate: Asbestos-containing gauze mats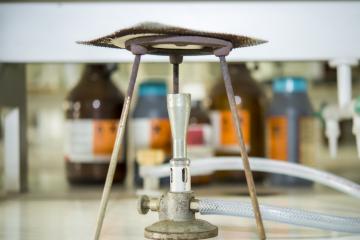 bunsen burner, tripod and wire gauze in a laboratory
Outline of the issue
Last month, the Health and Safety Executive (HSE) issued a warning to schools regarding two laboratory supply companies that have supplied schools with asbestos-containing gauze mats. The metal gauze mats are designed for use over Bunsen burners. Although the HSE's risk assessment said that the risk of exposure is low, it has acted to oversee arrangements in contacting affected customers to ensure the mats are disposed of safely with adherence to the Hazardous waste requirements.
Any gauzes that contain asbestos should not be used and must be safely disposed of as asbestos waste. As a precaution, if you're unclear of the coating on your gauzes, you should assume they contain asbestos. 
The HSE have commented "We are also investigating how these particular gauze mats came into circulation. Breaches of the restrictions on the supply of asbestos are taken very seriously by HSE."
We recommend you read the following three articles available via CLEAPSS:
Help with the collection and disposal of the suspected asbestos gauzes
The ASE has come across an offer from Chemgo that we wanted to share with members. To help minimise costs of collection and disposal, (approximated to be £500), contact your local Technicians Network to see if they can act as a structure to liaise with other local schools as follows:
What Chemgo need is:
A list of the Schools in an area that can be collected in one day.

The number of gauzes for disposal, for each School. The gauzes must be double bagged with strong polythene and sealed with tape and labelled (ref: guide lines from CLEAPSS and the HSE)

A contact name for each School including full collection address, email address and a contact number.
With this information they can see how many Schools are involved in each collection and the number of gauzes for disposal. The transport costs can be split between the Schools, saving each School money
There is an Environment Agency consignment note fee for each site of £20.00 (levied by the Environment Agency, usually £50.00) reduced because the collections are for multiple collections on the same day (carriers round)
These consignment notes are a legal document for the transport of hazardous materials, and for the schools duty of care as the disposal is fully traceable.
They will give each School a quotation, the final cost will depend on all of the Schools in the collection accepting the costs, if any drop out there may be a slight increase for the other Schools.
If you or any of the Schools need any more information please see below for details:
http://science.cleapss.org.uk/