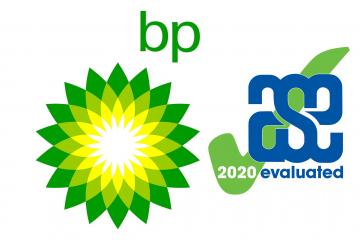 "Navigation within the collections is straightforward and extremely flexible. Finding what you want could not be easier!"
"The emphasis on improvement could help to develop pupils' reflectivity."
Overview
The bpES website is packed with science resources that support learning across ages 4 to 19 years. It also includes a wide range of geography and design technology resources. Throughout the website, learners interact with high quality interactives, animations and videos. Opportunities to develop critical learning skills, and practice highly desirable career-based skills, abound.
Resources are arranged in collections and all are informative, engaging and show how STEM interacts with so many aspects of our everyday lives. Navigation within the collections is straightforward and extremely flexible. Finding what you want could not be easier!
Partnerships and stakeholders
The website has been developed by bp educational services (bpES), working alongside teachers, educational specialists, scientists and engineers. Their aim is to increase young people's understanding of and engagement with Science, Technology, Engineering and Mathematics (STEM). Over 170 resources are freely available for use once you have registered and they are organised into six key collections: Primary, Secondary, Home learning, Ultimate STEM challenge, Science Week and Climate.Speaks. Partnership with key organisations such as Business in the Community, the CREST Awards scheme, Engineering Trust, Enterprise Science, STEM Learning and the Science Museum, amongst others, has helped to create an extremely broad range of visually attractive and engaging activities.
Finding information
Navigation across the website is made easy by clear tabs labelling the main collections. Once on a page, further selections can be made using a highly versatile drop-down menu. For example, a specific age range can be selected along with one of several topic areas. In the secondary area, topics can be selected from science, geography and business, whereas in the primary areas the topic selections can be made from geography or design technology.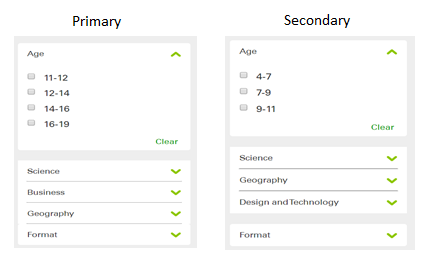 For each, an activity format can also be selected, e.g. animation, teachers' notes, lesson ideas, poster, etc. For quick filtering to specific items, an accurate search option can be accessed on every page. For example, entering the key word 'electricity' will provide 21 results. Each result summarises useful information, as shown below.

Overview of the collections
The collections contain activities that are age-related, which provides a helpful indication for where to access appropriate activities.
The Primary collection includes activities for 4-7 year-olds; 7-9 year-olds and 9-11 year-olds. Overall, there are 129 activities available, which include six geography and seven design technology activities.
The Secondary collection is divided into activities for 11-14 year olds and 14-16 year olds. Overall, there are 94 activities available, including one activity focused upon business (Enterprise trading game) and seven geography-related activities focused upon topics including climate change and rock identification.
The Home learning activities are organised as follows:
| | |
| --- | --- |
| Age range | Number of activities |
| 4-7 | 8 |
| 7-9 | 19 |
| 9-11 | 19 |
| 11-14 | 13 |
| 14-16 | 14 |
The Ultimate STEM Challenge is designed so both primary and secondary pupils can participate. Pupils are encouraged to think creatively and to work with others including their families. Activities are specifically designed to provide opportunities for pupils to explore cross-curriculum solutions to problem-solving. The Ultimate STEM Challenge is a popular annual event that can be linked to solving global STEM-related issues.
The Science week focuses on primary pupils. The activities are exceptionally well organised to limit teacher preparation. Pupils become Science Explorers and embark on a journey of discovery. Topics are selected to always be engaging and relevant to the science curriculum. For example, Years 1 and 2 are asked to 'Investigate how living things suit their environment'; Year 4 pupils are asked to 'Investigate how changing environments affect living things' and Year 6 students are asked to 'Investigate how living things have changed over time'. Although focused upon Science Week, these activities could be used to enrich learning at any time.
Climate.Speaks
Focused on secondary pupils, this collection encourages exploration of key ideas surrounding climate change and sustainability. Learning is very well structured to develop pupils' argumentation and self-regulation skill sets. The main ideas are presented using a 3-lesson programme that creatively introduces arguments positioned through different stakeholders such as government, activists, energy and transport companies, and agriculture.
Resources include a teacher's guide, support for developing debating and argumentation, cross- curriculum links to PHSE, English, geography, media and politics and a flexibility that provides differentiation for all learners. The opportunities to develop inter-departmental/subject schemes of learning are almost endless.
A closer look at the collections
Activities from across primary science and design technology, and secondary science, geography and business, have been selected for closer scrutiny.
Primary focus
4-7 years
Particularly interesting is the inclusion of electricity for 4-7 year-olds. The English National Curriculum (NC) only introduces electricity in Year 4 (aged 8-9), although the curricula for Wales and Scotland introduce electricity at an earlier age.
There are two activities for electricity in this age range. The first activity presents an attractive poster to encourage pupils to discuss how they think electricity is made. This activity can help to identify misconceptions that children have about electricity and may lead to discussions about safety with electricity.
The second activity introduces how to make an electrical circuit. A short entertaining video and animation teaches children how to construct a circuit and helps them to understand about open and closed circuits. The information is clear and uses excellent graphics. An accompanying worksheet checks pupils' understanding. The activity provides a well-structured approach to learning and is age appropriate. The writing activity offers opportunities to develop literacy and can be used to stretch and challenge pupils.
There are no geography or design technology activities for this age range.
7-9
There are eight activities presented in the Forces topic for this age range. Most offer excellent opportunities to link learning with other science topics, or to work alongside other departments such as design and technology, and art. For example, pupils can design and build an electric helicopter, a truck or a paper spinner. One activity takes an historical approach based on Stephen Hawking's life and so can relate to the history curriculum.
The forces activities encourage deeper thinking and the generation of pupil ideas. Evaluation worksheets are well-designed and provide good feedback for teachers on pupil understanding and application of ideas.
9-11
There are 62 activities offered for this age range. Some of the activities are placed in both science and design technology areas, providing opportunities for these departments to collaborate on common areas of learning.
Science and design technology offer pupils an opportunity to Design a guitar. Clear animations are used to introduce the activity. The idea of pitch is explored and introduces pupils to further ideas for their project. Real-world examples of stringed instruments could be used to encourage pupils to investigate instruments used across the world. A pupil checklist helps to structure the activity for pupils and an evaluation sheet checks their understanding well.
The geography activities for this age range are engaging and very practical. For example, pupils are invited to design and make an anemometer. Again, good quality animations, activity and evaluation sheets do well to create an engaging and challenging project for pupils.
Secondary focus
11-12
The topic Rocks contains two series of activities. The first focuses upon Darwin and explores ideas such as natural selection and evolution and, with some thought, might include evidence from the fossil record. The second area looks at rock formation and the rock cycle. In this section are several engaging videos on topics such as discovering fossils and rock identification, all presented by pupils of the same age group. They are short and informative and supported by worksheets, a useful rock identification key and posters.
The activities presented for geography under rocks are identical to those found in the science category. These are areas found in both the science and geography curricula and so present a fantastic opportunity for departments to create linked learning.
At the end of each topic, there are carefully selected links to additional topics. Being able to select multiple related topics for pupils to use supports the multi-disciplinary nature of science and the way in which scientists solve problems. Each topic also provides excellent resources for enrichment and extension activities for in-class learning and for STEM clubs.
14-16
There are 33 science resources focused on this age group. Learning about the Periodic Table is brought to life through three activities. One includes two high quality posters of the Periodic Table. The first poster is ideal for younger pupils, while the second, which includes actinides and lanthanides, is perfect for Post-16 students.
An interactive Periodic Table provides pupils with detailed information about the elements that could be embedded into a research session or maybe a quiz.
These resources help to make learning about the Periodic Table more interactive and therefore should increase pupil engagement.
The Greenhouse effect is introduced using a well-presented poster that could be used for both science and geography. This resource offers an opportunity for collaborative work across these subject areas and the possibility for scientists and geographers to discuss this topic from their perspectives.
16-19
For this age range, 33 activities are offered. The activities support the post-16 chemistry curriculum well. Activities such as Polymers for life ask pupils to apply their mathematical knowledge to real-life situations such as recycling. The Business and enterprise activity, which is also offered at KS4 (ages 14-16), engages pupils in a real-life trading experience. The activity combines enterprise with business and mathematics through the lens of science. Any school wishing to develop pupils' enterprise skills and knowledge of careers would find this activity very useful.
Evaluations
Most topics include evaluation sheets that accompany the resources. Pupils are tested on their knowledge of the topic and, where they have designed, built and tested something, they are asked to critique their design and offer suggestions for improvements. The emphasis on improvement could help to develop pupils' reflectivity.
Conclusion
Resources accurately target a range of ages from 4-19, although most resources are intended for 4-16 years and are focused on chemistry, earth science and physics.
Activities thoughtfully link learning and problem-solving across different subject areas, which could promote greater inter-departmental collaboration and introduce a range of potential career routes.
The bpES website offers a very flexible and stimulating collection of resources that will support student learning of science, geography, and design technology across all UK curricula. Business and enterprise ideas are introduced using an engaging game format.
These resources would complement and enrich any science curriculum and participating in the Ultimate STEM Challenge and Science Week provides so many opportunities to link with the wider STEM learning community.