Green Tick : EasySense Vu Pack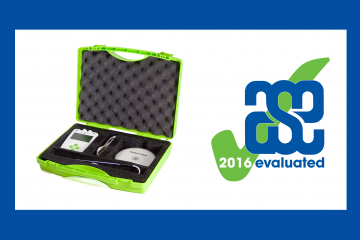 ASE Evaluation
Title: EasySense Vu Pack
Resource type: Data logger
Company: Data Harvest
RRP: £99 each
Ages: 5-11 (KS1, KS2)
Link: www.data-harvest.co.uk 
Ease of use
The EasySense Vu is a data logger that has features specifically aimed at primary age pupils. It comes in a kit comprising a data logger, a plug-in temperature sensor, a mini USB lead, the EasySense 3 software and a site license, as well as a one-year guarantee. The data logger itself has integrated sensors for temperature, light and sound, reducing the need for additional wired sensors. The entire kit is well-housed in a Gratnells smart case. This wins a huge number of points, as the box is sturdy, firm and vertically stackable, which is a big plus if storage space is at a premium in your setting.
If you have not yet invested in a set of data loggers, then the EasySense Vu offers a good solution
The data logger contains an internal rechargeable battery, which may take up to eight hours to fully charge. The battery is charged via the USB lead and holds its charge for a period of 14 days, providing an advantage over data loggers that require batteries. It is very much a 'plug-in and go' piece of equipment. There is no 'On' switch, but pressing any button on the front will turn on the logger. The inbuilt sensors pick up the light, sound and temperature well and there are two input sockets for additional plug-in sensors such as the temperature sensor, which forms part of the kit. The display screen shows the amount of battery remaining in one corner and the main screen displays the readings from the sensors. Sensors can be turned on and off as required and the range of the sensors can be changed easily.
The EasySense Vu data logger can be used outside and can record data over time in remote locations. This supports looking at environmental changes over a period of time, such as observing light patterns over a day. The lanyard helps to keep it safe and easily accessible whilst on the move.
There is a straightforward user guide available to download from the Data Harvest website, and a more comprehensive reference manual for those who wish to explore the more advanced features that the EasySense Vu offers; for example, how to set sampling rates for readings over long time periods and speed measurements using light gates or timing mats.
Installing/connecting to the computer
Installing the software on the computer is a pain-free task and I particularly liked the fact that there is a choice of user-level. 
Installing the software on the computer is a pain-free task and I particularly liked the fact that there is a choice of user-level. Level 1 is aimed at 'start' (e.g. up to 9 years old); Level 2 at 'mid' (e.g. 9 –15 years old) and Level 3 at 'exam' (e.g. 15 years and older). This ensures that the data logger is suitable for a wide range of pupil ages.  It also allows for differentiation in terms of older or younger pupils, for more or less able pupils and enables SEND and EAL pupils to access learning. An additional benefit is that pupils will remain with the same software as they progress though the school. There is an on-screen icon that pupils can use to adjust the user-level. This allows pupils to select the level most appropriate to their ability, allowing them choice and flexibility. This is also the case when deciding how to display the information: as a pictogram, bar chart or line graph.
Once the program is open, it is very simple to start recording and to display results on a choice of graphs. There are green coloured buttons with 'play' and 'stop' symbols to start and stop recording data. The graph displays different colours for temperature, sound and light, which makes analysing the data all the easier. Graphs and raw data can be printed with ease.
Additional resources
The EasySense has two additional input ports for other sensors, which can be bought separately. The most useful of these would be the heart rate sensor, to take readings of a resting heart rate and one after exercise. The Vu Power House is a piece of additional equipment that will provide a cross curricular link, encouraging thinking skills about alternative energy and sustainable living. Once the model house is built, pupils can investigate how much electricity is generated by the solar panels and measure the heat gain and loss of the house over time.
Conclusion
Data loggers are an essential piece of kit for teaching science and are relevant in most year groups for investigations such as 'Which earmuffs provide the best insulation against sound?', or 'Which material keeps your food the warmest or drink the coldest?'. The English National Curriculum states that pupils should 'work scientifically' by 'taking measurements, using a range of scientific equipment, with increasing accuracy and precision, taking repeat readings when appropriate, recording data and results of increasing complexity using scientific diagrams and labels, classification keys, tables, scatter graphs, bar and line graphs'. This is very much supported by the EasySense Vu data logger. If you have not yet invested in a set of data loggers, then the EasySense Vu offers a good solution.