Green Tick : Encounter EDU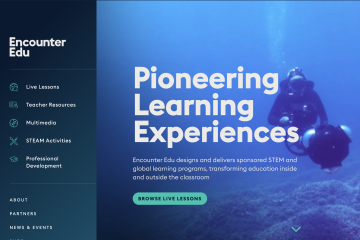 encounteredu.com homepage
Reviewer Highlights
"The dynamic website is easy to navigate and is regularly refreshed with the latest trending videos and new content"
"Curriculum links are provided for the UK and USA, but the nature and quality of the resources make them applicable worldwide for 7-16 year olds"
Introduction
Encounter EDU is a rich and engaging online resource to support learning in science, geography and computing and to give a broad global learning dimension to STEM subjects. Twelve units, each consisting of several lessons, are targeted at different age ranges (7-11, 11-14, 14-16). They offer stunning videos, practical activities, PowerPoint presentations, live-link interviews with research scientists, worksheets and lesson plans.
Sponsorship by a number of partners allows the resources to be provided for free, once you have registered. To get started, go to: https://encounteredu.com/
What does Encounter EDU cover?
Curriculum links are provided for the UK and USA, but the nature and quality of the resources make them applicable worldwide for 7-16 year olds. For GCSE, the links relate to the old GCSE courses (A*-G) rather than the latest incarnation graded 1-9.
Science is the most generously covered area, but the geography and computing resources look just as engaging and relevant. Whist there is a strong biology/environmental flavour, there is plenty for teaching other aspects of science. The world's problems often require multidisciplinary approaches and the way that Encounter EDU makes links across subjects will help students to de-compartmentalise their thinking.
Key features
The resource has four main sections: Discovery Zone; Teacher Resources; Encounter Live; and Professional Development.
In the Discovery Zone you will find a selection of short, sharp, visualising stunning videos. With their engaging, well-presented content, these alone make the resource worth using.
The Teaching Resources section is a major part of Encounter EDU, where you will find lesson plans, attractive clear PowerPoint presentations, with hyperlinks and a range of other resources.
Encounter Live is an exciting feature, which can bring learning to life even more. Schools can watch live investigations or can submit questions for live video interviews with an expert currently working in the field. The interviewer is knowledgeable and asks a range of additional questions to really unpick the work of the expert. In a world of soundbites, it is good to see such detail. The settings (such as on the shore at the Carmabi Research Centre in the Caribbean) are enough to make anyone jealous! Some of the content will not suit younger students, but the settings, subject matter, the role models and careers links have the potential to inspire young people of all ages. Previous broadcasts are available to watch on 'catch up'.
The final component is the Professional Development resource, aimed at teachers. With subject knowledge enhancement materials, additional teaching guidance and tips for using a range of technology in the classroom, there is plenty for teachers to add to their skill set and to be able to use the resources.
A detailed look at the units
Taking the unit 'Submarine STEM' as an example, there are six lessons aimed at 11-14 year-olds. Each lesson has a set of reasonably well-pitched learning outcomes at different levels: foundation, developing, competent, expert and advanced.
In the teacher guidance you are taken step by step though the lesson and the purpose of each part is explained. There would appear to be a lot to fit in. In 'Submarine Buoyancy Investigation', students engage with stimulus materials, make a ping-pong ball neutrally buoyant; explore density (including calculations); and do consolidation and self-reflection activities, so you would need to be pretty strict with timings.
The 'Frozen Oceans' unit for 11-14 year-olds has biology, chemistry and scientific enquiry themes and uses an enquiry-based learning style throughout. The practical activities do a reasonable job of mirroring what practising scientists are doing in their research. Teachers may wish to adapt the suggested approaches though. Whilst the instruction sheets could be followed recipe-style, there is potential to use the activities to develop specific practical skills or broader aspects of working scientifically.
Additional opportunities are flagged up, such as linking to the 'Arctic Live' annual event.
The cross-curricular nature of the materials will be viewed by many, especially in primary, as a big positive. For example, the Unit 'Our Ocean Planet', aimed at 7-11 year-olds, opens with a lesson that is pretty much all geography, before moving into science topics. The unit mimics an ocean journey, which could really help to capture pupils' imaginations.
There are links to some really good additional resources and activities available online. For example: the highly topical subject of plastics in our oceans is used as a jump-off point to reuse plastic bottles to make bird feeders. In another example, there is a full video lasting just over twenty minutes on ocean acidification, or a three-minute version that encapsulates the subject very well.
Working with the resource
The dynamic website is easy to navigate and is regularly refreshed with the latest trending videos and new content. One could dip in and out; the high quality of the resource means that you will not have to look far before finding something that will really work with your students. However, there is so much material that some investment of time will be needed to get the best from it.
There is a lot of potential for using these resources to deliver things that you already teach. Some teachers will welcome the detailed lesson plans and may choose to drop them straight into their schemes of work, replacing existing lessons. It is also easy to envisage them providing a highly engaging term's worth of activities for a STEM club.
The resources are reasonably well targeted at the different age groups. In places, the science is not especially challenging for the brighter GCSE students; however, there is plenty of emphasis on application to a wide variety of contexts, adding interest and valuable preparation for the exams that many 16 year-olds will sit.
There is very little to criticise about the resource, such is the attention to detail. It would have been preferable that CO2 had not been written as 'CO2', but at least 'pH' is correct.
Conclusions
This is a tremendous resource, which covers a range of topical science issues and curriculum content, in a highly engaging way.
The more you look into what is available, the more you find stimulating ideas for teaching and learning. The resources go way beyond the dry science, computing and geography and bring in varied rich contexts that just could be light bulb moments for youngsters as they develop their ambitions for the future.