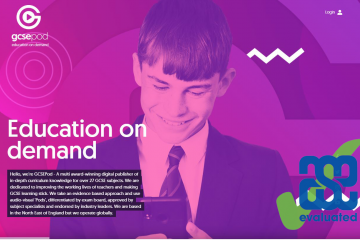 Introduction
GCSEPod is an online, multi-subject learning platform that is underpinned by short videos called 'Pods', complemented by online assignments. This evaluation focuses on the use of the platform to support the teaching and learning of science.
GCSEPod is accessible on any device connected to the Internet, including Smart TV, desktop / laptop computer, tablet or Android / Apple phone. It is widely accessed by students using mobile phones and the website functionality fully supports this use. Pods can be streamed or downloaded for later viewing. Pod file sizes vary from about 5MB up to about 14MB, although the majority appear to be less than 8MB. Such file sizes support multiple downloads: one Pod is about the same file size as 2-4 typical digital photos.
Once a school has subscribed to GCSEPod, the relevant examination courses are selected and this both filters and arranges the Pods into relevant groupings. For example, if AQA GCSE Biology is selected, the Pods are arranged in the same branched structure as the AQA specification. This makes selecting relevant Pods very simple. It also avoids teachers and students selecting irrelevant Pods.
The Pods
Each Pod lasts from three to five minutes and consists of narration and accompanying graphics. Subtitles can be switched on, making it a very accessible resource. Scripts are written by subject specialists and narrated by professional voiceover artists. Each individual Pod is mapped to each of the English GCSE single science and combined science specifications, WJEC and WJEC Eduqas courses, Northern Ireland CCEA GCSE science courses, Cambridge, Edexcel and Oxford AQA International GCSE and Cambridge O-Level sciences.
That said, the health warning given on the website is that not all content for each specification is covered. For example, within the physics section, there is no Pod that includes theories about dark energy and dark matter, although these appear in the AQA physics specification. Pods tend to favour supporting AO1: Demonstrate knowledge and understanding of scientific ideas and there are odd inaccuracies in some Pods. For example, a couple of the power topic Pods referred to energy being 'used' rather than 'energy stores changing' or energy 'being transferred'.
However, GCSEPod has been quick to respond to ASE identifying such inaccuracies and is currently undertaking a review of the science Pods in partnership with ASE. This will improve quality and accuracy of existing Pods and support the development of new Pods that address AO1: Demonstrate knowledge and understanding of scientific techniques and procedures and AO2: Demonstrate application skills.
"Each Pod lasts from three to five minutes and consists of narration and accompanying graphics"
GCSEPod and pedagogy
One of the big strengths of GCSEPod is flexibility in the ways that it can be used. For example, it provides engaging content for a flipped-learning model. A teacher can generate playlists to target content that they wish students to cover prior to a lesson, supported by an assessment. How well the students perform on the assessment would then support planning for the lesson: either taking learning further by applying knowledge gained at home through problem solving or practical / investigative activities, or by revisiting content with which students are not yet secure.
GCSEPod also supports teachers and students with assessment of, and assessment for, learning, identifying intervention needs and preparing for exams: regularly revisiting work from earlier topics is a big part of GCSE (9-1) preparation and well-planned use of Pods and assessment materials support this.
Logging in
Each teacher is assigned a unique username and password. On logging in, a teacher is presented with the 'Dashboard' (see screenshot). There are navigation tools provided in the main menu at the top of this page, including links to 'Teacher area', 'Pods', 'My courses', 'Assignments', 'My playlists', 'My downloads', 'Publishing guide' and 'What's new'. The menu appears at the top of most pages to support easy navigation. There is also a messaging function within the Dashboard that alerts the teacher to assignments completed by students, and their responses to feedback.
"The student dashboard identifies their courses and through this, they can identify the relevant Pod playlists for each of their exams"
Functionality for the teacher
Individual teachers can use GCSEPod flexibly, tailoring it to suit the subject(s) and groups that they teach. They can create playlists and assignments specifically tailored for their students and these can be shared with colleagues. Similarly, teachers can use and modify playlists and assignments created by others.
Creating playlists and assignments
Teachers can create a playlist in several ways, all of which are quick and easy, and feel familiar for those used to systems such as Spotify, YouTube or iTunes:
Option 1 – Teachers can duplicate an existing playlist (either their own or a pre-created playlist on the site) and make edits to shape it into something bespoke for them and their students.
Option 2 – Once a teacher has found a Pod they wish to add to a playlist, they can click "Add to playlist" and add to an existing or new playlist.
Option 3 – Teachers can build playlists from scratch by choosing Pods from any subject and combining them together into bespoke and varied playlists.
Topic names and references helpfully match the exam board specification references, so finding the right content is always easy. Once playlists are created, they can be assigned to groups or individuals via the "Assign this playlist" feature, or they can be shared via email and social media. If the teacher uses another leaning platform such as Google Classroom, a specific link can be accessed to embed into Google Classroom that will allow the student to seamlessly move from one system to the next without having to log in again.
To support students in testing their knowledge, and teachers in identifying weak areas, questions can be added to playlists. These are then formed into "Assignments". Teachers may select questions for their assignment in three ways:
Option 1 – A community bank of over 60,000 questions, each linked to the appropriate Pod. All questions can be edited for differentiation and preference.
Option 2 – A series of ready-made assignments called "ReadySetGo" assignments, which have been built by subject experts and contain a selected group of questions to test knowledge fully.
Option 3 – Using their experience. Teachers can create bespoke questions and add them to the assignment, including number of marks available (if free text) or distractors (if multiple choice).
The community bank of questions offers a good starting point, although some questions are less effective than others. For example, most of the multiple-choice questions assess AO1: Demonstrate knowledge and understanding of scientific ideas, which accounts for just 20% of examination marks (AO1: Demonstrate knowledge and understanding of: scientific techniques and procedures, AO2 and AO3 accounting for the other 80%). That said, scientific techniques and procedures, application and analysis skills would be addressed within the classroom if using GCSEPod to support flipped learning. Some community-written free text questions are high quality and useful for addressing AO2 and metacognition. For example, one free text question asks: What did you find most difficult in understanding the life cycle of stars? This is an excellent question to elicit student's difficulties with a highly conceptual idea, and one that would support effective intervention. However, the health warning with community questions is that there is no quality assurance process and so poor or unhelpful questions may be selected for use by the unwary. GCSEPod recognises these issues and has in part remedied our concerns by the creation of the "ReadySetGo" assignments (as mentioned above), which have been written and quality-checked. GCSEPod is also working with ASE to create a bank of quality-assured questions to complement those written by the community.
Once an assignment has been created or selected, the teacher gives it a due date, a start date (if scheduling it in the future is required) and assigns it to a group of students or individuals. The group could be a class or a specially created intervention group. Once assigned, students receive a message on their dashboard. They also receive a Pod playlist that supports them to complete the assignment. They are not required to view the playlist Pods prior to tackling the assignment, although, for flipped learning approaches, they would be advised to do so.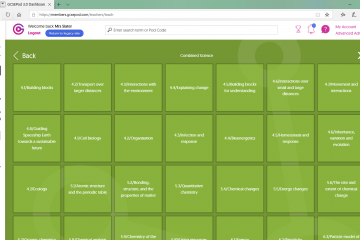 Marking and feedback
Multiple choice tests are marked automatically by the platform and the class performance can be viewed, and the teacher can filter down to identify students who have or have not completed the assignment. They can view an individual student's virtual scripts and are offered the opportunity to comment on individual answers. Although less useful for multiple choice answers, the option to provide feedback is very useful for free text answers. Feedback is potentially time-consuming, but the process can be speeded up by using standard voice recognition software (part of 'Windows' functionality). Alternatively, it is possible to use a bank of pre-prepared statements pasted into feedback comment boxes. Once feedback has been given, students are invited to respond through a message on their dashboard. If used well, the feedback option fully supports good assessment for learning.
Based on wrong answers in an assignment, students are given a 'Boost' playlist. This playlist is automatically generated from the test results, is bespoke to each individual student and provides support for curricular areas identified.
Support and guidance
There is a 'Help Centre', which can be selected from the top of each webpage. Selecting this option provides the teacher with a virtual tour of the website, very useful for orientation or as a quick refresher. In addition, there is a comprehensive user manual, helpfully broken up into a digital contents page, so you can select the action you want to take and receive an online step by step guide with accompanying videos. Additional support, guidance and information can be accessed through an 'Engage' area. Resources here are extensive and include training Pods and PowerPoint presentations, and guidance for successful learning using GCSEPod.
Using GCSEPod as the student
For students, functionality is similar to that for teachers. The student dashboard identifies their courses and through this, they can identify the relevant Pod playlists for each of their exams. They can access all Pods relevant to their GCSE courses independently and select Pods to download for offline use.
Students can view all the assignments set for them and filter down to those completed, those outstanding and those for which deadlines have been missed. By selecting an individual assignment, a student can see which questions they have answered correctly and incorrectly. For incorrect answers, they can drill down to view the answer choices, the answer they selected and the correct answer. They are also provided with a Boost playlist.
Selecting the playlist tab provides students with playlists that have been set by their teacher and Boost playlists based on assignment outcomes. It also allows them to create a playlist in a similar way to a teacher. Once created, students can also share their playlists with others via social media, supporting collaborative learning amongst friendship groups.
Students are provided with ten support Pods that support them with how to use GCSEPod, revision and preparation for exams, Internet safety and dealing with stress. They are also given a helpline number and email and have access to an online help manual, similar to the teachers' manual.
Conclusion
In conclusion, GCSEPod offers good quality curriculum and assessment support for schools. It facilitates independent learning through short, engaging videos that students can view on- and offline. Effective teacher assessment and student self-assessment is supported through multiple choice assignments and effective teacher feedback, and student response is supported through dialogue about answers to free text questions. At around the cost for a revision guide for a single subject, GCSEPod with 27 subjects represents excellent value for money.