Green Tick: Ogden Trust Resources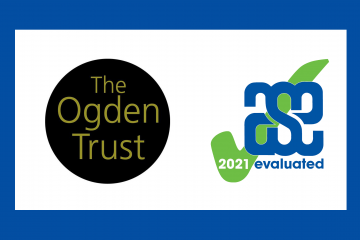 Ogden Trust resources: https://www.ogdentrust.com/resources
The Ogden Trust is a charitable trust that exists to promote the teaching and learning of physics by enabling innovative physics teaching to take place in, and collaboratively between, schools. The Trust has a clear message of physics opportunities for all, which it addresses through schools-led partnerships, as well as by supporting and inspiring teachers through professional development, ideas and resources. Priority audiences for the Trust include teachers without a physics background, teachers and students in remote rural areas or in areas of social deprivation, and students who receive free school meals. However, Trust resources are available for all teachers to use, thus supporting participation in physics for other under-represented groups.
The Trust's website hosts a wide range of resources to support teachers in delivering engaging and innovative physics learning for learners aged between 3 and 18+  years of age. Many of these resources are aimed at foundation stage and primary-age children; this is particularly welcome as children experience physics phenomena every day of their lives and, yet, formal physics education is absent from the lower primary curriculum in England.
At the time of writing, there are over 90 resources available from the Trust. These resources are categorised by Primary curriculum area, Series (resource type) and by Pupil age group. Multiple filters may be applied to narrow down searches. The website also provides a search function, which can also be used to find resources that support a topic of interest such as the Apollo space missions.
Trust primary science curriculum resources have been written by primary experts and physics specialists and are aimed at supporting the delivery of hands-on science in the classroom. These are categorised as 'Phizzi' resources, 'Working scientifically' guides and 'Ideas over time'.
Phizzi practical activities are step-by-step guides for the classroom. There are currently 14 resources intended for children aged 5-11 years, although each individual resource may cover a narrower age range. For example, the 'Magnetometer' resource, where children make a simple working magnetometer for investigating solar storm activity, is intended for pupils aged 9-11 years. This resource is a good example of an activity that inspires awe and wonder in children: making an instrument in class to measure solar storms? How cool is that! In another activity, children make a simple hydrophone: they explore sound travelling through water by making underwater vibrations using two objects such as spoons.
Phizzi focus resources are a collection of curriculum resources that support teachers in planning and resourcing stimulating science lessons for primary-age children. Each resource provides useful background for teachers, and signposts related resources such as a booklist of great books to use with children that enhance teacher subject knowledge. For example, 'International Women's Day' expresses concerns about relatively low numbers of girls studying A-level physics. It then provides a series of strategies for increasing the physics capital of children, particularly girls. Suggested strategies include challenging stereotypes, creating a positive physics environment, encouraging physics-based career aspirations and teaching about women physicists. Each strategy is underpinned by hyperlinked resources from the International Women's Day, Ogden Trust and other trusted providers, such as STFC (Science and Technology Facilities Council), IoP (Institute of Physics), the National STEM E-Library and the NUSTEM primary careers website. The associated booklist suggests approximately ten titles, including Women in Science: 50 Fearless Pioneers who Changed the World by Rachel Ignotofsky, Women in Physics by Mary Wissinger, and Counting on Katherine: How Katherine Johnson Saved Apollo 13 by Helaine Becker: inspirational stories, which are age-appropriate!
Other Phizzi Focus resources support teaching trickier topics, such as forces and electricity, and the history of the Apollo 11 Moon landings. Once again, the great strength of these resources is their signposting of quality resources and booklists of related, age-appropriate readers.
Phizzi problem-solving are physics-themed practical activities, with strong links to maths. For example, the 'Magnetic racing game' (for ages 7-11) challenges children to measure accurately, design a suitable results table to record and organise measurements, draw a net for a 3D structure, and calculate mean values. Its foci of hands-on practical activities, working scientifically and maths skills are most welcome. There are currently two activities for children aged 5-7 years and two for children aged 7-11 years. These activities are great, as they avoid 'recipe'-type practical work and demonstrate the strong links between science and maths.
Phizzi enquiries are foundation-age enquiry activities that are ideal for encouraging curiosity and children's questioning. There are ten resources specifically intended for children aged between 3 and 5 years. Each resource consists of a guidance sheet for teachers (and parents) and a guidance document entitled Why do science talk?, which specifically supports parents with children's learning at home. There is guidance for running activities, questioning relating to different stages of the investigation and health and safety. Contexts, such as Soggy cereals, where children investigate how quickly different cereals become soggy, and Bubble snakes, where children make bubble-foam snakes with a bubble blower, have been chosen well: activities are fun, related to physics and easy to resource at school or at home.
Phizzi professionals is a series of resources that give an insight into the many and varied career pathways that can lead from physics qualification. There are about a dozen different resources, each featuring a professional, usually fairly young, and representing people of different genders and ethnicity. Each provides a nice thumbnail sketch of careers using physics and following different paths such as A-levels/university, armed services, or traditional apprenticeships. Again, these resources are great for increasing children's physics capital. Also included is a blank template encouraging schools to share local inspiration by creating additional Phizzi professional resources based on parents or other local adults.
Research cards are a series of eleven resources that describe the lives of some women in science, black physicists and how some physics ideas and applications have developed over time. The Women in science and Black physicists resources introduce the achievements of eleven physicists who have all made significant contributions in their fields of work, but whose stories may be less well known. Each scientist's page has a short biography describing a key inspiration, and also a section describing how they worked scientifically, with an emphasis on the physics rather than their background. For example, one describes how Dr. Neil deGrasse Tyson met and collaborated with other scientists who were interested in galaxies and stars, while he was carrying out his research. Sharing findings and learning from each other helped them all to develop a better understanding of their observations and gave them ideas for further research. The physics ideas and applications have developed over time. The Women resources support the Trust's aim to increase participation in physics for under-represented groups by providing children with role models, and descriptions of events and interactions that inspired these role models at a young age.
Other research cards cover a series of ideas and application topics such as how ideas about science have changed over time. Topics include traditional areas of physics such as Forces, Light and Earth and space, but also application-based topics such as Helping us hear and Moon landings. These cards are really useful for children to see how ideas about science and applications of science have developed over time, and tell the stories of some people who made those developments possible.
Working scientifically resources provide valuable support for teachers by describing and exemplifying different types of enquiry met in primary science: fair tests, observing over time, pattern-seeking, identifying and classifying, research and comparative tests. Each type of enquiry is described clearly and succinctly and provides support for teachers to develop children's skill investigation: for example, how children could report learning, and suggesting six possible investigations for each relevant year group. A key strength of these resources is their support for teachers to broaden their investigative expertise and repertoire.
Scientific ideas over time resources include timeline card sort games and till-roll timeline activities. Timeline card sort games are intended to show children how the development of our understanding of something has led to an age of invention: for example, Electrical inventions, where children learn about when key electrical devices were invented. The aim of the game is for the children to correctly sequence the cards chronologically and to get rid of all the cards in their hand. In playing this game, children may develop a historical awareness of how our scientific understanding of electricity has changed since the 1800s, and how our new understanding has affected the way in which we live. There is a danger that some children may play the game just as a game. However, combining the game with other activities, such as research or by challenging them to link discoveries to inventions, would further strengthen the activity. Other card sort games such as Tallest building, Bridges and Largest planes are less easy to link to the curriculum.
With some of the Ideas over time resources, teacher judgement is required, as some include related extension activities that are not fully age-appropriate. For example, in the age 5-7 resource, Bridges, there is a suggestion that children can work as a class to explore patterns between the length of bridges and when they were built, and then construct block diagrams or pictograms to compare data and identify patterns and trends: most children of this age would struggle with numbers (and pictogram scales) ranging from 30 metres to over 113,000 metres! That said, children older than the stated age range would probably love the additional challenge provided by suggested extension activities.
Till-roll timeline resources support children in understanding when scientific discoveries and technological advances were made: for example, the Moon landings and Simple machines timelines. Another resource considers Significant events in the history of the universe: teams work collaboratively to carefully measure out a 13.8 metre length of till-roll that represents a timeline of the history of the universe, where each millimetre represents 1 million years. Key dates (and optional corresponding measurements) for the timeline are provided for the children. Again, the activity can easily be extended and enriched by challenging children to research into images that illustrate the timeline.
Although the majority of resources are tailored to primary-age children, some are intended specifically to support teachers of secondary-age students. For example, there is guidance for How to run physics busking with students, How to run a science ambassador scheme and How to organise a Physics Olympics. Physics busking is a good resource to support schools to organise open day events and for secondary-age students to teach physics to primary-age children: peer-teaching is a powerful tool for engaging younger learning and increasing their physics capital. Physics Olympics are also becoming increasingly popular with schools, as they support student motivation, teamwork and engagement with STEM learning. How to organise a Physics Olympics describes the success of the original Olympics event run by the Wirral and Chester Ogden Trust Partnership and offers guidance to teachers organising and running similar events.
Included in secondary resources, there are also links to other providers that are funded or part-funded by the Ogden Trust: NUSTEM, Isaac Physics and schoolphysics.co.uk. NUSTEM's vision is for a vibrant and sustainable STEM sector that meets the needs of learners and employers, reflecting the diversity of wider society. The Ogden Trust website signposts users to the NUSTEM A-level physics required practical activity project. Each required practical activity is supported by an explanatory video and additional notes for teachers, and worksheets for students. Once again, these resources are of high quality and their creation was supported financially by the Ogden Trust. Similarly, schoolphysics.co.uk was created by Keith Gibbs, and supported by the Ogden Trust. Isaac Physics is a Department for Education project at the University of Cambridge, also supported by The Ogden Trust.
In summary, the resources provided by the Ogden Trust are high quality and support high quality physics education for learners of all ages. The website is easy to navigate, and appropriate resources are easy to find by using the website filters. The resources that support learning for children aged 3-7 years are particularly welcome, as they counter poor National Curriculum provision for this age group.