Green Tick : Switched on Science from Rising Stars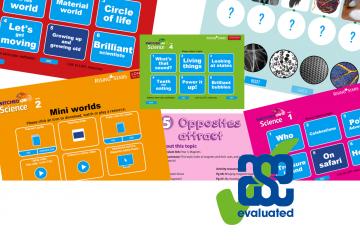 ASE Evaluation
Title: Switched On Science
Resource type: Scheme of work for the primary science curriculum
Publisher: Rising Stars
ISBN: (KS1) 9781783390700 (KS2) 9780857697684
Publication Date: 2014
Format: Teacher's guide, a CD-ROM and a resource book of photocopy masters
RRP: £300 - £600
Ages: 5-11 (KS1, KS2)
Link: risingstars-uk.com/Series/Switched-on-Science
Expert Review:
'Switched on' Science is a new primary scheme of work by Rising Stars linked to the English National Curriculum for Primary Science. Each year group from Y1 – Y6 is comprised of a set of resources: a teacher's guide, a CD-ROM and a resource book of photocopy masters to support classroom activities. The CD-ROM has teacher's notes and photocopy masters as editable Word documents along with editable planning frameworks and digital interactive activities. Assessment statements are included at the end of each unit and Key Stage 2 provides extra pencil and paper tests for each topic. Background information for teachers is included in each topic as well as ideas for supporting or extending children's ideas. 
Each topic starts with a cross-curricular section which is extremely well thought out and full of interesting and stimulating ideas to link the topic across the units.
In Key Stage 1 the teacher's guidance is clear and comprehensive and there is plenty within each topic to keep the children involved. Each topic starts with a cross-curricular section which is extremely well thought out and full of interesting and stimulating ideas to link the topic across the units. Learning objectives for both knowledge and enquiry are clearly set out and a particular strength of these units in Key Stage 1 is the provision of good, rich questions to aid learning and further understanding. The scientific language section is helpful and although the vocabulary is challenging at times it is very comprehensive.  Equipment lists are also usefully given at the start of each section. The range and number of activities included gives teachers a good selection of activities to enthuse and engage the children. The Activity Resources book has some interesting, helpful ideas and it is obvious this is not a photocopiable pupil 'worksheet' resource. Most of the sheets support practical activities, which is refreshing, but some of the drawings could be more helpful. 
A 'support' and 'extension' box is useful for differentiation purposes but it does look like an addition rather than an integral part of the programme. Assessment is through a series of statements 'Some children can…', 'Most children can…' and 'All children can…' and it is left to the teacher to decide which activities could be used in teacher assessments. The CD-ROM assessment activities and video clips are the weakest component of the Key Stage 1 programme as they are short and not particularly challenging. Many teachers may feel that their use is limited. Health and Safety issues are clearly signposted and often children are encouraged to think about their own health and safety. 
In Lower and Upper Key Stage 2, the teacher's guidance is in a slightly different format, and although there are some interesting additions, such as the 'Did you know?' section on interesting facts, the guide is not as clear or comprehensive as Key Stage 1. The learning objectives sometimes lack the challenge needed although they are accompanied by the success criteria, written in children's language, which many teachers will find useful. 
A very useful addition is the 'Children might think…' feature which addresses fairly common misconceptions and is followed by what the children should already know.
A very useful addition is the 'Children might think…' feature which addresses fairly common misconceptions and is followed by what the children should already know. The first activity for each topic or challenge might usefully be linked to this as a formative assessment tool. The 'Let's think like Scientists' feature is a nice idea addressing more open-ended questions in 'Think bubbles'. However, the teacher's guidance does not always refer to these and it would have been good to see better support for these in each topic. Background knowledge is also included in Key Stage 2 which is very useful. 
The opportunity to provide a quality cross curricular approach similar to Key Stage 1 was lost in Lower and Upper Key Stage 2 and, although some links were included, this section is rather weak. Scientific language boxes are more focussed on new vocabulary rather than the whole range of scientific language to be used in each topic. The more practical aspect of Key Stage 2 science was also lost in the detail of the lesson notes and a greater amount of independent learning could have enhanced each unit. 
The topic guides are easy to use with a 'Quick challenge' at the beginning. Some of these were good but occasionally lacked the opportunity to 'grab' the interest of the children. They may be rather too teacher-led and a quick look at the Key Stage 1 introductions might give some ideas about how to orientate children and elicit understanding in more creative ways. It is good to see an assessment page where the teacher is left to assess against three broad attainment statements but this is linked to the 'Activity test'. This is disappointing as there should be greater emphasis on formative assessment and assessing practical activities/lessons. This would ensure more thorough assessment of this scheme and less reliance on written tests. 
The Activity Resource book is more practically based in Upper Key Stage Two so the children don't feel they are filling in worksheets quite as much as they did in Lower Key Stage Two. However, there is still an element of 'filling in' that doesn't really enhance the science: some of the activities could better reflect challenge and the practical element. The videos in Key Stage 2 are better than the Key Stage 1 samples and many teachers will use them as an extra resource for children to explore for themselves. Health and Safety is also a feature that could be strengthened in Key Stage 2. 
An overview of the whole scheme in each year group to aid progression would be a useful addition to help track progress of the curriculum. An additional column or area on the planning format for adding assessment ideas and activities would be another useful addition. 
As a new resource, 'Switched on Science' will no doubt help teachers 'get to grips' with the new curriculum and certainly provides plenty of ideas to ensure the full coverage. Teachers lacking in confidence in science will embrace the ideas in each unit, especially in Key Stage 1 where the activities are engaging and stimulating. More experienced teachers may be rather disappointed that more unusual and engaging activities haven't been used to foster a sense of curiosity in the older children and the assessment sections could have been more thoroughly constructed. However, there are some very good elements to this scheme, such as the cross-curricular links in Key Stage 1 coupled with the rich questions and a brave attempt to link multimedia formats into a full scheme which can only improve as the media gains greater understanding of the primary curriculum. For those schools without a coherent plan for science in curriculum 2014 it is well worth consideration.