Help primary pupils make sense of Covid-19 with this brand new resource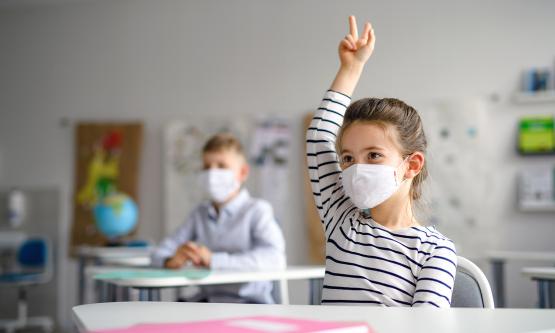 An article by Prof Jim Al-Khalili in the Guardian in April about the importance of scientific literacy prompted this resource for teachers to use to stimulate and support conversations in primary school classrooms to help children to make sense of the experience of living through a pandemic.
The life of every child in the UK in 2020 has been fundamentally affected by the coronavirus pandemic. Their schools were closed, their parents may have stopped going to work, they couldn't see family and friends. Children will have had many different experiences: the trauma of a family member or close friend being ill or dying from Covid-19; family members working on the NHS front line. Some may have clapped in support of the NHS on Thursday evenings. They will all have seen people wearing masks in shops and on public transport.  
Children will have seen news stories about the new disease Covid-19, how it was spreading, and what people needed to do to keep safe. Scientists were on the TV every day, and science made the headlines in every paper and news report. Children will have engaged with scientific ideas about disease and hygiene, and will also have seen at first-hand how science works, with words like modelling, predicting, testing, data, and evidence used in everyday conversations. 
It seems more than likely that children will want talk about what's been happening, so that they can make sense of this massive experience. They will have questions about the  pandemic that has affected their lives so significantly. This resource has been created by ASE members for primary teachers to use to stimulate and support those important conversations in classrooms. 
There are nine questions which cover different scientific aspects of the coronavirus pandemic. They will provide opportunities to build children's knowledge and understanding of the science that explains the disease and its consequences, with questions to explore further and investigations to pursue. For each question the science is clearly explained for teachers to use, with links to relevant National Curriculum content, other teaching resources and lessons taken from the Snap Science Teaching Framework. 
Of course, children will have questions that are not covered in this resource. These should be encouraged. The scientific information, and the links to other sources of support can be used to support wider discussion and investigation.
You can download the brand new resource pack and the accompanying poster here