Help shape our mission to keep the best science teachers in education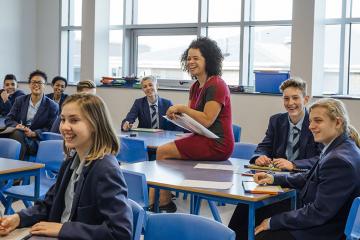 Does your science department want to improve it's retention of science teachers (and get a one-year ASE Science Department membership thrown into the bargain)? If so, then you could well be interested in signing up for the latest stage of our teacher retention pilot scheme... 
The Science Teacher SOS initiative began in 2017 when the Association for Science Education (ASE) noticed that a disproportionate number of new and experienced science teachers were leaving the profession. The Science Teacher SOS initiative is based around an online booklet that contains guiding questions, options and links for teachers who are considering leaving science teaching. In addition, there is a set of activities to help teachers assess why they are dissatisfied and suggestions for what changes they could make to help improve their job satisfaction.
The SOS booklet has had over 3,000 downloads and we have received positive feedback from the Department for Education and teaching unions. As a result of this the Gatsby Charitable Foundation have funded a further one-year project to evaluate the use and impact of the Science Teacher SOS approach - as a result we are looking for Science Departments to take part in our pilot of the Science Teacher SOS retention Project.
The pilot involves having a teacher representative to attend training and liaise with senior leaders to support science teachers with issues that affect their retention. An initial anonymous questionnaire of the science department is used to inform your science teacher retention strategy. Each school will be supported in the year long project and will receive free science department membership of the ASE for one year.
At the present time, we are only recruiting schools in England, and all training and communication will be done online with a dedicated ASE researcher.
If you would like further information about taking part, please email Dr Andy Chandler-Grevatt ajgrevatt@gmail.com, or click the button below to complete the initial expression of interest form: