Meeting the Millgate House authors: Alan Hesse and Polo The Polar Bear Explorer
In this preview of a new regular feature in our Education In Science magazine, we'll speak to some of the authors behind the books offered by Millgate House, the publishing arm of the ASE. First up is Alan Hesse, the creator of The Adventures Of Polo The Bear – an educational graphic novel that tackles the subject of climate change...
Education In Science:
So Alan, tell us a little bit about your background?
Alan:
Well, my background is in conservation. I got a first degree in zoology from Nottingham and then, many years later, a second degree in conservation biology. When you graduate from a British university it's a historical tradition, if you're in the right kind of subject area, that you do an expedition, and our expedition was to the Amazon region of Bolivia. I won't go into the details, but that changed my life –I came into contact with the continent, wildlife, a natural environment that I'd never experienced before.
I ended up staying there for 20 years and built a life out there. I developed a career as a conservation biologist, working in fieldwork and data gathering, but I was never really the academic at heart… I never felt comfortable in a room full of scientists, for example. However,  since I was a kid I was always doodling and drawing sketches, just for fun, and then one day I just came to the realisation: "hang on, I can use these cartoons for something a bit more important than just having a laugh," and that's what started me off.
I started looking around and I found that many of these non-profits did environmental education. They did posters, they did calendars, they did leaflets, they wanted colouring books, they wanted all kinds of materials. And the idea of using cartoons kind of sprung from there. They saw what I did, and it worked for them. I developed that more and more, and sort of in parallel with what I was doing as a scientist, so to speak. But conservation is more than science. It's all about people. It's all about communication. It's all about awareness. The science part is actually just one portion of what conservation really is, so I'm still committed to conservation, but now I do it in different ways.
"I did a year of research... it was very important that the comic not fall into the trap of misunderstanding any information or misquoting any information."
Education In Science:
So tell us about Polo, the polar bear conservation explorer.
Alan:
Well it came about over three years ago now, through my publisher Jo Williams from Millgate House Education. She had published a previous comic I had done about Charles Darwin, and asked if I wanted to do another one – potentially on climate change, and I jumped at the opportunity.  Because of my work in conservation, I was figuring out climate change communication and trying to understand what it was and how to get to grips with this enormous subject. Even for me it was overwhelming, full of information that was confusing, and a lot of it was false. So my first question was, how do you start?
I did a year of research, and my professional network as a conservationist helped me to identify the people who could help me vet the technical side of things, because it was very important that the comic not fall into the trap of misunderstanding any information or misquoting any information. I had to stay in a safe zone of absolutely, widely-accredited facts about climate change and not give information that was just too dodgy, too contentious.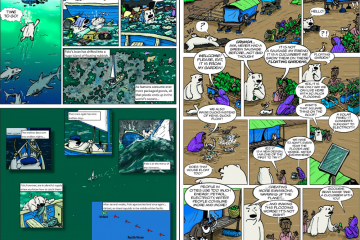 Education In Science:
So in what would you like to happen to a typical 10-year-old in North London who gets a copy of the book and reads it… what effect would you like that to have?
Alan:
I'd like to inspire a sense of urgency, but also of hope… one  where the 10-year-old doesn't feel it's all doom and gloom. I would like that 10-year-old to feel they can talk to their parents, and their teachers, and ask: "Hey mum, hey dad, we need to change our light bulbs. Why don't we plant some vegetables in our backyard? Can we plant a tree, please? Can you stop using plastic bags in the supermarkets?"
I'd like the kid to become a messenger for the parents… because, let's face it, the problem is an adult problem right now. So I'd like that 10-year-old to feel inspired to be, not an necessarily an activist, but to take an active role in defining their future, even if it's just at home by talking to their parents.
Education In Science:
So is a comic book the ideal medium for that… that ambition of inspiring hope, not doom and gloom?
Alan:
Absolutely - but it's something that I have to give credit to the editorial reviewers who I got on board at the stage of conceiving the project. As I said, I got some technical reviewers - climate change experts, sociologists and anthropologists - all those sort of things. And that they warned me from the very beginning, make sure this isn't about doom and gloom. You don't want to just talk about the problems. Make sure that the comic gives solutions as well. And so I took that very much to heart. And so, yes, that was very important to me.
Education In Science:
So how useful are books like Polo and tools like this to deal with important scientific issues?
Alan:
The use of cartoons and comics is extremely important because it allows the technical content to be more accessible, more engaging, and I firmly believe that if something's fun to learn, you're going to retain it – in fact, there's lots of scientific evidence to show that humour is a great way of retaining information. So there are many, many reasons why these kinds of book or material can be useful .
I'll give you an example, when I was at school  on the first day of economics class the teacher came in with an Asterix book. And anyone who knows Asterix books knows that there's one called Obelix and Co. which is – essentially - all about business. So the teacher used that book to teach us the rudiments of economic theory before he got into all the papers and all the boring stuff. And I've never forgot that – about syndicates and such – because I learnt it from the Asterix book.
"I'd like to inspire a sense of urgency, but also of hope… one  where the 10-year-old doesn't feel it's all doom and gloom."
Education In Science:
So what's next? For either you or for Polo?
Alan:
Well, I'm really motivated to continue with this theme, from now my exclusive focus is going to be climate change because I know that in my lifetime I'm always going to be in an environment where climate change is the critical subject.
Polo is going to continue his adventures… absolutely. I'm already thinking of a sequel, but there's also all kinds of opportunity to make spin-offs using the character, Polo the bear, who is already being positioned through a project that I'm working with in the UK right now called Educate Global, which is putting a UN-accredited climate change teacher into every classroom, every school, all over the world, and achieving incredible success in the UK and abroad already.
That and other projects that I'm looking at as well, using Polo as a character, as a messenger, independently of his comic book, as a sort of standalone. Almost like Smokey Bear in the US, with his messages against forest fires. So Polo has as a very, very promising future, I would say.