Members' Update: ASE sets priorities for 2018/19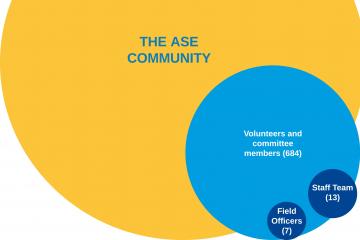 It's a great honour to become Chair of ASE. ASE IS its members – it is our members that enable us to make a difference in so many ways, through journals, campaigning and events.
I began teaching physics in school in 1974 and am now an honorary fellow in the University of York Science Education Group (UYSEG); I have been a member of ASE throughout my career. ASE has given me the opportunity to meet and learn from science teachers from across this country and beyond. I have been involved in a wide range of science education projects, many of them led by ASE. 
The renewal of enthusiasm for science education that comes from meeting face-to-face at a conference, writing workshop, or TeachMeet can never be replaced by any number of online conversations.
I am a member of the Yorkshire and the Humber Region committee; we organise local meetings throughout the year, including the Northern Area Conference, field trips and TeachMeets. Engaging with local events is a great opportunity to meet science teachers with diverse experiences, broadening your horizons and perhaps even providing you with the next step in your career through a network that starts locally but can rapidly spread across the region and beyond.     
The ASE Chair leads the Education Group, which has a responsibility to ensure that the Association is supporting its members in the most effective ways. There are always plenty of development opportunities in education, and so little time, but there are two key areas I hope to work on with the Group in the coming year:
Retention of science teachers is a key issue for all of us; the launch of the Science Teacher SoS, produced by the ASE 11-19 Committee, has been recognised as an important step in supporting science teachers who may be thinking of leaving the profession. I hope that ASE, working with partners, can develop ways to use our CSciTeach network to support teachers at the beginning of their careers and also those feeling the pressure who are considering a move away from the classroom.
The learned societies (RSB, RSC and IOP) have each been considering what they would want to see in the school curriculum for their subject. See the September 2018 edition of School Science Review, available to 11-19 members at www.ase.org.uk. My hope is that we can work with them and other interested partners to ensure that there is a coherence to the proposals, identifying the themes common to all the sciences at school level.
The ASE Chair is supported by the Immediate Past-Chair and the Chair-Elect. I would like to thank Linda Needham and Chris Colclough for welcoming me into the 'Chair Trio' and look forward to working with Linda and Janice Griffiths, the new Chair-Elect, over the coming year. 
I am aware that the year ahead will pass by all too quickly, but I hope I have opportunity to meet many members, and also encourage non-members to see that ASE is an important professional organisation to which all science teachers should want to belong.