Science On Stage Europe kicks off in Portugal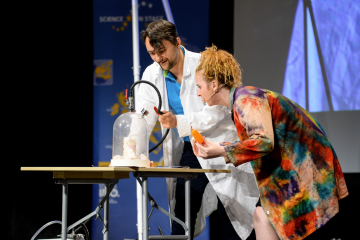 The biennial European Science On Stage festival kicks off in Cascais Portugal today, with UK teaching represented in the form of the 11-strong UK SoS team – which we at the Association For Science Education are proud to support.
Founded in 2000 on the basis that best way to improve science teaching and to encourage more schoolchildren to consider a career in science or engineering is to motivate and inform their teachers, the not-for-profit Science on Stage Europe Festival brings together science teachers from across the continent to exchange best practice and teaching ideas and concepts.
This year's event will 450 teachers from over 30 countries will come together to present and exchange their innovative teaching concepts in a fair, in workshops and in short lectures. From mathematical card tricks, to building an eco-friendly battery and programming a pet simulator, there will once again be a variety of practical teaching ideas from teachers for teachers.
We can't wait to see what the UK team will bring back from Portugal, and are looking forward to them sharing their insights in a number of sessions at our own annual conference in January (which of course you can buy tickets for right now).