'Superhero Scientists' storms STEM category at Teach Primary Awards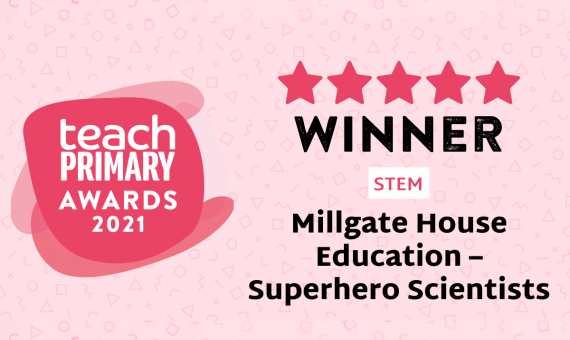 The purpose of the Teach Primary awards is to seek out the best teaching resources to support Key Stage one and two pupils. The awards are divided into 10 categories: apps, CPD, English, Maths, Foundation, STEM, free, remote, SEND, and Wellbeing.
Superhero Scientists, co-authored by Alex Sinclair and David Allen, explores the fascinating world of science. The book covers the different career paths that involve science including pilots, vets, marine biologists, and scene of crime officers. The people included are representative of the world's diverse community. Equipped with supporting illustrations, children can read the book independently or with an adult.
"What sets this book apart is its originality. It really brings the scientists to the fore, to explain their journey, their jobs and to encourage an awareness of a range of careers in the world of STEM. The activities associated with each scientist are cross curricular so have added appeal. It is a versatile resource so can be used as a whole class reader, guided reading book or shared on a library, class or home bookshelf."
- Teach Primary Awards judge
About the authors...
Alex Sinclair works at St Mary's University as Science Lead for their primary and undergraduate ITE teaching courses. Prior to this he taught science in a range of schools for 13 years. He completed his doctoral studies on the role starting teachers play in the development of a curriculum for sustainability. His other interests are how science can promote equity, diversity and inclusion. He is also chair of the ASE Futures Committee, a Hub Leader for the Primary Science Quality Mark and Lead Facilitator for STEM Learning. He regularly writes for the ASE's Primary Science journal. As well as 'Superhero Scientists' he also co-authored 'Standing on the Shoulders of Giants'. 
David Allen worked in primary schools for over 20 years as a class teacher, senior leader and Deputy Headteacher. He taught across Key stages 1, 2 and 3 in UK and in Spain. During this time he developed a passion for science, art and design, improvised drama, assessment for learning, creativity and developing initiatives for higher attaining children. He now works as an Associate Professor in Learning and Teaching at the University of Hertfordshire where he also acts as Science Lead and Art Lead across the ITE programmes. He enjoys writing and has written chapters focusing on 'the transition from Key Stage 1 to Key stage 2', 'Mentoring Associate Teachers and Newly Qualified Teachers' and 'Creativity in Science'. Alongside 'Superhero Scientists', another of his recent publications is: 'Science Meets English'.
Grab your copy of the now-award-winning book here.