Time running out to sign up for our SOS Science Teacher Programme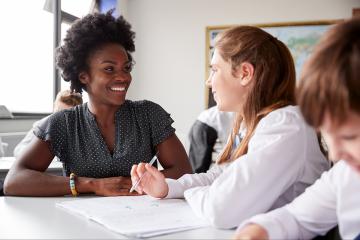 With time running out to apply to be part our Science Teacher SOS campaign – a keystone ASE programme focussed on helping schools deal with any issues they have around teacher retention – we took to the opportunity to talk to programme researcher Sarah Longshaw to find out why this is such a key issue.
"The SOS project is important right now because we are living in such challenging times when workload has been increased by the constant need to adapt; to learn new ways of doing things - including delivering face to face and often remotely at the same time," explained Sarah.
"We are also more constrained in our interactions so those conversations around work-life balance and well-being have never been more critical. Keeping the best teachers inside education is one of the key challenges the entire sector faces, and here at the Association For Science Education we are determined to do our part to make this happen."
Launched in 2018, the initial Science Teacher SOS self-service document was written specifically for science teacher who were thinking of leaving the profession, particularly for those who might feel they had no-one to talk to about their dilemma.
This was last year expanded into a pilot project which saw schools sign up to an end-use and effectiveness study of the SOS document principles in schools, and be given training to help identify bespoke solutions to any staff retention problems faced.
Everything was going swimmingly, until a certain virus hit, as Sarah explains: "Schools completed their staff questionnaire and received the anonymised feedback both from their own school and the comparison data from the others in the cohort; SOS school contacts had met with the ASE project rep and had determined what activity they were going to carry out - whether that was proactively using the tools in the SOS booklet or carrying out some other activity - then Covid hit…"
Yet despite the coronavirus situation, a wealth of useful information and insights were still gained, and will all be used to inform the direction of this year's pilot scheme. As Sarah explained, the potential benefits for participating schools are considerable.
She added: "Participating schools not only get a year's free Science Department ASE membership, but also support from a designated ASE rep to design retention activity that will suit the needs of the department as indicated in the questionnaire. On top of that, in my opinion the fact that a school is engaging shows a level of awareness of the importance of its science teachers and their well-being."
If you want to find out more about the Science Teacher SOS project, it featured extensively in episode 2 (starting at 17,in, 50sec) of our new ASE Podcast, available now on Apple, Spotify and Google Podcasts.