The Teaching and Leadership Innovation Fund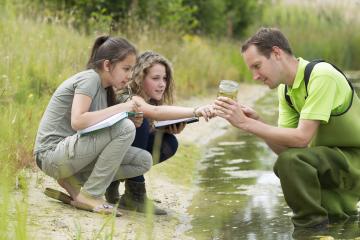 Students undertaking fieldwork
Announcing a new ASE project partnership
The Geographical Association (GA) has announced that, from Autumn 2018, it will be funded by the DfE's Teaching and Leadership Innovation Fund (TLIF) to provide free CPD for primary and secondary teachers to develop the critical use of evidence in geography and science classrooms.
ASE will be working alongside the GA to:
strengthen teachers' subject knowledge and build confidence and capability in curriculum planning and teaching
help teachers teach reformed geography and science qualifications and curricula effectively, focusing on knowledge application, the critical use of data and evidence, construction of arguments and geographical and scientific investigation
make more efficient use of teacher planning time through provision of practical planning tools and curriculum resources.
An extension to the CPD for those completing the core training will focus on the use of data in geography and science, including geo-located and fieldwork data.
The training will be available to those working in an Ofsted-rated grade 3 or grade 4 school situated either within one of the DfE's 12 opportunity areas or within one of its category 5 and 6 local authority districts.
To find out more about this free CPD and to express your interest in taking part:
Look out for GA and ASE updates to join the first training sessions beginning in November.