Updated edition of Safeguards in the School Laboratory now available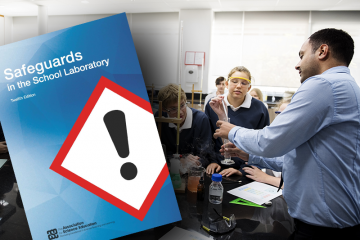 One of the roles of the Association For Science Education is to equip our members and the science education community at large with the tools it needs – and the latest release from ASE Books is a prime example of our commitment to that role.
The 12th edition of Safeguards in the School Laboratory is now available from the ASE Bookshop. Created by the ASE Health and Safety group, whose members include past and present staff from CLEAPSS and SSERC, the guide is an essential compendium of best-practice guidance around potential hazards in a secondary school science department.
From advice on the safest way to store dangerous chemicals, through ventilation best practice, to the best way to microwave cheese slices in order to show evidence of the antinodes in microwave three-dimensional standing waves, Safeguards in the School Laboratory is a critical tool for every secondary school's science team. 
The new edition incorporates updates to legislation brought in since the publication of the previous edition, along with some rewriting to clarify previous advice. It has been written with concision in mind, and concentrating on the more common problems, the potentially serious ones, those where there has been a significant change of opinion or practice in recent years, or those about which ASE members have expressed greatest concerns.
With health and safety of paramount concern to all educators, particularly those involved in practical science, this guide will be an essential read for technicians, teachers and trainees – indeed anyone who operates in a science education environment.
The standard price of the book is £40 – but ASE members are entitled to an impressive 50% reduction on that price (and indeed any other book published internally by the ASE). Head to the ASE Bookstore now to order your copy today.