Wellcome report highlights important questions about science schooling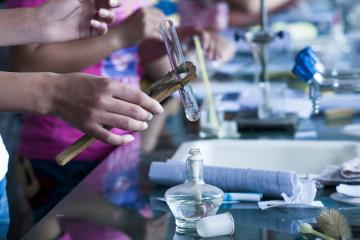 While the Covid-19 pandemic is rightly at the forefront of our collective minds at the moment, the challenges facing science education cannot be put into cold storage. Indeed, the current situation clearly highlights the need for more scientists, engineers and technicians if we are to be well prepared to face future challenges of this nature. We therefore welcome today's publication of the latest Wellcome Science Education Tracker.
Following on from the first iteration of the study carried out in 2016, the tracker highlights a number of issues that should be of concern to everyone with a stake in delivering effective science education, with one standout; only 41% of students in years 7-13 consider an understanding of science to be important to their everyday lives. This finding is deeply concerning, particularly given the associated 11% drop in young people's views that science is important for society in general. In light of the current crisis, it is imperative that this situation is addressed and young people of all backgrounds have the opportunity to engage with and understand the impact of science on their lives.
We know that young people find practical work engaging and in today's report it emerges as the top motivator for studying science. The ASE believes that excellence in science education requires young people to have access to frequent, varied and purposeful practical science, led by expert teachers, with appropriate technical support and suitable facilities and equipment. As long-term advocates of the importance of practical science, we therefore note with disappointment in today's report that:
The frequency of more interactive styles of practicals (hands-on, teacher-demonstrations) declined by school year from Years 7 to 11
Just under half of Year 7-13s are doing hands-on practicals at least once a fortnight. Among Year 10-11s, frequency of hands-on and teacher-demonstrated practicals appears to have declined since 2016.
Most students, especially in Years 7-9 wanted to do more practical work than they currently do (62% of Year 7-11s wanted to do more practical work)
Over school years, as students have increasingly less exposure to practical work, they are increasingly less likely to be encouraged by it (from Years 7-11)
To that end, we find particular merit in the report's call to action for Government to "ask Ofsted to conduct a thematic review into practical science to assess if this self-reported decline is consistent with their findings, and if so, why this change is occurring. As part of this review, Ofsted could explore what support schools need to meet Gatsby Good Practical Science Benchmarks."
We also strongly support the report's conclusion that teacher's ability to 'explain things well' is a key factor in helping them to learn science and the call for funding a trained CPD Leader in each school to co-ordinate and champion CPD. Indeed, all of the proposed next steps in the call to action bear serious consideration, and we at the ASE look forward to being involved in the discussions of how best to respond to some of the issues raised in this important report.