We're sending out 5,000 posters to help make good practical science happen...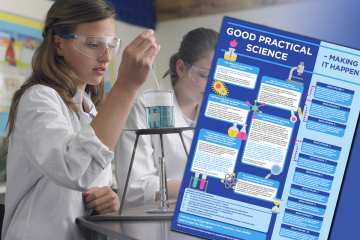 Here at the Association for Science Education we are proud of the work we continue to do to support the landmark Good Practical Science report, and the efforts of us and our science education community partners to help Make It Happen.
To that end we are delighted to be able to announce that we have produced a poster designed to help teachers and technicians understand the importance and potential impact of a properly planned practical science policy.
We want this message to reach as wide an audience as possible so, thanks to the generous support of the Gatsby Foundation, will this week be sending two copies of the poster to every secondary school in England. We're doing this to help the secondary science education community to appreciate the importance of quality practical work, and help school science leaders develop the effectiveness of practical work by working towards the 10 benchmarks outlined in the report.
We have found that the amount of practical work being completed to a high standard has increased significantly. When pupils transition between year groups, the practical skills of the pupils is stronger and they are more independent scientists. Furthermore, staff have become more confident in completing practicals that they previously have struggled with.
(Mariann Jones, Arnold Academy)
Led by ASE President Professor Sir John Holman, Good Practical Science was released in September 2017. The report, based on international evidence, establishes ten benchmarks, specifying what world-class practical science should look like in schools and how it can be achieved.
One of the key recommendations of the project – benchmark one – is that every school should have a written policy embracing the importance of planned practical science and how to follow best-practice in that regard, and since the report's release we the ASE has been working with a number of schools to help them embrace this particular benchmark. For example, we have published a number of case studies around schools that have successfully implemented the recommendations.
The school benefitted as a whole during our March OFSTED inspection where the outstanding grade was awarded and the high quality of practical work in science was recognised by the inspectors and mentioned in their report.
(Pete Heffernan, Head of Science, Elthorne Park High School)
To encourage engagement with the poster, we're inviting science teams to post a picture on Twitter of the poster in situ in their science area – using the hashtag #Goodpracsci – for the chance to win delegate passes for all members of the science team to attend a day at the ASE's Annual Conference (University of Reading 8-11 January 2020) - Europe's largest science education conference.
So look out for the posters – addressed to your school's head of science and head technician – from Monday, December 9, and help us make good practical science happen.
If you haven't received a copy of the poster you can down load a PDF version here.