Primary Science Quality Mark
PSQM Membership Offer
We are delighted to be able to offer PSQM schools 20% off ASE primary school membership for each year they maintain their PSQM award (upto 3 years).
As part of this offer PSQM schools with active ASE Primary School membership will get 3 'golden tickets' for free one-day entry to ASE Annual Conference
ASE is one of the largest subject associations in the UK and ASE members are part of the dynamic community of teachers, technicians and other professionals supporting science education. ASE is independent and a powerful force in science education that speaks for all its members to promote excellence in science teaching and learning. ASE offers a wide range of member benefits to all those teaching and supporting science. ASE membership is of significant value to schools aiming for a PSQM award and is highly recommended by hub leaders.
PSQM Primary School membership includes the following benefits: 
Primary Science – 5 issues p.a. of our flagship primary journal
Education in Science – 4 issues p.a. of ASE's topical house magazine
Access to the member-only primary resources including over 150+ Primary Upd8s .
Access to regional and national CPD
Opportunities to network with other schools and science professionals
Discounts on ASE books and resources
Free access to the twice-a-year research journal for early years – Journal of Emergent Science
More about PSQM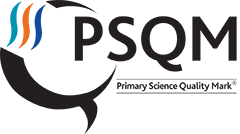 Primary Science Quality Mark is a yearlong CPD programme that helps schools to achieve a quality mark, whether science within the school has been a low profile for a while or the school wants to improve the provision further. It focuses on developing effective, confident science leadership for whole school impact on science teaching and learning.
There are three different Primary Science Quality Marks to ensure that all schools can achieve the accreditation. Primary Science Quality Marks are intended to be school appropriate and provide a framework for improvement and development in leadership and provision, whatever the starting point.
For each of the three Primary Science Quality Marks there are thirteen criteria that schools must meet.  Please be aware that schools have to meet the criteria by the end of the PSQM year and not beforehand. PSQM is a CPD programme. Subject leaders attend training throughout the year and receive on-line mentoring, to support them to meet the criteria in their schools.
To find out about PSQM, please go to www.PSQM.org.uk or email PSQM@herts.ac.uk