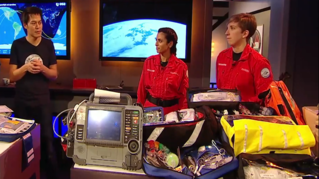 In this discussion activity children focus on the human essentials for life linked to the idea of a vehicle delivering to the ISS.
Description
A discussion exercise focusing on the human essentials for life, linked to the concept of a vehicle that delivers to the International Space Station (ISS).
Learning Objective
To work in teams on developing mimes that explore the effect that microgravity has on everyday activities
To consider the similarities and differences between emergency health care in two distinctly different settings – on Earth and on the ISS
To look at how healthcare is delivered on the ISS.
These resources were developed by the Royal Institution for their 2015 Christmas Lectures